Amateur astronomer Jason Lewis sent me an email today describing how the amateur astronomy community is abuzz with the discovery of a new comet, presently dubbed C/2012 S1, that is due to make its dive around the Sun in late November 2013 and pass closest to the Earth in January 2014 at a distance of about 37 million miles. Based on the preliminary numbers, this comet might be one of the brightest in years, almost certainly a naked eye object and visible to everyone from both the northern and southern hemispheres.
To quote the comments from one astronomy forum:

Now, comet discoveries are run-of-the-mill, but this one is special!!

The orbit is almost perfectly parabolic, it is e = 0.999999964 – this implies the comet came from very far out and is possibly an Oort cloud comet. Such comets are usually on their first dive into the inner Solar System and are thus still loaded with volatiles (but can fizzle like Kohoutek…).
The perihelion (in late November 2013, it seems) is at q = 0.012453 AU!! This is just a few solar radii out!! A Sungrazer!
It will pass 0.4 AU from Earth in January 2014!
It will never go more southerly than Dec. = -22, so should be well-observable from both hemispheres!!

All in all, this is the recipe for a possible Great Comet!! It's reasonably likely to be a naked-eye object at least, and maaayyybe it will be similar to McNaught!
The comet was discovered by by the ISON-Kislovodsk Observatory, a robotic 0.4 meter telescope located in Russia.
Several things to note. If the orbit as presently calculated is correct, this comet comes from very far away, and is almost certainly making its first close pass to the Sun. As noted above, this means it is more likely to be loaded with primitive ice that will produce a bright tail and nucleus. That it is also passing so close to the Sun will possibly enhance its brightness. We might even see the thing break up as it goes around the Sun.
Moreover, if the present orbit is correct, this comet will provide a good show, visible to everyone in the evening hours. Stay tuned for something quite spectacular. The quote above refers to Comet McNaught from 2007, which was one the brightest comets in decades but unfortunately didn't put on its show for the northern hemisphere. Let us hope that this new comet is more accommodating.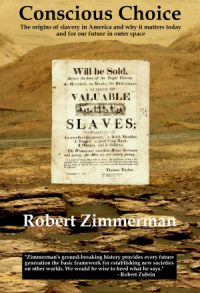 From the press release: In this ground-breaking new history of early America, historian Robert Zimmerman not only exposes the lie behind The New York Times 1619 Project that falsely claims slavery is central to the history of the United States, he also provides profound lessons about the nature of human societies, lessons important for Americans today as well as for all future settlers on Mars and elsewhere in space.
Conscious Choice: The origins of slavery in America and why it matters today and for our future in outer space
, is a riveting page-turning story that documents how slavery slowly became pervasive in the southern British colonies of North America, colonies founded by a people and culture that not only did not allow slavery but in every way were hostile to the practice.
Conscious Choice
does more however. In telling the tragic history of the Virginia colony and the rise of slavery there, Zimmerman lays out the proper path for creating healthy societies in places like the Moon and Mars.
"Zimmerman's ground-breaking history provides every future generation the basic framework for establishing new societies on other worlds. We would be wise to heed what he says." —Robert Zubrin, founder of founder of the Mars Society.
Available everywhere for $3.99 (before discount) at Amazon, Barnes & Noble, and all ebook vendors, or direct from the ebook publisher, ebookit. And if you buy it from ebookit you don't support the big tech companies and I get a bigger cut much sooner.