"An article in the Economist today has some chilling conclusions about the difficulties faced by the new commercial space companies.
Although the cost of developing new space vehicles, products and services is high, just as much of a burden can be imposed by such intangible expenses as regulatory compliance, legal fees and insurance premiums.
The article points out the heavy cost to these new space companies caused by insurance requirements and government regulation, including the ITAR regulations that restrict technology transfers to foreign countries. However, this paragraph stood out to me as most significant:
Then there is the question of vehicle certification. The first private astronauts and space tourists may soon take to the skies in new launch vehicles, and the FAA has initially agreed to license commercial spacecraft without certifying, as it does for aircraft, that the vehicles are safe to carry humans. The idea is that specific safety criteria will become apparent only once the rockets are flying and (though it is rarely admitted) an accident eventually happens. This learning period will keep costs down for makers of the new spacecraft, even if significant compliance expenses are likely when it is over. The exemption was meant to have expired last year and was extended to the end of 2015. Commercial space companies are understandably keen for it to be extended again. "In the dawn of aviation, planes had 20 to 30 years before significant legislation applied," says George Whitesides, the boss of Virgin Galactic.
Back in 2004 I noted in a UPI column the problems caused by these regulations, even as they were being written. (I had also done something at the time that few reporters ever do: I actually read the law that Congress was passing.) Then I said,

Most worrisome about the new law is it seems to shift AST's [the FAA's commercial space office] focus from encouraging the growth of new space industries to making sure they operate safely. As the law states, AST's purpose no longer will be merely to facilitate the growth of the industry, but to promote "the continuous improvement of the safety of launch vehicles designed to carry humans, including the issuance of regulations."

No one wants people to get hurt, but everyone involved in the private human spaceflight industry is aware of the risks and — like NASA astronauts — willing to accept them. In a free society, this seems appropriate. The new law does not allow the industry to take on these risks; instead, it introduces the right of the government to protect spaceflight entrepreneurs from themselves.
In later 2005 UPI column, I came to the conclusion that the new law would do little to increase safety but much to restrict the growth of this fledgling industry.
Considering the way governments normally function, however, it is almost certain that when something goes wrong – as is certain to happen in this dangerous effort to push toward the unknown – demands from congressmen such as Oberstar, or by the public itself, will force the FAA to make these rules more complicated and restrictive.
My opposition to the 2004 Commercial Space Launch Amendments Act generated a lot of criticism. In one case some industry people even made an effort to get one of my appearances on the Space Show canceled in order to prevent me from expressing this opposition in a public forum.
Well, here we are, almost a decade later, and it appears my concerns were correct all along. The new commercial space industry now has to go back to Congress and beg them to change the law so that they can do their business without government interference. What a surprise!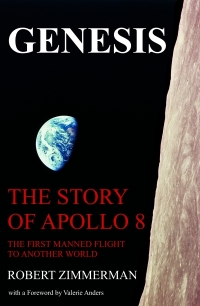 On Christmas Eve 1968 three Americans became the first humans to visit another world. What they did to celebrate was unexpected and profound, and will be remembered throughout all human history. Genesis: the Story of Apollo 8, Robert Zimmerman's classic history of humanity's first journey to another world, tells that story, and it is now available as both an ebook and an audiobook, both with a foreword by Valerie Anders and a new introduction by Robert Zimmerman.
The ebook is available everywhere for $5.99 (before discount) at
amazon
, or direct from my ebook publisher,
ebookit
. If you buy it from
ebookit
you don't support the big tech companies and the author gets a bigger cut much sooner.
The audiobook is also available at all these vendors, and is also
free with a 30-day trial membership to Audible.
"Not simply about one mission, [Genesis] is also the history of America's quest for the moon... Zimmerman has done a masterful job of tying disparate events together into a solid account of one of America's greatest human triumphs."--San Antonio Express-News