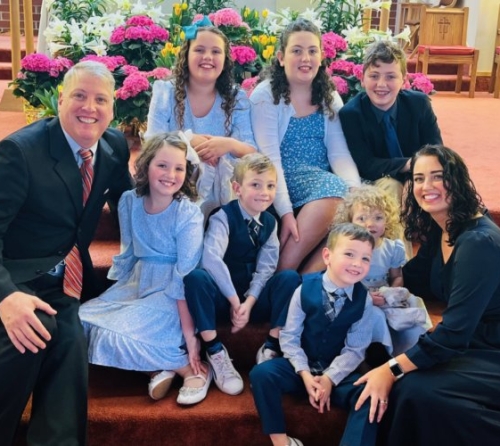 The Houck Family: Targets of FBI harassment and arrest.
The little boy in the center clearly needs to be frog-marched to prison.
It can happen here. Anyone who denies this is merely guaranteeing that tyranny in America will arrive sooner.
Worse, it is happening here, right now, at this very moment. The Houck family to the right has been in the news the past few days because on September 23, 2022 they found their home surrounded by an FBI SWAT team with guns drawn, pounding at the front door to arrest the father, Mark Houck, for a minor pushing incident that had occurred months earlier that was so minor the court had dismissed the lawsuit against Houck almost immediately. Notwithstanding its utter triviality, the Biden administration, its Justice Department, and the FBI decided it gave them a great chance to intimidate and frighten someone who happened to also be a conservative and religious activist.

Ryan-Marie, who is a homeschooling mother, described how the SWAT team of 25 to 30 FBI agents swarmed their property with around 15 vehicles at 7:05 a.m. this morning. Having quickly surrounded the house with rifles in firing position, "they started pounding on the door and yelling for us to open it."

Before opening the door, she explained, her husband tried to calm them, saying, "'Please, I'm going to open the door, but, please, my children are in the home. I have seven babies in the house.' But they just kept pounding and screaming," she said.

When he opened the door, "they had big, huge rifles pointed at Mark and pointed at me and kind of pointed throughout the house," Ryan-Marie described. When they came in, they ordered the kids to stay upstairs. "Our staircase is open, so [the kids] were all at the top of the stairs which faces the front door, and I was on the stairs as well, coming down."

"The kids were all just screaming. It was all just very scary and traumatic," she explained.
The FBI officers at first claimed they didn't need a warrant to arrest Houck. When both Mark and Ryan-Marie challenged this the officers backed down, slightly, and produced the one-page very vague warrant.
This particular abuse of power by the FBI and the Biden administration has gotten ample coverage in the conservative press in the past few days. I am not breaking any news for those who are paying attention.
What I want to note is the pattern. Houck's arrest is not the exception to the rule, it has become the rule. For the past two years the Biden administration has made it its policy to criminalize dissent. Anyone who is active politically in any way is subject to illegal searches, seizures, and arrests. The Houck story is merely one example.
The protesters on January 6th are another example. The only ones who appeared to break into the Capitol used techniques that matched Antifa, not Trump supporters, or were clearly FBI provocateurs. The Trump protesters meanwhile were let into the building by security, walked around for awhile doing no damage, and then left. For this behavior they have been treated by the Biden administration and all Democrats as traitors, insurrectionists, and terrorists. At least two have committed suicide because of this oppressive treatment.
For example, two weeks ago one of those January 6th Trump supporters was sentenced to five years in prison for the crime of "parading."
Anthony Williams travelled to Washington on January 6 and was captured in pictures and videos around and inside of the Capitol Building. On the very last page [of the FBI report], they conclude that there was probably cause to believe that he did "knowingly enter or remain in any restricted building or grounds without lawful authority." They also concluded that he did "utter loud, threatening, or abusive language." And they of course included a charge that Williams did "parade, demonstrate, or picket" on the Capitol grounds, supposedly to disrupt or influence the work of Congress.

There's that "parading" charge again, along with "shouting."
The problem is that there is solid video evidence that Williams — along with almost all the protesters — was let into the building by the guards themselves. That alone raises questions about him entering the building "without lawful authority."
Regardless, even if he trespassed the punishment is excessive, and clearly meant to intimidate Biden opponents and any Trump supporters. Don't you dare protest against Democrats, or you might be charged with "parading" and "demonstrating" or "shouting", and go to prison for years.
Williams of course is only one of many. The Biden administration is gung-ho on catching every single person who walked quietly and peaceably through the Capitol on January 6th and putting them in prison.
January 6th however is only one aspect of the Biden administration's attack. It is also using the Justice Department and the FBI to harass and persecute numerous Americans, like Mark Houck above, for simple exercising their first amendment rights. For example, the Justice Department recently used its subpoena power to attack a conservative group called the Eagle Forum. As noted at the link:
This subpoena, issued by Jason R. Cheeks, an attorney in the U.S. Attorney's Office in the Northern District of Alabama, has but one intent: to harass and intimidate a conservative organization for daring to engage in the democratic process by working on an issue that inflames the Left.
In another example, FBI officers surrounded the owner of My Pillow, Mike Lindell, in a public place and forced him to turn over his cell phone. The agents held him illegally, denied him the right to call his lawyer, and threatened him with arrest. And why? We really do not know. Lindell is not accused of any crimes, only being very public about the issue of election fraud, especially during the 2020 election.
In other words, the FBI was weaponized by the Biden administration to try to intimidate a Trump supporter, merely because Lindell is a Trump supporter.
These examples only scratch the surface. In the past two years the effort by Democrats to portray Republicans criminals and traitors, merely because they disagree with Democratic Party policy, has become normalized. To Democrats today, if you are a Republican you are a fascist, an insurrectionist, a traitor, a criminal, and evil. Your rights are voided and they have the right to arrest you, at any time.
Note too that this pattern doesn't merely apply to the Biden administration, the Justice Department, and the FBI. To get these invalid warrants these agencies must get a judge to sign off on the warrant. And increasingly, judges seem quite willing to join in on the game, approving warrants that have no validity at all, that name no crime, that have no reasonable cause, and thus are unconstitutional under the fourth amendment, which states quite bluntly that:
The right of the people to be secure in their persons, houses, papers, and effects, against unreasonable searches and seizures, shall not be violated, and no Warrants shall issue, but upon probable cause, supported by Oath or affirmation, and particularly describing the place to be searched, and the persons or things to be seized.
Since Lindell is accused of no crime, the warrant on its face was illegal and unconstitutional. Not only should many FBI and Justice officials be fired, and personally liable for this illegal behavior, the judge who signed the warrant should be removed from office. Lindell has sued, and based on the evidence, stands to win quite handily.
Meanwhile, many FBI whistleblowers have come forward protesting these actions. And not surprisingly, the Biden administration has immediately retaliated, suspending such whistle-blowers for coming forward.
The corruption and abuse of power here however is not merely limited to political speech. The FBI has become a downright criminal organization. In order to get the right to rummage through hundreds of Beverley Hills safe deposit boxes and confiscate any cash exceeding $5,000 (in other words, rob the bank), FBI officials misled the judge in writing up the warrant.
Eighteen months later, newly unsealed court documents show that the FBI and U.S. attorney's office in Los Angeles got their warrant for that raid by misleading the judge who approved it. They omitted from their warrant request a central part of the FBI's plan: Permanent confiscation of everything inside every box containing at least $5,000 in cash or goods, a senior FBI agent recently testified.

The FBI's justification for the dragnet forfeiture was its presumption that hundreds of unknown box holders were all storing assets somehow tied to unknown crimes, court records show. It took five days for scores of agents to fill their evidence bags with the bounty: More than $86 million in cash and a bonanza of gold, silver, rare coins, gem-studded jewelry and enough Rolex and Cartier watches to stock a boutique.
Good work if you can get it. You not only can rob a bank, you do so with a judge's approval.
If a major, brutal, and merciless house-cleaning does not occur soon, nothing at all will be left of this country's free republic. The next Congress, should the Republicans take power, must zero the funding for the FBI. No more money, at all. It must also move to remove numerous FBI officials, from FBI director Chris Wray on down. Above all, it must not cooperate in any way with the agenda of the Biden administration's Justice Department.
Should the Republicans chicken out (as they usually do), they will quickly find themselves eaten alive. This is no longer time for comity or reasonable action. The Democrats are no longer being reasonable. The Republicans must return that behavior in kind, double.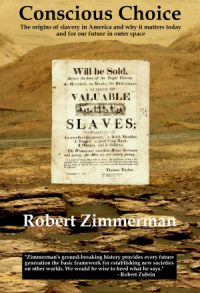 Now available in hardback and paperback as well as ebook!
From the press release: In this ground-breaking new history of early America, historian Robert Zimmerman not only exposes the lie behind The New York Times 1619 Project that falsely claims slavery is central to the history of the United States, he also provides profound lessons about the nature of human societies, lessons important for Americans today as well as for all future settlers on Mars and elsewhere in space.
Conscious Choice: The origins of slavery in America and why it matters today and for our future in outer space
, is a riveting page-turning story that documents how slavery slowly became pervasive in the southern British colonies of North America, colonies founded by a people and culture that not only did not allow slavery but in every way were hostile to the practice.
Conscious Choice
does more however. In telling the tragic history of the Virginia colony and the rise of slavery there, Zimmerman lays out the proper path for creating healthy societies in places like the Moon and Mars.
"Zimmerman's ground-breaking history provides every future generation the basic framework for establishing new societies on other worlds. We would be wise to heed what he says." —Robert Zubrin, founder of founder of the Mars Society.
All editions are available at Amazon, Barnes & Noble, and all book vendors, with the ebook priced at $5.99 before discount. The ebook can also be purchased direct from my ebook publisher, ebookit, in which case you don't support the big tech companies and I get a bigger cut much sooner.
Autographed printed copies are also available at discount directly from me (hardback $24.95; paperback $14.95; Shipping cost for either: $5.00). Just email me at zimmerman @ nasw dot org.