Update: Thomas Sowell chimes in, expressing some of the same thoughts I do below.
As we approach the Indiana primary next Tuesday, it appears that we are also approaching the moment of truth for Donald Trump, Ted Cruz, and the Republican Party. And not surprisingly, that party appears ready to once again shoot itself in the foot, as it did in 1996, 2000, 2008, and 2012.
Polls show that the race is very tight, though the momentum seems to be favoring Donald Trump.
Meanwhile, national polls as well as the analysis of most political insiders say that Trump will lose to Hillary Clinton in November, while those same polls and insiders say that Ted Cruz has a far better shot at winning the national election.
In other words, it looks like Republican voters are going to pick the weaker of the two candidates for their nominee.
Pretty dumb, eh? What makes it even dumber is that even the slightest honest appraisal of the political beliefs of Donald Trump quickly reveals himself to be a RINO, a liberal Democrat with many ties to the corrupt political establishments of both parties. In addition, his political positions both before and during the campaign have revealed himself repeatedly to be a liberal Democratic in all things except illegal immigration, and even here he has shown indications that he will go soft once in office.
Trump is not a corrupt lying politician like Hillary Clinton. He would definitely be a better choice than her. Moreover, the insiders and the polls might be wrong about his chances against her, but I do not think so. Trump's primary election results suggested to me that he has the support, like Mitt Romney, of a large minority of moderate Republicans and moderate former Democrats (concentrated in the northeast) that will not translate into a majority in the general election. If anything, he has set himself up to be a nice target for the press to destroy, once he is the Republican candidate.
For the Republican Party to favor him over Ted Cruz, a committed conservative who has repeatedly proven his willingness to stand up for these ideals, even under terrible fire from the press, the left, and the Republican leadership that really doesn't want the right to win, is either madness, or it shows that the country in general no long believes in the ideals that founded it.
I'm not sure which it is, but either way, the future does not look good.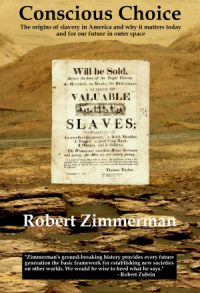 Now available in hardback and paperback as well as ebook!
From the press release: In this ground-breaking new history of early America, historian Robert Zimmerman not only exposes the lie behind The New York Times 1619 Project that falsely claims slavery is central to the history of the United States, he also provides profound lessons about the nature of human societies, lessons important for Americans today as well as for all future settlers on Mars and elsewhere in space.
Conscious Choice: The origins of slavery in America and why it matters today and for our future in outer space
, is a riveting page-turning story that documents how slavery slowly became pervasive in the southern British colonies of North America, colonies founded by a people and culture that not only did not allow slavery but in every way were hostile to the practice.
Conscious Choice
does more however. In telling the tragic history of the Virginia colony and the rise of slavery there, Zimmerman lays out the proper path for creating healthy societies in places like the Moon and Mars.
"Zimmerman's ground-breaking history provides every future generation the basic framework for establishing new societies on other worlds. We would be wise to heed what he says." —Robert Zubrin, founder of founder of the Mars Society.
All editions are available at Amazon, Barnes & Noble, and all book vendors, with the ebook priced at $5.99 before discount. The ebook can also be purchased direct from my ebook publisher, ebookit, in which case you don't support the big tech companies and I get a bigger cut much sooner.
Autographed printed copies are also available at discount directly from me (hardback $24.95; paperback $14.95; Shipping cost for either: $5.00). Just email me at zimmerman @ nasw dot org.