On Monday NOAA posted its monthly update of the solar cycle, showing the sunspot activity for the Sun in January. As I do every month, I am posting it here, below the fold, with annotations.
January was the most active month for sunspots this entire solar cycle, exceeding the predictions of the solar scientists, an event that has been quite rare during this generally weak solar maximum. In fact, the Sun was so active that for the first time, the second peak in a double-peaked solar maximum exceeded the first peak in sunspot activity.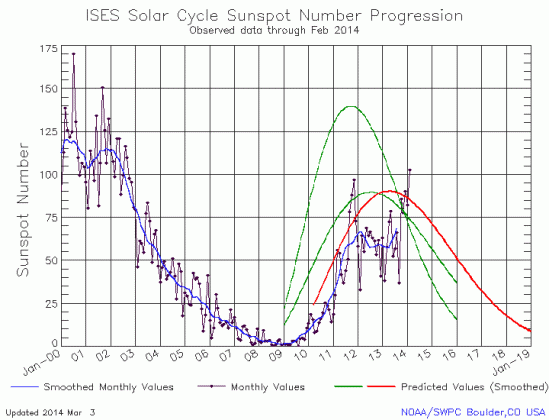 The graph above has been modified to show the predictions of the solar science community. The green curves show the community's two original predictions from April 2007, with half the scientists predicting a very strong maximum and half predicting a weak one. The red curve is their revised May 2009 prediction.
The activity in January is not the end, either. Data for February suggests that the next update in a month will see even higher numbers.
All this activity is the direct result of the Sun's southern hemisphere flipping the polarity of its magnetic field. The northern hemisphere already flipped its magnetic field back in 2011/2012 when we had the first peak, which is why almost all the sunspots we see these days are in the southern hemisphere. See this article for an excellent explanation of this process.
We are still in a relatively weak solar maximum, but for the first time in years the Sun is almost producing sunspots at a more normal level, which also suggests that the Sun will not enter a long term Grand Minimum, a period of decades with no sunspots, when it ramps down to minimum in the next few years. However, that is pure speculation on my part. What will actually happen in the next solar cycle is completely unknown at this time.
Meanwhile, the solar scientists at the Marshall Space Flight Center have once again revised their prediction after the fact. Here is a screen capture of what they said last month, with their prediction for the summer of 2013 (about 8 months ago) highlighted in yellow: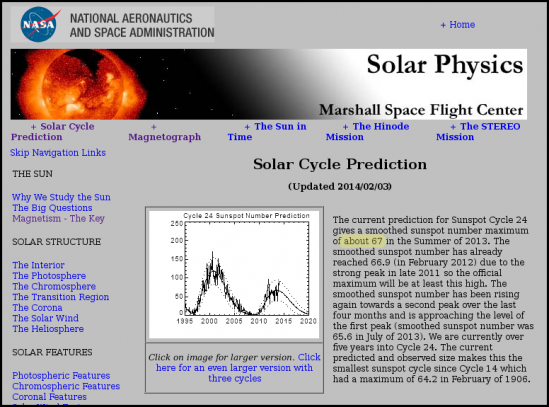 A sunspot maximum of 67 in the summer of 2013. Below is their prediction now: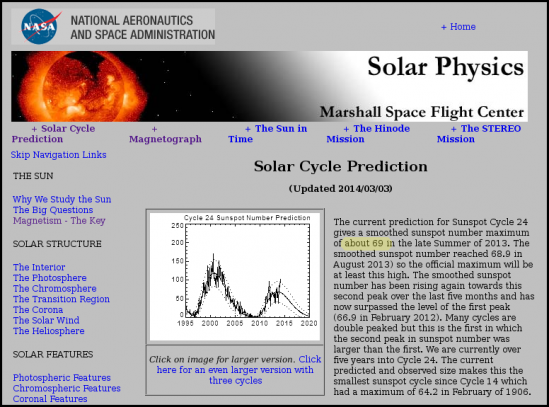 A sunspot maximum of 69 in the summer of 2013. Pretty good, eh? They can predict something after it happened, and even revise their prediction!
I suspect that what they are doing is giving us the average number for activity, and with the activity so high in January it boosted the overall average. Though this might be a more accurate description of the on-going solar maximum, it is not a prediction, as they call it. It would be nice, and more ethical scientifically, if they fixed this.
Readers!
I must unfortunately ask you for your financial support because I do not depend on ads and rely entirely on the generosity of readers to keep Behind the Black running. You can either make a one time donation for whatever amount you wish, or you sign up for a monthly subscription ranging from $2 to $15 through Paypal or $3 to $50 through Patreon.
Your support will allow me to continue covering science and culture as I have for the past twenty years, independent and free from any outside influence.
Your support is even more essential to me because I not only keep this site free from advertisements, I do not use the corrupt social media companies like Google, Twitter, and Facebook to promote my work. I depend wholly on the direct support of my readers.
You can provide that support to Behind The Black with a contribution via Patreon or PayPal. To use Patreon, go to my website there and pick one of five monthly subscription amounts, or by making a one-time donation. For PayPal click one of the following buttons:

If Patreon or Paypal don't work for you, you can support Behind The Black directly by sending your donation by check, payable to Robert Zimmerman, to


Behind The Black
c/o Robert Zimmerman
P.O.Box 1262
Cortaro, AZ 85652


Or you can donate by using Zelle through your bank. You will need to give my name and email address (found at the bottom of the "About" page). The best part of this electronic option is that no fees will be deducted! What you donate will be what I receive.