Earlier this week NOAA's Space Weather Prediction Center published its monthly update of the Sun's sunspot cycle. As I do every month, I've posted the newest graph below, showing the continuing slow rise in sunspots (blue/black lines) in comparison with the consensis prediction made by the solar science community in May 2009 (red line).

In February the sunspot count finally recovered from its wimpy showing in December. In addition, the sun has been quite active in recent weeks, more active than it has been in years. What this means, however, for the upcoming solar maximum remains unclear, though it still seems likely that the next maximum will be the weakest in more than 200 years (see the graph on this page). The newest prediction for the next solar maximum, from solar scientists at the Marshall Space Flight Center, also predicts this, and the sunspot numbers we are seeing are still in line with that new prediction.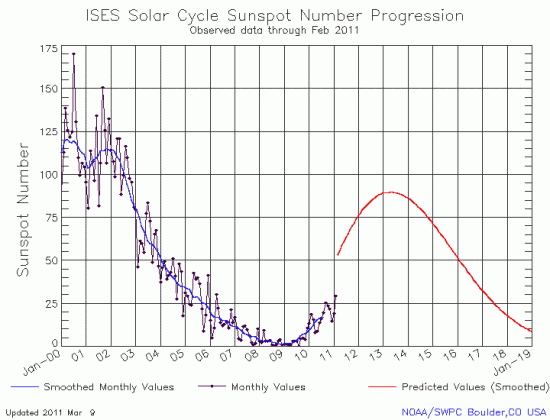 Readers! My Quick November Fund-Raiser for Behind the Black is now over
I cannot thank the numerous people who so generously donated or subscribed to Behind the Black during this fund drive. The response was remarkable, and reflected the steady growth and popularity of the work I have been doing here for the past ten-plus years.
Thank you again!
Though the find-raising campaign is officially over, and I am no longer plastering the main page with requests for help, if you like what you have read you can still contribute, by giving either a one-time contribution or a regular subscription, as outlined in the tip jar below. Your support will allow me to continue covering science and culture as I have for the past twenty years, independent and free from any outside influence.
Regular readers can support Behind The Black with a contribution via paypal:
If Paypal doesn't work for you, you can support Behind The Black directly by sending your donation by check, payable to Robert Zimmerman, to

Behind The Black
c/o Robert Zimmerman
P.O.Box 1262
Cortaro, AZ 85652