Please consider donating to Behind the Black, by giving either a one-time contribution or a regular subscription, as outlined in the tip jar to the right or below. Your support will allow me to continue covering science and culture as I have for the past twenty years, independent and free from any outside influence.
The latest monthly update the ongoing sunspot cycle of the Sun has been published today by NOAA. Once again, the trend suggests that the Sun's ability to produce sunspots is fading, and fading fast.
I have posted this latest graph, covering the month of October, below the fold, with additional analysis.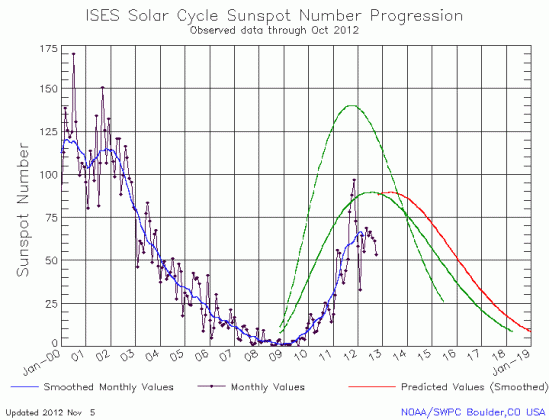 In October the Sun's production of sunspots dipped again, the fourth month in a row. The drop was steep, dropping the Sun's activity to level below that of February 2011, when the ramp up to solar maximum was just beginning. In fact, the plunge in activity since late last year suggests that the Sun's maximum might have already passed.
To give some perspective on these numbers, I have added to the graph, in green, the original predictions of the solar scientist community from April 2007. At that time the community was split, with half believing the next maximum would be one of the strongest on record and half believing it would be a weak maximum. As you can see, both were wrong, by significant numbers. In 2009 the scientists abandoned the strong prediction while simultaneously shifting the predicted moment of peak maximum for the weak prediction to early in 2013.
Based on the real numbers, even the weak prediction looks increasingly like it will be too strong a prediction.
We can see some interesting things by putting these predictions on the graph. For reasons no one can explain, the Sun's peak activity so far happens to correspond with the strong prediction's peak, even though the level of activity was far less. And if the decline of activity that we have been seeing for the past six months continues, the overall shape of the curve will resemble the original weak prediction, though much weaker by far.
Meanwhile, the solar scientists at the Marshall Space Flight Center have once again adjusted their prediction for the upcoming maximum, lowering their predicted peak sunspot number from 75 to 73. This is the second month in a row that they have lowered their prediction.
All in all, the Sun simply does not seem to be able to produce many sunspots this solar maximum. And the question still remains, will it be able to do it at all in the coming decades, once this solar maximum passes?