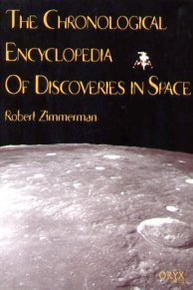 After being in print for twenty years, the Chronological Encyclopedia of Discoveries in Space, covering everything that was learned on every single space mission in the 20th century, has finally gone out of print.
I presently have my last four hardback copies available for sale. The book sold new for about $90. To get your own autographed copy of this now rare collector's item, please send a $120 check (which includes shipping) payable to Robert Zimmerman to
Behind The Black, c/o Robert Zimmerman
P.O.Box 1262
Cortaro, AZ 85652

"Useful to space buffs and generalists, comprehensive but readable, Bob Zimmerman's Encyclopedia belongs front and center on everyone's bookshelf." -- Mike Collins, Apollo 11 astronaut
"The Chronological Encylopedia of Discoveries in Space is no passionless compendium of information. Robert Zimmerman's fact-filled reports, which cover virtually every spacecraft or probe to have ventured into the heavens, relate the scientific and technical adventure of space exploration enthusiastically and with authority." -- American Scientist
Since the 2016 election campaign, the number of examples of physical attacks by leftists against conservatives, journalists, Trump supporters at campaign events, on college campuses, in restaurants, or simply on the street, has grown so much that they now seem to occur almost every day, and have become ubiquitous. In fact, they have grown so frequent that there are no longer unique and — in that sense — no longer newsworthy.
Just last week for example a couple was arrested for trying to run down two teenage boys with their car because the boys were riding bicycles with Trump flags.
According to an affidavit from Lake County, Indiana, Cailyn Smith, 18, and Kyren Jones, 23, were each charged on Thursday with two felony counts of intimidation and criminal recklessness over the incident involving the teens, who are brothers.

The brothers told police that they were riding their bikes at around 8:30 p.m. when a blue Chevy Malibu "swerved as if the driver wanted to hit them" and they had to ride their bikes into the grass, the affidavit stated.

A woman later identified as Smith then yelled "y'all scared just like your president" and "America is not great [expletive]." The couple reportedly sped off after the boys threatened to call the police.
As I say, this behavior has becoming horribly typical. The American left has become the most intolerant, close-minded, and vicious community I have ever seen in the U.S. in my entire life.
And with each passing day it is becoming even more violent and intolerant, its behavior rising to such levels of blind emotional hatred that we can almost guarantee it will soon lead to murder.
Don't believe me? Then watch the video below.


A young woman somewhat well known on social media as a defender of the second amendment comes to Ohio University in Athens to make a President's Day video where she would ask students a variety of trivia questions about the presidency to see how much they know. Watch how the slowly building crowd of hostile students — obviously organized quickly by using smart phones and texting each other — steadily evolves into a violent lynch mob, throwing things and threatening her with violence. And watch also as the campus police stand by, allowing the unruliness to grow while refusing the woman any protection or aid. If she had not brought with her a very large bodyguard, I am personally very doubtful she would exited the campus uninjured.
And what did she do to merit this response? She smiled and asked questions, and then tried to debate people about politics. Then she tried to defend herself against loud and unfounded slanders accusing her of being "racist." No one would listen however. Instead, the students around her became louder and angrier and more vicious. As she says to one of the women screaming at her, "I thought you guys were tolerant?"
Think of this video when you go next to the polls. This same mob is almost certainly all going to vote for the Democratic candidate, educated as they are by an academic community that is as equally partisan and as hateful to conservatives. And should that candidate be Bernie Sanders and should Sanders win in November, his own campaign people have been repeatedly recorded lauding the wonders of the Soviet gulags. Do you think this mob will have any problem with such a thing?
Note that am not defending this woman's political beliefs. In fact, other than her strong support of the second amendment, I really don't know much about them. And in fact, I don't care. She could be a flaming liberal all in favor of universal healthcare and I would be equally horrified. This is the United States. She has the right to walk on a public street and express her opinion without fear. Or at least, she should have that right. It appears however that in too many places in today's America, such ideas of freedom of speech are no longer honored, replaced by mob rule and a mindless, emotional, and soviet-style despotism.
Nor should it matter any longer whether you are a Democrat or a Republican. This violence and hate that now dominates the power structure and culture within the left and the Democratic Party has become a direct attack on the principles of freedom and justice epitomized by our Constitution and our culture. These people no longer support these values, only the acquisition of power over everyone else, by any means necessary. You only need to watch this video to understand this.
The left and its minions in the Democratic Party need to be smacked down hard, at the polls. Their funding should be zeroed out, their universities shut down, and they themselves must be removed from every political office or government job. Let them find different work, work that won't allow them to use power to hurt and attack others.
Only then will it be possible for decent Americans from both sides of the political spectrum to intelligently and rationally debate the issues of our time, of government funding and of healthcare and of social welfare and of aid to the poor. To try to do this debate now, with people like this, consumed as they are by an unreasoning anger and hate, is simply impossible.
One last thing: If you are the parent of any of these students and recognize your daughter or son behaving this way and you don't do something about it, you are as bad as they are. You have raised a thug, and are willing to look the other way as they act no different than the brownshirts in Germany on Kristallnacht.