An evening pause: Hat tip Jim Mallamace, who notes that he watched this video on his modern mobile phone.
What strikes me is how much we take this capability for granted, especially when you watch and see how "compact" the car units were. Yet, in the 1940s when this technology was first being developed the use of telephones themselves was only a few decades old. The very idea of being able to communicate instantly with anyone over long distances was still relatively new. Now it included talking to people at random locations. For the people of that time, this was exciting news harboring a bright future.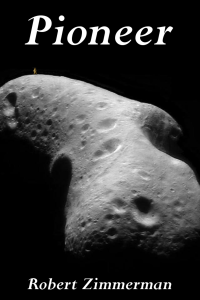 From the press release: From the moment he is handed a possibility of making the first alien contact, Saunders Maxwell decides he will do it, even if doing so takes him through hell and back.
Unfortunately, that is exactly where that journey takes him.
The vision that Zimmerman paints of vibrant human colonies on the Moon, Mars, the asteroids, and beyond, indomitably fighting the harsh lifeless environment of space to build new societies, captures perfectly the emerging space race we see today.
He also captures in Pioneer the heart of the human spirit, willing to push forward no matter the odds, no matter the cost. It is that spirit that will make the exploration of the heavens possible, forever, into the never-ending future.
Available everywhere for $3.99 (before discount) at
amazon
,
Barnes & Noble
, all ebook vendors, or direct from the ebook publisher,
ebookit
. And if you buy it from
ebookit
you don't support the big tech companies and I get a bigger cut much sooner.