An evening pause: In our modern "politically correct" society, many people object strenuously when I express my unwavering preference for the British-American culture that founded the United States. It seems that today's polite society considers it judgmental and unfair to suggest our way of life is superior to others. Well, before you protest, please listen to this speech from the movie Gettysburg, in which Colonial Joshua Chamberlain explains why he decided to fight for the Union in the Civil War. To quote, "We are here for something new. This has not happened much in the history of the world. We are an army out to set other men free." Then he adds this most important point: "Here we judge you by what you do, not by who your father was."
That is our culture. That is what we as a society have always stood for. And it is these values that I wish to propagate to the stars, a desire for which I will make no apologizes.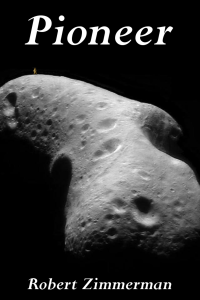 From the press release: From the moment he is handed a possibility of making the first alien contact, Saunders Maxwell decides he will do it, even if doing so takes him through hell and back.
Unfortunately, that is exactly where that journey takes him.
The vision that Zimmerman paints of vibrant human colonies on the Moon, Mars, the asteroids, and beyond, indomitably fighting the harsh lifeless environment of space to build new societies, captures perfectly the emerging space race we see today.
He also captures in Pioneer the heart of the human spirit, willing to push forward no matter the odds, no matter the cost. It is that spirit that will make the exploration of the heavens possible, forever, into the never-ending future.
Available everywhere for $3.99 (before discount) at
amazon
,
Barnes & Noble
, all ebook vendors, or direct from the ebook publisher,
ebookit
.