An evening pause: Words and music by Connie Dover. With this video, it is the words that matter.
In this fair land, I'll stay no more
Here labor is in vain
I'll seek the mountains far away
And leave the fertile plain

Where waves of grass in oceans roll
Into infinity
I stand ready on the shore
To cross the inland sea
I am going to the West

Chorus
You say you will not go with me
You turn your eyes away
You say you will not follow me
No matter what I say
I am going to the West
I am going to the West.

I will journey to the place
That was shaped by heaven's hand
I will build for me a bower
Where angels' footprints mark the land

Where castle rocks in towers high
Kneel to valleys wide and green
All my thoughts are turned to you
My waking hope, my sleeping dream
I am going to the West

And when sun gives way to moon
And silver starlight fills the sky
In the arms of these last hills
Is where I'm bound to lie

Wind my blanket, earth my bed
My canopy a tree
Willows by the river's edge
Will whisper me to sleep
I am going to the West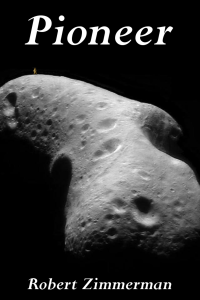 From the press release: From the moment he is handed a possibility of making the first alien contact, Saunders Maxwell decides he will do it, even if doing so takes him through hell and back.
Unfortunately, that is exactly where that journey takes him. The vision that Zimmerman paints of vibrant human colonies on the Moon, Mars, the asteroids, and beyond, indomitably fighting the harsh lifeless environment of space to build new societies, captures perfectly the emerging space race we see today. He also captures in Pioneer the heart of the human spirit, willing to push forward no matter the odds, no matter the cost. It is that spirit that will make the exploration of the heavens possible, forever, into the never-ending future. Available everywhere for $3.99 (before discount) at
amazon
,
Barnes & Noble
, all ebook vendors, or direct from the ebook publisher,
ebookit
. And if you buy it from
ebookit
you don't support the big tech companies and I get a bigger cut much sooner.