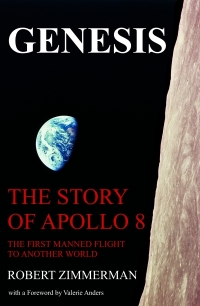 On Christmas Eve 1968 three Americans became the first humans to visit another world. What they did to celebrate was unexpected and profound, and will be remembered throughout all human history. Genesis: the Story of Apollo 8, Robert Zimmerman's classic history of humanity's first journey to another world, tells that story, and it is now available as both an ebook and an audiobook, both with a foreword by Valerie Anders and a new introduction by Robert Zimmerman.
The ebook is available everywhere for $5.99 (before discount) at
amazon
, or direct from my ebook publisher,
ebookit
.
The audiobook is also available at all these vendors, and is also
free with a 30-day trial membership to Audible.
"Not simply about one mission, [Genesis] is also the history of America's quest for the moon... Zimmerman has done a masterful job of tying disparate events together into a solid account of one of America's greatest human triumphs." --San Antonio Express-News
An evening pause: Forty-six years ago today Alexei Leonov became the first man to walk in space. This Soviet-era film shows practically the entire event, using footage from two cameras. Unfortunately, I don't speak Russian and it is not subtitled. I'd love it if someone out there could provide a translation.
Several things to note as you watch:

For this mission, the Soviet engineers built an inflatable airlock that they attached to the Voskhod space capsule. You can see Leonov climb through it at the start of the spacewalk, and pop out of it as he enters space.
As soon as he enters space note the puffy state of his gloves, arms, and suit. It is very obvious that the spacesuit has expanded in the vacuum of space. This becomes very important at the end of the spacewalk.
The footage shows practically everything that happened during the spacewalk — until the end. At this point Leonov's puffy suit made it difficult for him to get back inside the airlock. It took him about eight minutes to force his way through, and he had to partly depressurize his suit to do it! Not surprisingly, this Soviet-era film does not show these difficulties. In fact, it appears that they used a clip of him going out of the airlock, pretending it was a shot of him going back in.
After the spacewalk the footage shows Leonov in the capsule sketching. In truth, he is a talented artist.
Finally, the footage in the forests after landing shows another less well-known story: when they returned to Earth their spacecraft missed its planned landing spot and ended up in the remote dense forests of the Ural Mountains. Leonov, and his partner Pavel Belyaev had to wait for two days in the snow-covered forest while helicopters dropped them supplies and skiers chopped open a field so that a rescue helicopter could land.
Readers!
My July fund-raiser for Behind the Black is now over. The support from my readers was unprecedented, making this July campaign the best ever, twice over. What a marvelous way to celebrate the website's tenth anniversary!

Thank you! The number of donations in July, and continuing now at the beginning of August, is too many for me to thank you all personally. Please forgive me by accepting my thank you here, in public, on the website.

If you did not donate or subscribe in July and still wish to, note that the tip jar remains available year round.
Regular readers can support Behind The Black with a contribution via paypal:
If Paypal doesn't work for you, you can support Behind The Black directly by sending your donation by check, payable to Robert Zimmerman, to

Behind The Black
c/o Robert Zimmerman
P.O.Box 1262
Cortaro, AZ 85652