An evening pause: Forty-six years ago today Alexei Leonov became the first man to walk in space. This Soviet-era film shows practically the entire event, using footage from two cameras. Unfortunately, I don't speak Russian and it is not subtitled. I'd love it if someone out there could provide a translation.
Several things to note as you watch:

For this mission, the Soviet engineers built an inflatable airlock that they attached to the Voskhod space capsule. You can see Leonov climb through it at the start of the spacewalk, and pop out of it as he enters space.
As soon as he enters space note the puffy state of his gloves, arms, and suit. It is very obvious that the spacesuit has expanded in the vacuum of space. This becomes very important at the end of the spacewalk.
The footage shows practically everything that happened during the spacewalk — until the end. At this point Leonov's puffy suit made it difficult for him to get back inside the airlock. It took him about eight minutes to force his way through, and he had to partly depressurize his suit to do it! Not surprisingly, this Soviet-era film does not show these difficulties. In fact, it appears that they used a clip of him going out of the airlock, pretending it was a shot of him going back in.
After the spacewalk the footage shows Leonov in the capsule sketching. In truth, he is a talented artist.
Finally, the footage in the forests after landing shows another less well-known story: when they returned to Earth their spacecraft missed its planned landing spot and ended up in the remote dense forests of the Ural Mountains. Leonov, and his partner Pavel Belyaev had to wait for two days in the snow-covered forest while helicopters dropped them supplies and skiers chopped open a field so that a rescue helicopter could land.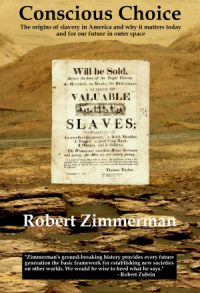 From the press release: In this ground-breaking new history of early America, historian Robert Zimmerman not only exposes the lie behind The New York Times 1619 Project that falsely claims slavery is central to the history of the United States, he also provides profound lessons about the nature of human societies, lessons important for Americans today as well as for all future settlers on Mars and elsewhere in space.
Conscious Choice: The origins of slavery in America and why it matters today and for our future in outer space
, is a riveting page-turning story that documents how slavery slowly became pervasive in the southern British colonies of North America, colonies founded by a people and culture that not only did not allow slavery but in every way were hostile to the practice.
Conscious Choice
does more however. In telling the tragic history of the Virginia colony and the rise of slavery there, Zimmerman lays out the proper path for creating healthy societies in places like the Moon and Mars.
"Zimmerman's ground-breaking history provides every future generation the basic framework for establishing new societies on other worlds. We would be wise to heed what he says." —Robert Zubrin, founder of founder of the Mars Society.
Available everywhere for $3.99 (before discount) at Amazon, Barnes & Noble, and all ebook vendors, or direct from the ebook publisher, ebookit. And if you buy it from ebookit you don't support the big tech companies and I get a bigger cut much sooner.