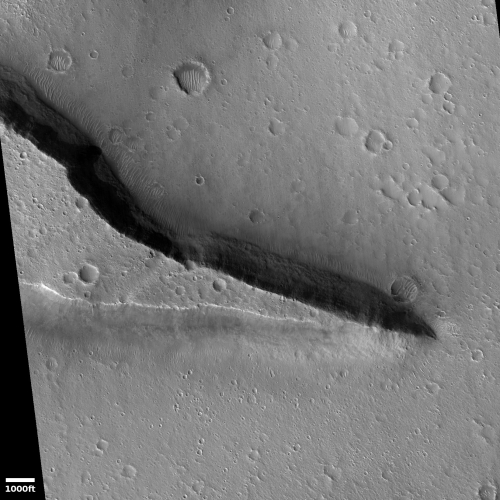 Click for full image.
Time to take a cool image and go sight-seeing. The photo to the right, cropped and reduced to post here, was taken by the high resolution camera on Mars Reconnaissance Orbiter (MRO) on May 25, 2020, and shows a spectacular knife-edge mesa, its cliffs more than 650 feet high on either side.
This knife mesa sits among a bunch of similar mesas, and appears to be in a region that could be called chaos terrain, formed by flowing water or ice along faults, cutting criss-crossing canyons with mesas between.
This mesa points east out from the Kasai Valley, the second largest canyon draining out from the Tharsis Bulge that contains Mars' largest volcanoes. The overview map below provides some context, with the white cross indicating the location of today's cool image.
» Read more