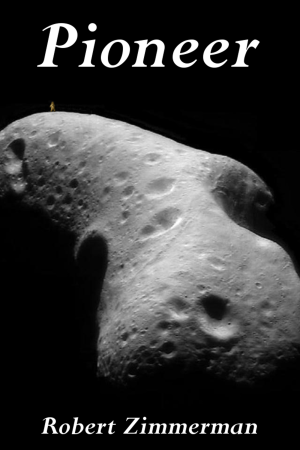 I am today announcing the publication of Pioneer, a science fiction book I first wrote back in 1982 that has languished in my files now for more than three decades. As I note in the introduction,
It was never published because at the time I could not find an agent to market it to book publishers, and was then too naive and shy to attempt to do such things myself.

In viewing several recent science fiction movies, however, I was motivated to pull the final draft of Pioneer from my files, wondering if it might be marketable. I hadn't read it in decades, and had literally forgotten the story. I started reading expecting a typical first novel, somewhat incoherent and emotionally immature.

Instead I was quite surprised and enthralled. I couldn't put the book down. Moreover, I was astonished at the coherence of the story and characters. "This is a good book!" I exclaimed to my wife Diane. Nor am I bragging when I say this, since the person who wrote it is someone from many decades ago and who essentially no longer exists.

Thus, I decided it was time to get Pioneer published, especially since this is now a very easy thing to do, no longer requiring either an agent or a book publisher.
The press release announcing the book's publication provides the story's premise:
» Read more