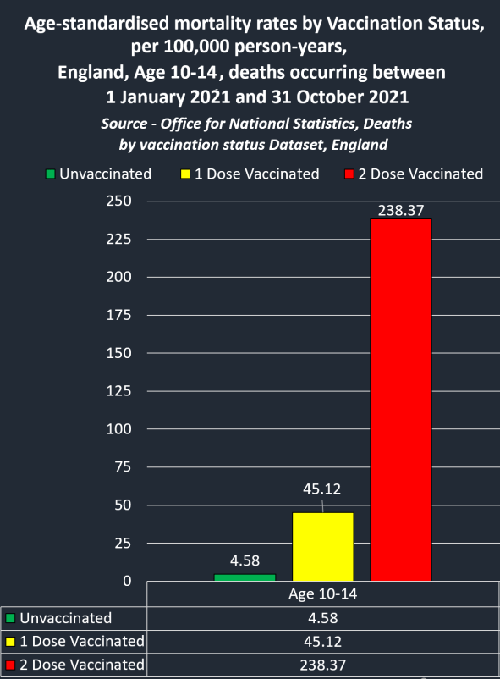 COVID mortality rates among children 10-14 in the United Kingdom,
comparing those who got the COVID shots versus those who did not
While stories about the ineffective and harmful consequences of the panic over the Wuhan flu continue to pour in on an almost daily basis, it is often better to step back and see these many stories in aggregate. By looking at the forest from a distance, a clearer picture frequently reveals itself that remains hidden if you only focus on studying the individual trees.
For example, the graph to the right, first published in January 2022, suggests strongly that giving young children the COVID shots only increased their mortality. This is just one story, however. Is it typical, or an outlier? You need to look at the larger picture to know.
Below I list and categorize the many science papers and news stories I have been collecting since my previous detailed two essays in May about the epidemic and its consequences (see: "The evidence keeps pouring in showing the utter failure of all COVID mandates" and "Are the COVID vaccines killing people over time? The data suggests yes."). The totality of this data does appear shocking, especially because it makes evident the utter failure of almost every policy set by almost every government health official and elected politician since the Wuhan flu arrived in 2020.
First we must take another look at the new research about the mask mandates, policies that decades of research repeatedly showed would do nothing to protect anyone from COVID, and might even be unhealthy.
» Read more