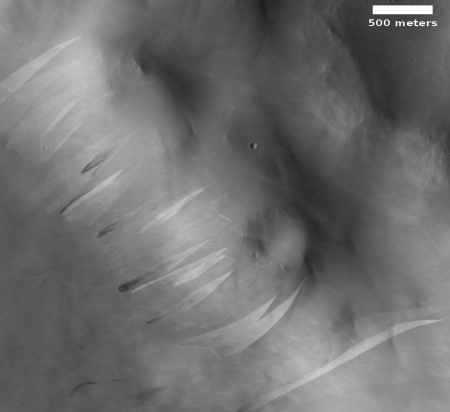 Click for full image.
Mars is an alien planet. This fact needs to be restated over and over, because we humans have an uncontrolled and unconscious tendency to view the things we find on Mars and assume they are caused by and resemble phenomenon we see all the time here on Earth.
Not. Mars has a very different climate, a significantly weaker gravitational field (about one third of Earth's), and a geological and environmental make-up very alien from Earth's. While many phenomenon there might have parallels on Earth, it is very dangerous to assume they are the same, because more often than not, they are exceedingly dissimilar and mysterious.
The image on the right is another example of this, reduced and cropped to post here. It is of some slope streaks in the Arabia Terra region on Mars, the largest most extensive region in the transition zone between the northern lowland plains and the southern highlands. I found it in my review of the August 30th release of new images from the high resolution camera on Mars Reconnaissance Orbiter.
As I already noted in my previous article about the mysterious slope streaks of Mars:
The bottom line, as noted in one paper, "The processes that form slope streaks remain obscure. No proposed mechanism readily accounts for all of their observed characteristics and peculiarities."

Mars is strange. Mars is alien. Mars epitomizes the universe in all its glory.
The image above only reinforces this conclusion.
» Read more