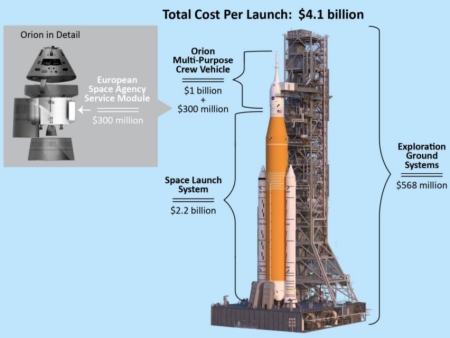 The expected real per launch cost of SLS and Orion
The big news in the mainstream press today is the planned rollout from the Vehicle Assembly Building (VAB) of NASA's SLS rocket this evening in preparation for its dress rehearsal fueling and countdown planned for April 3rd.
This article by Newsweek is very typical. It glows with facts lauding SLS's gigantic size and the monumental systems designed to slowly transport it the four miles from the VAB to the launchsite.
At a height of 322 feet (ft), making it taller than the 305ft Statue of Liberty, the SLS will be the largest rocket to move to a launchpad since the Saturn V launched on its last mission in 1973, when it carried the Skylab space station into orbit around Earth. Its size has seen NASA dub it a Mega-Moon rocket.

NASA says that the four-mile journey from the Vehicle Assembly Building to the launch pad at NASA's Kennedy Space Center in Florida, where the SLS was recently adorned with the NASA logo, will take between 6 and 12 hours. It will be carried on the back of NASA's 6.6-million-pound crawler vehicle. [emphasis mine]
If that April 3rd countdown dress rehearsal goes well, SLS will be rolled back to the VAB and then prepped for its first launch, presently scheduled tentatively for May '22, though more likely in June or July.
For NASA the rollout today is somewhat of a relief. SLS was originally supposed to launch in 2015, making it seven years behind schedule. It has also been enormously expensive, costing close to $30 billion to build, if one does not count the $20 billion cost of the Orion capsule it carries. That the agency finally has this rocket assembled and almost ready to launch, after so many delays and cost overruns, means that NASA might finally be able to prove it is a reality, not simply a boondoggle designed by Congress to funnel cash through NASA to their constituents.
The Newsweek article however strangely ignores the launchpad stacking of another equally gigantic rocket that occurred yesterday. » Read more