Please consider donating to Behind the Black, by giving either a one-time contribution or a regular subscription, as outlined in the tip jar to the right. Your support will allow me to continue covering science and culture as I have for the past twenty years, independent and free from any outside influence.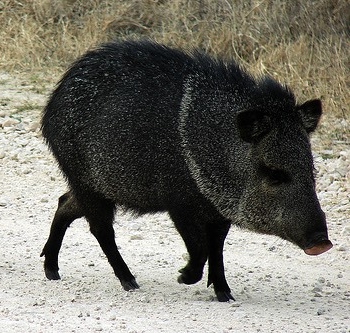 This past weekend I participated on my third hunt, the second in which I was carrying my own weapon with the possibility of making my own kill. (For my first hunting experience I only came along as an observer.) The goal was to find and shoot a javelina, a boarlike wild animal whose range covers the southwestern United States down into Central America.
The hunt itself was what Arizona Game and Fish calls a HAM hunt, specifically limited to the use of handguns, archery, or muzzleloaders. This means that the only long gun you can use must be loaded through the muzzle one shot at a time, use black powder, and function somewhat like an old-fashioned musket. My weapon of choice was the 1911 pistol I use for bullseye competition, with a red dot scope, a customized left-handed grip, a carefully adjusted trigger, and in general carefully adjusted to be as accurate as possible. With this gun, shooting 45 caliber ammo, I can hit the black bullseye 50 yards away shooting one-armed about 70% of the time. At shorter distances, using two hands, I can easily group my shots in a space less than a few inches across. (Such accuracy on my part is actually not very impressive. Among bullseye shooters I am about average. The public's general belief that pistols are not accurate beyond 20 feet is simply wrong. Practice, make sure your gun functions as it should, and you will reliably be able to hit your target at 50 yards.)
Since I really have no knowledge about hunting, I wouldn't have dreamed of doing this without some help. My mentor this weekend was a local friend, Gary Kessinger, who has been hunting for decades, has a number of record kills, and routinely comes home successfully from his hunts. When I mentioned to Gary my desire to learn more about hunting and see how it is done, he gladly offered to guide me through the process. He hadn't hunted javelinas much in the past few years, but decided to get his own license or tag so that he could shoot one himself.
As I told Gary on Saturday morning, I am essentially a babe in the woods, and would do whatever he suggested. My attitude was that I was the equivalent of a 10-year-old on his first hunt. Anything I accomplished well would be a success, even if it was merely learning how to spot javelinas on a distant hillside using binoculars.

Gary picked the location, a place he had seen javelinas previously. We arrived at 5:45 am, about thirty minutes before dawn, just as sky was beginning to lighten, located on a ridgeline about 100 yards beyond where we parked the car. We got out our binoculars, sat down, and began to scan the opposite ridgeline about a 1000 feet away on the other side of a wash. According to Gary, the javelinas, which travel in herds, would be foraging for food during the night, and would continue to do so for the first few hours of daylight, when they would bed down for the day. Our goal was to spot them before they bedded down, when they were moving and thus easier to spot. If successful, we would then carefully hike to them and attempt to bag two, one for him and one for me.
This was my first challenge. Though the southern Arizona countryside is open, spotting a herd of knee-high javelinas among the scrub grass, the mesquite trees, the various cacti, and boulders, is not easy. You look for small, moving, dark spots, but the javelina can easily disappear amid all the objects on the hillside. Moreover, you have to get a sense of scale, and get used to seeing the terrain through binoculars. In the first hour I saw nothing, even as Gary was able to spot some deer. He pointed out where they were, but I couldn't see them.
At this point Gary decided we should walk further up the ridge so we could study a different area of the opposite ridge. It was now brighter, my eyes were getting more educated in what to look for, so when Gary spotted a white cow on the hillside with his naked eye I recognized it immediately. And when I aimed my binoculars at the cow I was even able to spot a deer zip past it. (By the next day I found I was even able to spot deer moving through the brush, without the binoculars.)
Still, our search remained in vain. Gary explained that if we had not spotted them by about 9:30 am we might as well head home for the day, as they will have bedded down and would be very difficult to find. He didn't see any point of wandering around the hillside aimlessly. Better to go home, get some rest, and come back in the morning. We started to walk back down the hillside to the car. At one point however we had a better view of the thicket of mesquite trees on the opposite ridge where Gary had seen the javelinas the year before. We stopped for one last look.
At one point I thought I saw a hump in a shaded flat area between two trees. It seemed to me to be about the right size and color of a javelina, but it didn't move, so after few seconds I scanned away. When I scanned back however I could no longer find the hump. Instead, it looked like the hump had flattened out into a smaller triangular shape. Unfortunately, in my inexperience I had not noted carefully enough the landmarks surrounding the hump, so I wasn't sure I was looking in the same place. What I saw however could have been a javelina that had laid down on its side to go to sleep.
Gary looked but was unconvinced. At this point we had a choice. We could head home, or we could hike across to the opposite ridge and see if there were any javelinas there. While Gary thought the odds were low, he also though it worthwhile looking. As he said, "You can't learn anything driving in a car going home."
We hiked down into the wash and found a way up to the opposite ridge, taking care to be quiet and to arrive several hundred yards to one side with the wind blowing towards us so the javelinas wouldn't grab our scent. We separated by about 100 feet and began to slowly walk parallel toward the spot where I thought I had seen the hump. I had marked the spot with my GPS to help guide me to it, and we had both carefully eyed the terrain before we started out so that we would have a reasonably good chance of finding the spot once we were across and on the opposite ridge. At this point I had also taken my pistol from my daypack, chambered a round with the safety on, and held it in my hand. Because the gun has a scope it does not fit in any standard holster. Gary had said this wasn't an issue, because when you are hunting you have to hold your gun in your hand anyway at all times. "There have been hunts where I've carried my rifle the whole day."
We moved slowly, checking out shady areas in the hope we could spot the javelinas without waking them. Unfortunately, there were none there. I was even able to recognize the spot where I had thought I had seen the hump. The flattened triangular shape turned out to be nothing more than a rock. If I had seen a javelina, they had moved on and we had missed them. They could be bedded down anywhere on that ridge, but finding them would take hours.
We hiked back to the car and drove to another location where Gary had seen javelina in past years. Since it was now too late to spot any moving javelinas the plan was to scout out where we would go first thing Sunday morning. We then went home to get some rest and recharge for the next day.
Sunday was a little different. After about 30 minutes of fruitless scanning at this new location, Gary said let's get in the car and try some other spots. As we drove towards the main road we would stop several times at likely locations and scan, unfortunately finding nothing. Then we went out on the main road and took a different dirt road back to a high point, where Gary hoped we might have more luck. Here we had a much wider view.
Within thirty seconds Gary called out, "I got 'em." Just by luck he had aimed his very powerful binoculars at the far end of the opposite ridge, and spotted what looked like four or five javelinas moving about in an open area near a thicket of mesquites, as if they were getting ready to bed down. It was a long walk, but he decided the fastest way to get to them was to hike directly there, down the ridge we were on and then cross the left wash up onto their ridge. We started out at a very brisk pace.
As we got closer that mesquite thicket and the hillside it was on started to become more and more familiar, until I felt compelled to ask, "Isn't that the same area where I saw that hump yesterday?" It was. Gary sat down to see if he could spot the javelinas, but now they were gone. They were there, but we didn't know exactly where. At this point Gary decided it made no sense to repeat what we did on Saturday, climbing up and walking the hillside. The odds of finding them was too small. Instead, he proposed coming back later in the day, before the sun went down, and seeing if we could spot them when they started to move again. In the meantime, he suggested we go down to the wash below and walk its length back to the cars. There had to be a reason the javelinas liked that ridgeline, and his theory was that there were water pockets down in the wash. If we could find those, we could then set up by them and wait for the javelinas to come to us.
Gary turned out to be right. There were four substantial water pockets in the wash, with numerous animal tracks at each, including javelina tracks.
That Sunday afternoon we drove back, with Gary waiting silently at one water pocket and I waiting silently at another. I set myself up about twenty feet above the water pocket, on the slope opposite the hillside where we had seen the javelinas, in a spot with a mesquite tree behind me and an ocotillo plant in front, helping to hide me. I was certainly not invisible, but the important thing was to be quiet and not move should any javelinas approach.
Less than five minutes later I heard footfalls and a noise of branches breaking above me. Turning around slowly, I noticed two dark round objects in the brush about fifteen feet high up. "Are those javelinas?" I thought. No, they didn't move. Then something did move about twenty feet higher up the hill. Unfortunately, it wasn't a javelina. It was the white cow we had seen Saturday morning. Obviously intent on coming down to the water hole, the cow froze when it saw me turn and look at it, and we proceeded to stare at each other for the next few minutes. I eventually turned away and focused my gaze instead at the opposite hillside, where I hoped the javelina would be coming from. The cow meanwhile lost interest after a few more minutes and wandered away.
For the next ninety minutes I waited. I heard nothing, and saw nothing move. Nothing came down to the water hole. Nor did I hear shots from Gary, so that meant he hadn't seen anything either. He had estimated from his experience that there was an 80% chance that one of us would see the herd of javelinas, but it wasn't to be. At sunset I hiked back, meeting Gary at the car.
Gary intends to go out several times in the morning this week, while our license is still good. He is confident he will get a javelina. I am probably done with this hunt, as I have work to do this week (including preparing for the public release of my space policy paper) and cannot spare the time. Nonetheless, the weekend was a fascinating experience, as I got for the first time a really good understanding of the sophisticated thinking that goes into hunting. As Gary said, "You go where the animals are." The trick is trying to figure out where they are.