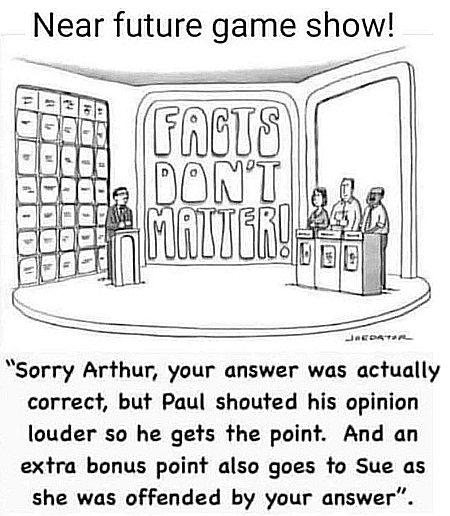 How our governments continue to determine policy against COVID
One week ago I published a short essay listing a number of news stories that, as I wrote then, "illustrate starkly the foolishness and the over-reaction to COVID."
It appears I might have to make this a weekly feature. In the last seven days I've collected a whole bunch of new articles, all of which provide further evidence of the lie that was COVID. Not only did our political and health leadership in government routinely lie to us, they often exhibited a remarkable ignorance about some basic science. Until there is reckoning that cleans house in these government agencies, Americans should never believe anything they say.
Most of the stories this past week document the overall failure of the COVID shots to do what these government officials promised: to prevent infection. To understand the significance of this fact, one must go back and review the claims made by government health officials when these shots were first developed. From the beginning these officials repeatedly claimed that the shots would prevent transmission of the virus, and protect people from any Wuhan flu infection if they got the jab. Just watch some of the videos here. Over and over again so-called experts claimed back in the spring of 2021 that the shots would "prevent transmission."
NOT.
These stories do not prove that the shots accomplish nothing, or are very dangerous. The dangerous risks posed by the shots are estimated to be about the same or less than getting COVID itself, which means if you get the jab you will almost certainly not experience any adverse effects. There is also evidence, though very uncertain, that the shots reduce the severity of the Wuhan flu.
Nonetheless, these stories and the data once again show that the promises made about the shots by government officials and their toadies in the health profession were either overstatements, or outright lies. The shots generally accomplish very little, and were oversold.
Then there were these stories this week about the failure of the lockdowns.
It was patently obvious back in the spring of 2020 that the lockdowns were a bad idea. They didn't prevent the spread of the disease, at all, while causing terrible economic disaster for millions. The stories above merely document the failure of the lockdowns more thoroughly, in hindsight.
Yet, politicians, mostly Democrats, not only pushed for massive lockdowns and quarantines right from the beginning, these same politicians have continued to push them, with Democrats in California, Oregon, Washington, and New York still doing so even today.
New York City is a great example of the idiocy of Democratic Party politicians. There, mask and vaccine mandates have been maintained to the bitter end. Yet the city's Democrat mayor, Eric Adams, suddenly decided on March 24, 2022 that athletes and theater performers somehow didn't need masks or vaccines to work in New York and be safe from the Wuhan flu, based on zero scientific evidence .
The immediate response from city employees was interesting:
Adams said he was righting a wrong, leveling the playing field that allowed unvaccinated athletes from out of town to play in New York arenas while those on New York teams couldn't. But there is intense pushback. Municipal unions, even the City Council speaker, are crying foul, saying rich athletes shouldn't get a pass when more than 1,400 city workers were fired for not getting the shot and thousands more could soon join them. [emphasis mine]
Somehow, the Wuhan flu could kill cops working at the ball parks or in the theaters if they didn't wear masks or get the jabs, but the athletes or performers were entirely immune, and didn't need either masks or shots. SCIENCE!
What is probably most infuriating about these lies has been the attempt by these liars to make believe they never said them. For example, in early February CNN medical analyst Dr. Leana Wen told us:
In the coming days, we will see many Governors and local leaders lift mask mandates. This is the right step, and marks a needed shift from government-imposed requirement to individual decision. It helps to preserve public health authority for when it's needed again. [emphasis mine]
In saying this, Wen also claimed that "the science had changed," when in truth nothing related to the effectiveness of masks had changed at all. Research spanning many decades before COVID had shown that masks did nothing to protect anyone from a virus respiratory illness like the Wuhan flu. No research since has changed that conclusion.
However, in early February Democrats suddenly realized that the public had finally figured this out, and were now becoming very hostile to mask mandates. Thus, in February the mantra suddenly became "Masks no longer work! We are abandoning them in order to follow 'the science!'"
Many of these petty tyrants now claim that they always followed "the science", when in fact none of their decisions ever had anything to do with facts. They imposed these mandates out of fear and an eager desire to gather power to themselves — as the highlighted sentence in Wen's quote above proves: "It helps to preserve public health authority when it is needed again." These brainless thugs fear losing that power, and are trying to rewrite history to avoid being slammed at the polls. Or as one person said so pithily on Twitter in translating Wen's comments:
"The science has changed" is code for "we were wrong and people have caught on to our lies and we're afraid of the backlash."
Free Americans must not let these incompetent liars get away with this last lie. They must be fired from their jobs, and must never be allowed to have power over others ever again. We will have our next chance to remove some of them in November. Woe to us if we do not.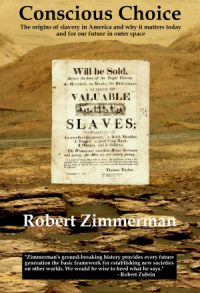 Now available in hardback and paperback as well as ebook!
From the press release: In this ground-breaking new history of early America, historian Robert Zimmerman not only exposes the lie behind The New York Times 1619 Project that falsely claims slavery is central to the history of the United States, he also provides profound lessons about the nature of human societies, lessons important for Americans today as well as for all future settlers on Mars and elsewhere in space.
Conscious Choice: The origins of slavery in America and why it matters today and for our future in outer space
, is a riveting page-turning story that documents how slavery slowly became pervasive in the southern British colonies of North America, colonies founded by a people and culture that not only did not allow slavery but in every way were hostile to the practice.
Conscious Choice
does more however. In telling the tragic history of the Virginia colony and the rise of slavery there, Zimmerman lays out the proper path for creating healthy societies in places like the Moon and Mars.
"Zimmerman's ground-breaking history provides every future generation the basic framework for establishing new societies on other worlds. We would be wise to heed what he says." —Robert Zubrin, founder of founder of the Mars Society.
All editions are available at Amazon, Barnes & Noble, and all book vendors, with the ebook priced at $5.99 before discount. The ebook can also be purchased direct from my ebook publisher, ebookit, in which case you don't support the big tech companies and I get a bigger cut much sooner.
Autographed printed copies are also available at discount directly from me (hardback $24.95; paperback $14.95; Shipping cost for either: $5.00). Just email me at zimmerman @ nasw dot org.