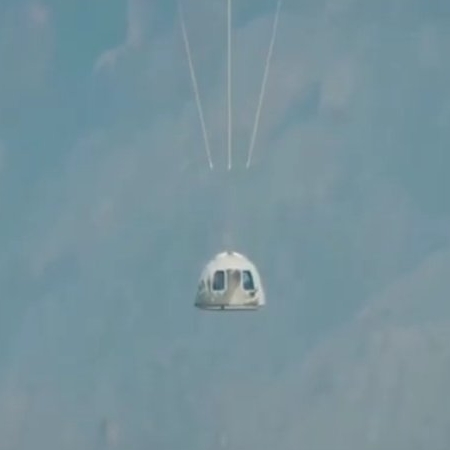 New Shepard just prior to landing.
Capitalism in space: Blue Origin this morning successfully flew its first commercial suborbital flight using its New Shepard spacecraft, taking Jeff Bezos and four other passengers, one paying, to an altitude of 66.5 miles.
The flight lasted just over ten minutes.
I have embedded the video of the flight, cued to just before launch, below the fold. Try to ignore the blather of Blue Origin's announcer, which fortunately mostly stops once the spacecraft passes 62 miles and enters space. At that point microphones from inside the capsule take over, and you get to hear the reaction of the passengers themselves.
A grand success for Blue Origin and Jeff Bezos. And another grand success for freedom and private enterprise.
Next up, the beginning of regular commercial orbital manned tourist flights, starting in September. Here is the present flight manifest:
September 2021: SpaceX's Dragon capsule flies four private citizens on a three day orbital flight
October 2021: The Russians will fly two passengers to ISS to shoot a movie
December 2021: The Russians will fly billionaire Yusaku Maezawa and his assistant to ISS for 12 days
cDecember 2021: Space Adventures, using a Dragon capsule, will fly four in orbit for five days
January 2022: Axiom, using a Dragon capsule, will fly four tourists to ISS
2022-2024: Three more Axiom tourist flights on Dragon to ISS
2024: Axiom begins launching its own modules to ISS, starting construction of its own private space station
c2024: SpaceX's Starship takes Yusaku Maezawa and several others on a journey around the Moon.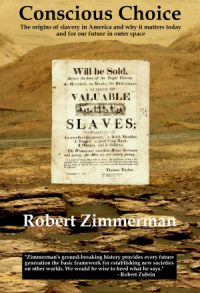 Now available in hardback and paperback as well as ebook!
From the press release: In this ground-breaking new history of early America, historian Robert Zimmerman not only exposes the lie behind The New York Times 1619 Project that falsely claims slavery is central to the history of the United States, he also provides profound lessons about the nature of human societies, lessons important for Americans today as well as for all future settlers on Mars and elsewhere in space.
Conscious Choice: The origins of slavery in America and why it matters today and for our future in outer space
, is a riveting page-turning story that documents how slavery slowly became pervasive in the southern British colonies of North America, colonies founded by a people and culture that not only did not allow slavery but in every way were hostile to the practice.
Conscious Choice
does more however. In telling the tragic history of the Virginia colony and the rise of slavery there, Zimmerman lays out the proper path for creating healthy societies in places like the Moon and Mars.
"Zimmerman's ground-breaking history provides every future generation the basic framework for establishing new societies on other worlds. We would be wise to heed what he says." —Robert Zubrin, founder of founder of the Mars Society.
All editions are available at Amazon, Barnes & Noble, and all book vendors, with the ebook priced at $5.99 before discount. The ebook can also be purchased direct from my ebook publisher, ebookit, in which case you don't support the big tech companies and I get a bigger cut much sooner.
Autographed printed copies are also available at discount directly from me (hardback $24.95; paperback $14.95; Shipping cost for either: $5.00). Just email me at zimmerman @ nasw dot org.