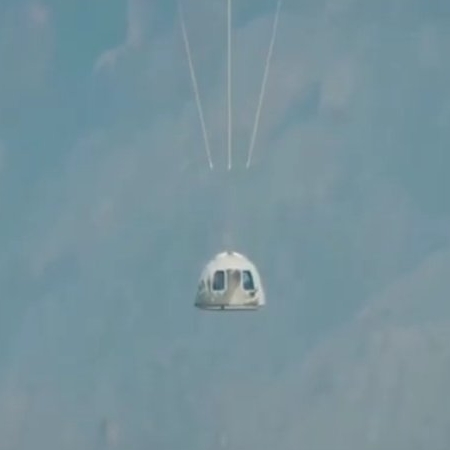 New Shepard just prior to landing.
Capitalism in space: Blue Origin this morning successfully flew its first commercial suborbital flight using its New Shepard spacecraft, taking Jeff Bezos and four other passengers, one paying, to an altitude of 66.5 miles.
The flight lasted just over ten minutes.
I have embedded the video of the flight, cued to just before launch, below the fold. Try to ignore the blather of Blue Origin's announcer, which fortunately mostly stops once the spacecraft passes 62 miles and enters space. At that point microphones from inside the capsule take over, and you get to hear the reaction of the passengers themselves.
A grand success for Blue Origin and Jeff Bezos. And another grand success for freedom and private enterprise.
Next up, the beginning of regular commercial orbital manned tourist flights, starting in September. Here is the present flight manifest:
September 2021: SpaceX's Dragon capsule flies four private citizens on a three day orbital flight
October 2021: The Russians will fly two passengers to ISS to shoot a movie
December 2021: The Russians will fly billionaire Yusaku Maezawa and his assistant to ISS for 12 days
cDecember 2021: Space Adventures, using a Dragon capsule, will fly four in orbit for five days
January 2022: Axiom, using a Dragon capsule, will fly four tourists to ISS
2022-2024: Three more Axiom tourist flights on Dragon to ISS
2024: Axiom begins launching its own modules to ISS, starting construction of its own private space station
c2024: SpaceX's Starship takes Yusaku Maezawa and several others on a journey around the Moon.
Readers!
The fourth week in my annual July fund-raising campaign for Behind the Black has now begun. Please consider donating to Behind the Black, by giving either a one-time contribution or a regular subscription, as outlined below. Your support will allow me to continue covering science and culture as I have for the past twenty years, independent and free from any outside influence.
Moreover, this year if you donate $35 or more I will send you one of the following ebooks, for free.
You pick the book. And the donation will also get you an email directly from me, the author, arranging electronic delivery.
I do not accept advertisements, nor do not participate in corrupt social media companies like Google, Twitter, and Facebook. I depend wholly on the direct support of my readers.
You can provide that support Behind The Black with a contribution via Patreon or PayPal. To use Patreon, go to my website there and pick one of five monthly subscription amounts, or by making a one-time donation. For PayPal click one of the following buttons:

If Patreon or Paypal don't work for you, you can support Behind The Black directly by sending your donation by check, payable to Robert Zimmerman, to


Behind The Black
c/o Robert Zimmerman
P.O.Box 1262
Cortaro, AZ 85652