Click for full resolution panorama. Note: Navarro Mt is about 450 feet high.
The travels of Curiosity at the base of Mount Sharp continue. In the past week, since my last update on June 16th, the rover has moved west past the entrance to Gediz Vallis to now sit at the base of Raphael Navarro Mountain, as shown by the panorama above. To get a sense of how far the rover has traveled in the past week, compare this panorama with the one posted then. It is also clear now that they are slowly returning to their planned route, and will not push up into Gediz Vallis as I speculated in that post.
The panorama is created from three photos taken by Curiosity's navigation camera, found here, here, and here.
The map below the fold gives the context.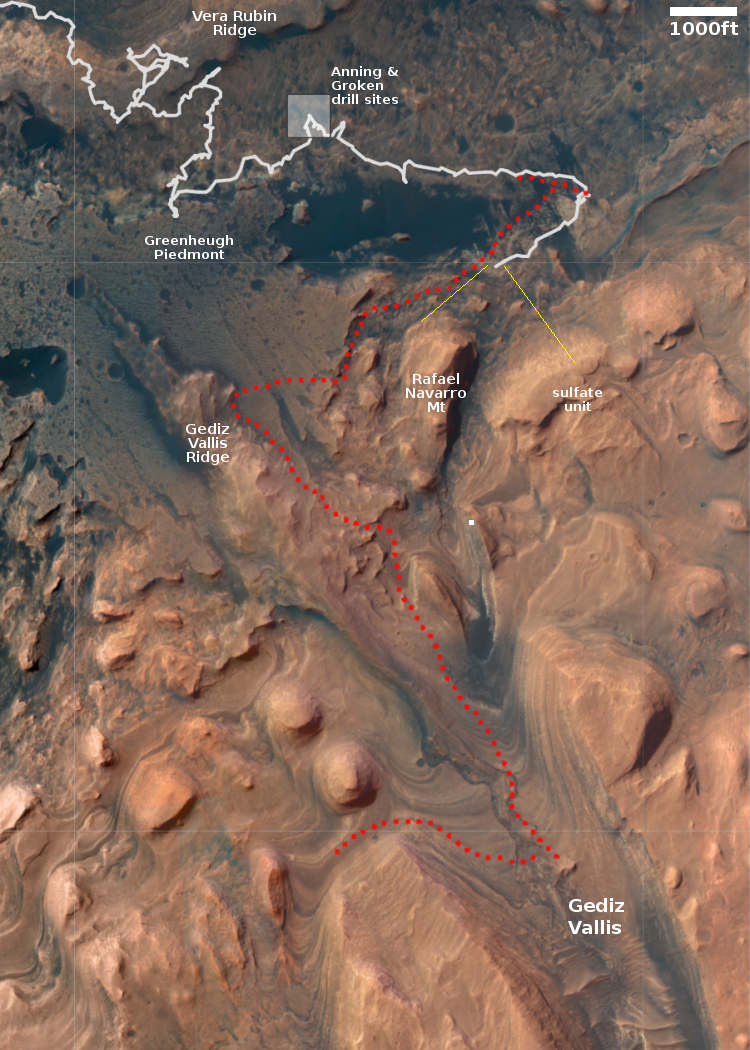 Click for interactive map.
I have annotated the interactive map that the Curiosity team provides. The yellow lines indicate the area covered by the panorama above. The dotted red line marks their planned route up Mt. Sharp. The white line the route they have taken, through June 21st. The white dot almost due south of their present position and inside Gediz Vallis is a suspected recurring slope lineae, a streak that darkens seasonally that might be caused by the seepage of underground brine.
The rover is presently higher on Mount Sharp than any time previously, with that record being broken with almost every day's travel. Over the next few months they will circle around Navarro Mountain to head uphill on its western side, making a side trip back to check out Gediz Vallis Ridge before driving into Gediz Vallis.
As I have mentioned previously, these are the first Martian mountains seen from eye level. More such breath-taking views await us as Curiosity dives upward into Mount Sharp.
Readers!
In order to remain completely independent and honest in my writing, I accept no sponsorships from big space companies or any political organizations. Nor do I depend on ads.
Instead, I rely entirely on the generosity of readers to keep Behind the Black running. You can either make a one time donation for whatever amount you wish, or you sign up for a monthly subscription ranging from $2 to $15 through Paypal, or $3 to $50 through Patreon, or any amount through Zelle.
The best method to donate or subscribe is by using Zelle through your internet bank account, since it charges no fees to you or I. You will need to give my name and email address (found at the bottom of the "About" page). What you donate is what I get.
To use Patreon, go to my website there and pick one of five monthly subscription amounts, or by making a one-time donation.

For PayPal click one of the following buttons:

If these electronic payment methods don't work for you, you can support Behind The Black directly by sending your donation by check, payable to Robert Zimmerman, to


Behind The Black
c/o Robert Zimmerman
P.O.Box 1262
Cortaro, AZ 85652