A quick holiday fund-raising campaign for Behind the Black!
Scroll down to read this post.
In past years I have managed to avoid asking for donations for Behind the Black during the holiday season. My finances however now compel me to do a short one-week fund-raiser, from November 11 to November 17.
I do not use Twitter for ethical reasons, which I have been told cuts down on traffic to the website. So be it. Furthermore, Facebook has clearly acted in the past two years to limit traffic to Behind the Black, almost certainly for political reasons. So be this as well. Finally, I do not post outside ads, as I have found them annoying to my readers and not that profitable to me.
Therefore, I need to ask for the direct support from my readers. If you like what I do here, please consider contributing, either by making a one-time donation or a monthly subscription, as indicated in the tip jar below.
Regular readers can support Behind The Black with a contribution via paypal:
If Paypal doesn't work for you, you can support Behind The Black directly by sending your donation by check, payable to Robert Zimmerman, to

Behind The Black
c/o Robert Zimmerman
P.O.Box 1262
Cortaro, AZ 85652

Or you could consider purchasing one of my books, as indicated in the boxes scattered throughout the website. My histories of space exploration are award-winning and are aimed for the general public. All are page-turners, and all not only tell the story of the beginning of the human exploration of space, they also help explain why we are where we are today. And I also have a science fiction book available,
Pioneer
, which tells its own exciting story while trying to predict what life in space will be like two hundred years in the future.
Note that for this week only I am also having a sale on the purchase of the last 20 hardbacks of
Leaving Earth
. (Click on the link for more information about the book, which was endorsed by Arthur C. Clarke himself!) This award-winning out-of-print book is now only available as an ebook, but I still have a handful of hardbacks available, normally for sale for $70 plus $5 shipping. For this week only you can buy them, personally autographed by me, for $50 plus $5 shipping! Just send me a check, payable to Robert Zimmerman, to the address above, with a note saying that the money is for the
Leaving Earth
hardback.
Please consider donating. Your help will make it possible for me to continue to be an independent reporter in the field of space, science, technology, and culture.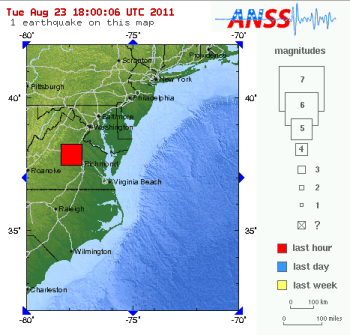 A 5.9 magnitude earthquake hit Virginia at about 1:51 pm (Eastern).
I am in Maryland, just outside the beltway, and felt something like an earthquake about five minutes ago. The house started to shake, then settled, then shook again. Quite startling. I opened the front door the same time a neighbor did. She had felt the same thing.
The above quake was more than 90 miles away. I wonder how bad it is there, considering the eastern U.S. rarely experiences quakes and has made no preparations for such a thing.
For updates:

Update: The comments illustrate the difference between a quake in the eastern U.S. versus the western U.S. In the west the quakes are almost always localized, rarely felt far from the epicenter. In the east however the tremors can travel far distances. Thus, we have people from as far south as Georgia and as far north as Connecticut (and Canada!) and as far west as Ohio (and Chicago!) reporting the tremors.
Update 2: This quake appears to tie the record for the largest earthquake in Virginia history.
So far all news reports are merely rehashing the information on the USGS website. Your comments are actually providing more information than the press!
Update 3: As far as I can tell from all reports, the quake has produced little if any damage anywhere. The worst consequence appears to be some overreaction in some quarters (government offices evacuated in Washington, DC and New York). I have also heard from a friend who works in the capital. His words, "Talk about people freaking out! The Hill is shut down big time."
Update 4: Check out the devastation in Washington, DC.
Update 5: The USGS has revised its summary of the quake, calling it 5.8 magnitude with the epicenter 3.7 miles deep, not .7 miles deep as their earlier estimate stated. You can find their geological assessment of the quake here.