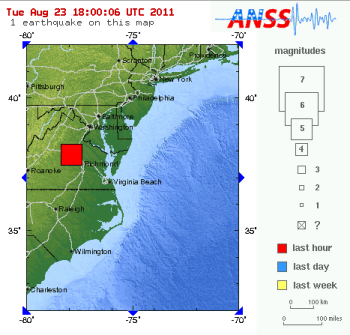 A 5.9 magnitude earthquake hit Virginia at about 1:51 pm (Eastern).
I am in Maryland, just outside the beltway, and felt something like an earthquake about five minutes ago. The house started to shake, then settled, then shook again. Quite startling. I opened the front door the same time a neighbor did. She had felt the same thing.
The above quake was more than 90 miles away. I wonder how bad it is there, considering the eastern U.S. rarely experiences quakes and has made no preparations for such a thing.
For updates:

Update: The comments illustrate the difference between a quake in the eastern U.S. versus the western U.S. In the west the quakes are almost always localized, rarely felt far from the epicenter. In the east however the tremors can travel far distances. Thus, we have people from as far south as Georgia and as far north as Connecticut (and Canada!) and as far west as Ohio (and Chicago!) reporting the tremors.
Update 2: This quake appears to tie the record for the largest earthquake in Virginia history.
So far all news reports are merely rehashing the information on the USGS website. Your comments are actually providing more information than the press!
Update 3: As far as I can tell from all reports, the quake has produced little if any damage anywhere. The worst consequence appears to be some overreaction in some quarters (government offices evacuated in Washington, DC and New York). I have also heard from a friend who works in the capital. His words, "Talk about people freaking out! The Hill is shut down big time."
Update 4: Check out the devastation in Washington, DC.
Update 5: The USGS has revised its summary of the quake, calling it 5.8 magnitude with the epicenter 3.7 miles deep, not .7 miles deep as their earlier estimate stated. You can find their geological assessment of the quake here.
Readers!
Please consider donating to Behind the Black, by giving either a one-time contribution or a regular subscription, as outlined in the tip jar below. Your support will allow me to continue covering science and culture as I have for the past twenty years, independent and free from any outside influence.
Your support is even more essential to me because I keep this site free from advertisements and do not participate in corrupt social media companies like Google, Twitter, and Facebook. I depend wholly on the direct support of my readers.
You can provide that support to Behind The Black with a contribution via Patreon or PayPal. To use Patreon, go to my website there and pick one of five monthly subscription amounts, or by making a one-time donation. For PayPal click one of the following buttons:

If Patreon or Paypal don't work for you, you can support Behind The Black directly by sending your donation by check, payable to Robert Zimmerman, to


Behind The Black
c/o Robert Zimmerman
P.O.Box 1262
Cortaro, AZ 85652