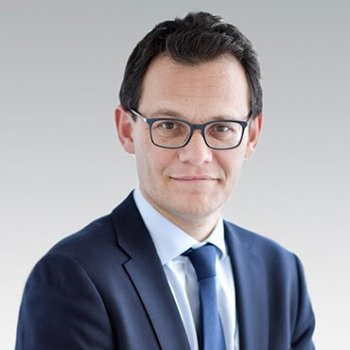 Stéphane Israël, the head of Arianespace and the
architect of its failure to compete in the field of rocketry.
Today there was a news report in which Stéphane Israël, the head of Arianespace, kind of admitted at last that the expendable design of Europe's new Ariane-6 rocket was a mistake, and that it will take a decade more to fix it.
"When the decisions were made on Ariane 6, we did so with the technologies that were available to quickly introduce a new rocket," said Israël, according to European Spaceflight.
He added that it will not be until the 2030s before Europe begins flying its own reuseable rocket.
Israël's comments illustrate the head-in-the-sand approach he has exhibited now for decades. He claims the European Space Agency (ESA) chose to make Ariane-6 expandable so that it would be ready quickly, but its development has not been fast, and in fact is now more than three years behind schedule. When it finally begins flying operational it will have taken almost a decade to create it.
His comments also are his lame attempt to push back against a recent ESA report [pdf], issued in late March, that strongly rejected the decades-long model that ESA has used to build its rockets. Up until now and including the construction of Ariane-6, ESA designed and built its rockets, using Arianespace, headed by Israël, as its commercial arm. In other words, the government ran the show, much like NASA did for most of the half century following the 1960s space race. The result was slow development, and expensive rockets. Arianespace for example never made a profit in its decades-long existence, despite capturing half the commercial market in the 2000s and early 2010s.
The March ESA report rejected this model, and instead advocating copying what the U.S. has done for the past half decade by shifting ownership and design to the private sector, as advocated in my 2017 policy paper, Capitalism in space. To quote the ESA report:

Rather than designing, developing and operating space infrastructure a commercially-oriented procurement policy needs to be adopted: The public sector, through space agencies like ESA, shall define the requirements for large-scale infrastructure or missions, for example, a crew capsule, and encourage the private sector to propose the most innovative and cost-efficient solution. The public agency will be an anchor customer buying a service or product. In parallel, it will also develop technology building blocks to enable private companies to mature technologies needed to fulfil the services.
To my regular readers, this recommendation will sound very familiar, as it simply echoes what I have been advocating for decades. Let private enterprise design and own what they build, and have the government merely be a customer (one of many) that buys it.
This model however threatens the existence of Arianespace as well as Stéphane Israël's job, as both will soon be completely extraneous if private enterprise takes over. It also makes clear the utter failure of both in creating Ariane-6. Israël's comments were thus his attempt to rationalize this failure (his more than anyone else's), and make it appear that he was always in favor of reusability.
This is untrue of course. In the mid-2010s, when SpaceX was first demonstrating its ability to land its first stage in 2015, Israël repeatedly poo-pooed the concept, saying for example that the stress of launch limits the re-usability of rocket stages. He instead advocated making Ariane-6 expendable.
The result is that Europe is no longer competitive in the launch industry. ESA's own members are increasingly buying launches from American companies like SpaceX because they find everything Arianespace offers is simply too expensive.
The new report has admitted this failure, and has advocated the best fix possible, letting freedom and competition and private ownership rule.
Whether Europe accepts this recommendation remains unknown however. It is apparent that Arianespace and Stéphane Israël do not wish to relinquish their turf voluntarily, and will fight every step of the way.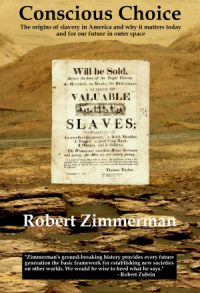 Now available in hardback and paperback as well as ebook!
From the press release: In this ground-breaking new history of early America, historian Robert Zimmerman not only exposes the lie behind The New York Times 1619 Project that falsely claims slavery is central to the history of the United States, he also provides profound lessons about the nature of human societies, lessons important for Americans today as well as for all future settlers on Mars and elsewhere in space.
Conscious Choice: The origins of slavery in America and why it matters today and for our future in outer space
, is a riveting page-turning story that documents how slavery slowly became pervasive in the southern British colonies of North America, colonies founded by a people and culture that not only did not allow slavery but in every way were hostile to the practice.
Conscious Choice
does more however. In telling the tragic history of the Virginia colony and the rise of slavery there, Zimmerman lays out the proper path for creating healthy societies in places like the Moon and Mars.
"Zimmerman's ground-breaking history provides every future generation the basic framework for establishing new societies on other worlds. We would be wise to heed what he says." —Robert Zubrin, founder of founder of the Mars Society.
All editions are available at Amazon, Barnes & Noble, and all book vendors, with the ebook priced at $5.99 before discount. The ebook can also be purchased direct from my ebook publisher, ebookit, in which case you don't support the big tech companies and I get a bigger cut much sooner.
Autographed printed copies are also available at discount directly from me (hardback $24.95; paperback $14.95; Shipping cost for either: $5.00). Just email me at zimmerman @ nasw dot org.