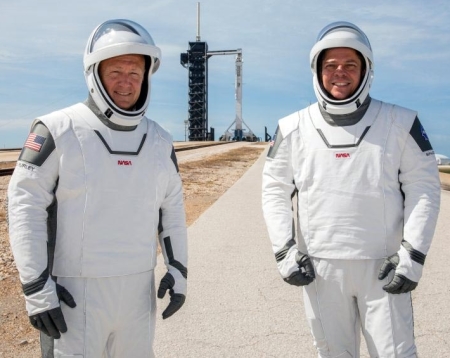 Dragon astronauts Douglas Hurley and Robert Behnken
with their Falcon 9/Dragon in the background
This week we shall once again see a demonstration of the power of freedom, and it will not be a demonstration by protesters in Hong Kong or Michigan or New York against the petty dictators who rule them.
No, it will simply be the launch of an American rocket, owned by an American company, putting two Americans in space. While most reports of the manned Dragon launch on SpaceX's Falcon 9 rocket will properly focus on the new engineering and the specific achievement — the first American manned space mission in almost a decade — few will recognize how it is freedom, that forgotten word, that more than anything made it possible.
And it has always been this way, since the very beginnings of the space age. As John Kennedy expounded in his 1961 speech committing the U.S. to a lunar landing, that commitment was to demonstrate that a free people and nation could do it better:

If we are to win the battle that is going on in world between freedom and tyranny, if we are going to win the battle for men's minds, the dramatic achievements in space which occurred in recent weeks [Yuri Gagarin's first space flight followed by Shepard's suborbital flight] should have made clear to us all, as did Sputnik in 1957, the impact of this adventure on the minds of men everywhere who are attempting to make a determination of which road they should take.

Now is the time to take longer strides — time for a great new American enterprise — time for this nation to take a clearly leading role in space achievements which in many ways hold the key to our future on Earth.

…We go into space because whatever mankind must undertake, free men must fully share.
Kennedy, and the nation that backed him to finance the Apollo program, stood for freedom. They believed, unequivocally, that freedom could always accomplish things better.
And they were proved spectacularly right. In the 1960s it was freedom that won the race to the Moon. The competitive innovative culture of the United States provided the federal government's agent, NASA, the wealth and tools to quickly put together a program and get to the Moon fast, and first.
That was at the beginning of the space age. But it keeps on happening. In the 1980s freedom won again, but this time not in a Cold War between the free United States and the totalitarian Soviet Union, but in the Soviet Union itself. That top-down communist command-economy was going bankrupt, because top-down communist command-economies simply do not have the ability or flexibility to make an economy function well. Lacking freedom, they always go bankrupt.
The head of the Soviet Union at the time, Mikhail Gorbachev, was desperately searching for some way to revitalize his nation. He settled on a policy he called glasnost ("openness") and perestroika ("restructuring"), both designed to not only introduce democracy into the Soviet government system but to also encourage competition and innovation.
While Gorbachev never really understood that freedom meant he needed to give up power, ceding it to the ordinary citizen, his effort did lead to a burst of freedom in the Soviet Union, its eventual fall, and more than a decade of new prosperity as the people of that nation were suddenly given the freedom to innovate on their own.
In his space program Gorbachev was especially daring, flying the first paying customers to the U.S.S.R.'s space station Mir (a news reporter for the Tokyo Broadcasting Service and a woman for a British entertainment consortium), making the Soviet space program the Soviet leader in capitalism. Even after the fall of the Soviet Union it quickly adapted to the commercial market and for decades its rockets and launch services were quite profitable and competitive in the international launch industry, gaining almost half of the satellite launch market.
Sadly, despite this success, Russia never embraced freedom properly, and so no competitive internal aerospace industry developed. Instead, they maintained a top-down cultural structure, squelching any new competitive independent efforts within Russia, and have since consolidated their entire industry into a single government-run monopoly. As a result, there was no pressure to maintain quality control, many rockets crashed or failed, and thus they have lost most of that international commercial market share.
Freedom won again, but not for Russia, which in the end appears to have rejected it.
And now, freedom is about to win again in space, and this time it is going to do it in the U.S.
Though the Apollo 11 lunar landing won the victory for freedom that Kennedy had wanted, the American public and its political community took the exact opposite lesson from that victory. Rather than depend on private enterprise and private initiative, fueled by the dreams of individual Americans free to follow those dreams wherever they pointed, the American public now wanted to follow the Soviet model in space, a top-down "space program" regulated, designed, and solely organized by the federal government.
For a half century the American space effort became a miniature Soviet Union, ruled from above by NASA with no freedom given to anyone in the aerospace industry to compete. NASA planned, controlled, and dictated everything. Private companies could only follow, like dogs on a leash.
The result was, like the Soviet Union, a bankrupt space effort. For fifty years we went nowhere, spending a lot of money but getting very little for it. Around and around the Earth the space shuttle flew, teaching us little about rockets or spaceships or any of the engineering required to build a profitable and successful space-faring industry.
With the retirement of the shuttle the government once again demanded that the American manned effort be run by NASA. The agency would build a new big rocket (now called the Space Launch System) and spaceship (now called Orion) and these would be the foundation for the country's future space program beyond Earth orbit.
So, for now almost two decades we have waited for these big space top-down government programs to bear fruit. Neither has flown. Both have spent billions (about $55 billion, give or take several billion).
At the same time, a small contingent in NASA's management began a parallel program, relying not on NASA to build the rocket and capsules, but private competing commercial companies. In 2008, during the last week of George Bush Jr.'s administration, the agency awarded commercial contracts to two different private companies, SpaceX and Kistler, to provide cargo to ISS using their own rockets and capsules, designed and owned by them.
Kistler eventually went belly up and was replaced by Orbital Sciences' Cygnus capsule and Antares rocket (now merged into Northrop Grumman).
SpaceX has become a bit more famous and successful. They not only successfully built a new very inexpensive rocket, the Falcon 9, and cargo capsule, called Dragon, they demonstrated that both could be configured for reuseability. Despite being called impossible and impractical by NASA managers for decades, SpaceX proved you could launch a satellite into orbit and still vertically land the first stage, and then reuse that first stage again. The company also demonstrated, despite NASA resistance, that its Dragon capsule could be reused as well.
Free to innovate and focused on producing a less expensive product for its customers — the very heart of what makes capitalism and freedom work so well — SpaceX very soon became the dominate rocket company in the world, launching in 2017 the most satellites in one year ever by a private company, and tying Russia that year for the most launches. Since then the company has taken Russia's entire commercial business away, while cutting into the market share of every other launch company.
Now SpaceX is about to fly its first manned Dragon mission. If the weather cooperates, at 4:33 (Eastern) on May 27, 2020, a Falcon 9 rocket will put two NASA astronauts into space. For the first time in almost a decade two Americans will fly into space on an American rocket in an American spacecraft from American soil
More important, this is not a NASA mission. It is a launch by SpaceX, for NASA, who is merely the customer. The rocket and capsule were designed and built by this private company, which also owns them. While NASA did provide a great deal of advice and support, it was SpaceX that did it, a free American company owned by a free American named Elon Musk.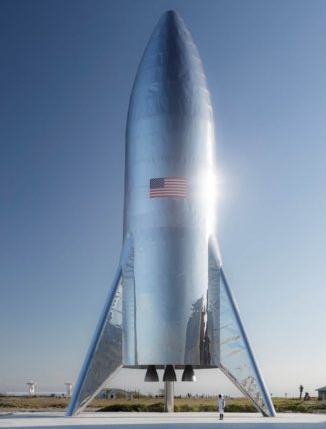 Not Falcon 9 or Dragon. Only the future.
Once again freedom has won. While NASA, the Soviet Union of this new internal American Cold War, continues to struggle mightily to get its overbudget, behind schedule, and very expensive SLS rocket off the ground, it is freedom that once again provided the wealth and tools to quickly put Americans back into space again.
This is a lesson we need to relearn time and again. Freedom always works better. Let people come up with they own ideas. Let them do whatever they must to make them reach fruition. Stay out of their way. Support them without interfering.
And above all, let them own their work.
Do that, and success will always follow. Always.
Freedom is what fuels human endeavor. It is what makes all great things possible.. And it is why SpaceX will be launching two Americans into space this week, not NASA.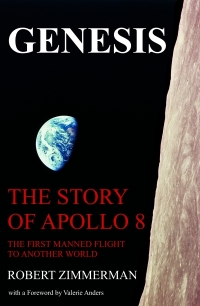 On Christmas Eve 1968 three Americans became the first humans to visit another world. What they did to celebrate was unexpected and profound, and will be remembered throughout all human history. Genesis: the Story of Apollo 8, Robert Zimmerman's classic history of humanity's first journey to another world, tells that story, and it is now available as both an ebook and an audiobook, both with a foreword by Valerie Anders and a new introduction by Robert Zimmerman.
The ebook is available everywhere for $5.99 (before discount) at
amazon
, or direct from my ebook publisher,
ebookit
. If you buy it from
ebookit
you don't support the big tech companies and the author gets a bigger cut much sooner.
The audiobook is also available at all these vendors, and is also
free with a 30-day trial membership to Audible.
"Not simply about one mission, [Genesis] is also the history of America's quest for the moon... Zimmerman has done a masterful job of tying disparate events together into a solid account of one of America's greatest human triumphs."--San Antonio Express-News