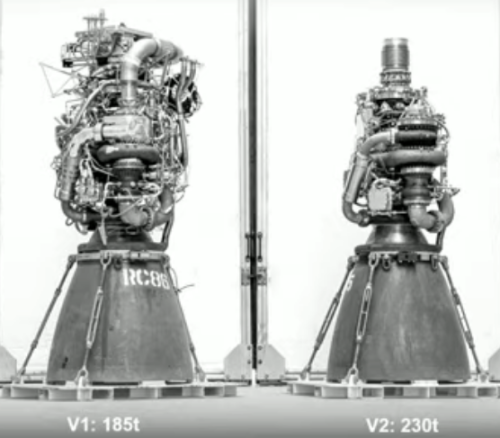 Raptor-1 on the left, Raptor-2 on the right
The headline quote above encapsulates the main philosophical point of Elon Musk's presentation tonight in Boca Chica, Texas. Musk's presentation was focused mostly at outlining the status of SpaceX's Starship/Superheavy reusable heavy-lift rocket, but he started his talk stating his philosophical reasons for doing what he is doing.
It is his strong belief that in order to guarantee the survival of all life on Earth, we must colonize as many planets as possible. Musk's quote above indicated his sense that this effort must be done now. As he had noted,
The window of opportunity [to build human settlements on other worlds] may be open for a long time, and I hope it is, but it may also be open for a short time. And this is the first point in the four and half billion history of Earth that it is possible.
He added, "To be frank, civilization is feeling a little fragile these days," which makes achieving his goal quickly even more urgent.
After making this point, Musk then proceeded to outline what they've accomplished so far in building Starship/Superheavy, and what they hope to do in the coming years. Much of what Musk said was largely known, such as the size and power of Starship and its design. He did underline these important details:

Starship/Superheavy should be ready for its first orbital launch in March, at the earliest, with that flight definitely doable before the end of the year.
Musk has no insight on the FAA's regulatory process, but he hopes the approval to launch from Boca Chica will also occur by March.
If the Biden administration blocks him, he will then shift Starship/Superheavy testing to Florida, where he already has regulatory permission to launch.
His long term preference is to do operational Starship flights from Florida, and reserve Boca Chica for research and development.
While he reiterated his expectation that each Starship launch could eventually cost as little as $2 million, his expectation is that in the early operational years the cost per flight will be about $10 million.
He noted that creating a completely reusable heavy-lift rocket that costs that little to launch will be an "utterly profound breakthrough," with consequences that simply cannot be predicted.
He expects the first flights testing the "refilling" of Starship in orbit to occur sometime in the next two years. This obviously is based on getting that FAA approval.
He very proudly noted the big differences in the design and manufacture between the first Raptor engine, Raptor-1, and its upgrade, Raptor-2. The new design is smaller, simpler, cheaper to build, and more powerful.
This last bullet point was to me the most significant factoid that came from Musk's presentation. The graphic above illustrates forcefully the difference between Raptor-1 and Raptor-2. The differences as described by Musk are obvious, many almost certainly related to streamlining the engine's manufacture and production, an area that in November was not functioning as Musk wanted, thus forcing him to shake-up the Raptor management team. It appears that this shake-up has quickly resulted in a production engine that, according to Musk, will be produced at a rate of seven per week by March.
Musk's main political goal for doing this presentation I think was laid out very carefully but forcefully. SpaceX is ready to fly Starship this year, and the only thing that will prevent those flights is the federal bureaucracy, under the control of the Biden administration. Without being inflammatory, Musk in his shrewd way was laying down the gauntlet. If Starship does not fly in '22, he has now made it clear that the cause will not be because SpaceX wasn't ready, but because the bureaucracy and elected officials in Washington stood in the way of progress.
Whether the Biden administration will hear this message is entirely unknown. And if the leaders in that administration don't hear it and thus take no action to speed things up, expect the federal bureaucracy to slow things down as much as possible, because all the available evidence suggests strongly that it is hostile and envious of Musk and his success, and is eager to stop him.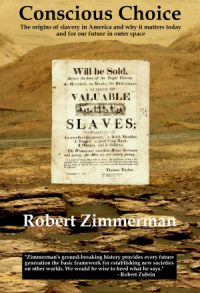 Now available in hardback and paperback as well as ebook!
From the press release: In this ground-breaking new history of early America, historian Robert Zimmerman not only exposes the lie behind The New York Times 1619 Project that falsely claims slavery is central to the history of the United States, he also provides profound lessons about the nature of human societies, lessons important for Americans today as well as for all future settlers on Mars and elsewhere in space.
Conscious Choice: The origins of slavery in America and why it matters today and for our future in outer space
, is a riveting page-turning story that documents how slavery slowly became pervasive in the southern British colonies of North America, colonies founded by a people and culture that not only did not allow slavery but in every way were hostile to the practice.
Conscious Choice
does more however. In telling the tragic history of the Virginia colony and the rise of slavery there, Zimmerman lays out the proper path for creating healthy societies in places like the Moon and Mars.
"Zimmerman's ground-breaking history provides every future generation the basic framework for establishing new societies on other worlds. We would be wise to heed what he says." —Robert Zubrin, founder of founder of the Mars Society.
All editions are available at Amazon, Barnes & Noble, and all book vendors, with the ebook priced at $5.99 before discount. The ebook can also be purchased direct from my ebook publisher, ebookit, in which case you don't support the big tech companies and I get a bigger cut much sooner.
Autographed printed copies are also available at discount directly from me (hardback $24.95; paperback $14.95; Shipping cost for either: $5.00). Just email me at zimmerman @ nasw dot org.