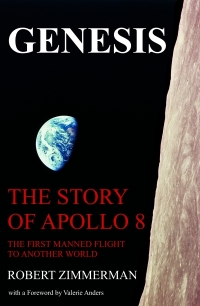 On Christmas Eve 1968 three Americans became the first humans to visit another world. What they did to celebrate was unexpected and profound, and will be remembered throughout all human history. Genesis: the Story of Apollo 8, Robert Zimmerman's classic history of humanity's first journey to another world, tells that story, and it is now available as both an ebook and an audiobook, both with a foreword by Valerie Anders and a new introduction by Robert Zimmerman.
The ebook is available everywhere for $5.99 (before discount) at
amazon
, or direct from my ebook publisher,
ebookit
.
The audiobook is also available at all these vendors, and is also
free with a 30-day trial membership to Audible.
"Not simply about one mission, [Genesis] is also the history of America's quest for the moon... Zimmerman has done a masterful job of tying disparate events together into a solid account of one of America's greatest human triumphs." --San Antonio Express-News
In posting an invitation to social media users to attend the launch of the first unmanned test flight of SpaceX's man-rated Dragon capsule on January 17, 2019, NASA's public relations department added the following warning:
NASA has a series of reviews before the uncrewed test flight, and the outcome of these reviews, including the Flight Readiness Review, will ultimately determine the Demo-1 launch date.
For months I have reported numerous examples of NASA's safety panel acting to create fake problems that will force a delay in this launch. First it was the fueling method. Then it was the insulation on the helium tanks. Then there was the need for SpaceX to fill out all the paperwork. Now it is the parachute system and worries about the safety culture at SpaceX.
I might take these concerns seriously, except that NASA's safety panel seems to be so sanguine about far more serious safety issues with NASA's SLS rocket and Orion capsule. This double standard is starkly illustrated once again in this NASASpaceflight.com article about NASA's plans for the very first manned Orion/SLS mission.
On that manned mission, NASA will fly a host of new equipment for the first time. For example, the capsule's "Environmental Control and Life Support System (ECLSS), crew displays, and other crew systems will be making their debut in Orion." Anything else that has flown previously will essentially have done so only once, during the first unmanned test flight of SLS/Orion.
It gets worse. While NASA has demanded SpaceX fly the final manned version of its Falcon 9 rocket seven times before it will allow its astronauts on board, the agency plans to launch humans on SLS on only its second launch. More astonishing, that second launch will include a mission taking those astronauts on a loop around the Moon.
During the Apollo missions in the 1960s, NASA had a policy that no mission would head to the Moon without carrying a lunar module (LM). The logic was that the LM would act as a lifeboat should something go wrong with the Apollo capsule, a logic that was actually proven during Apollo 13.
NASA did send Apollo 8 to the Moon without the LM, but it did so in the context of a Cold War space race and an end-of-the-decade commitment by an assassinated president. The agency then knew the risks were high, but it decided the situation justified those risks.
NASA is not faced with a Cold War space race today. Instead, it has a grossly over-budget and long delayed boondoggle called SLS/Orion, increasingly embarrassed by the quick and efficient achievements of private space companies. In a desperate effort to keep that boondoggle alive, the agency is apparently pushing it to fly it too soon and with inadequate development. In fact, it appears to me that the safety culture at NASA that caused both shuttle accidents (a desire to favor frequent launches while ignoring safety analysis) has returned at NASA, and it has done so with a vengeance.
Meanwhile, the contrast with how the agency's safety panel treats SpaceX versus SLS/Orion demonstrates how corrupt and unreliable that safety panel has become. They no longer really work to reduce risk. Their goal appears to promote government-built rocket systems over those manufactured by the private sector.
Hat tip to Kirk Hilliard for pointing out the language in the NASA pr invite to the SpaceX launch.
Readers!
My July fund-raiser for Behind the Black is now over. The support from my readers was unprecedented, making this July campaign the best ever, twice over. What a marvelous way to celebrate the website's tenth anniversary!

Thank you! The number of donations in July, and continuing now at the beginning of August, is too many for me to thank you all personally. Please forgive me by accepting my thank you here, in public, on the website.

If you did not donate or subscribe in July and still wish to, note that the tip jar remains available year round.
Regular readers can support Behind The Black with a contribution via paypal:
If Paypal doesn't work for you, you can support Behind The Black directly by sending your donation by check, payable to Robert Zimmerman, to

Behind The Black
c/o Robert Zimmerman
P.O.Box 1262
Cortaro, AZ 85652