Summary: Curiosity confirms clay in the clay unit. Yutu-2 begins its sixth day on the far side of the Moon. Three other rovers move towards completion and launch.
For the updates in 2018 go here. For a full list of updates before February 8, 2018, go here.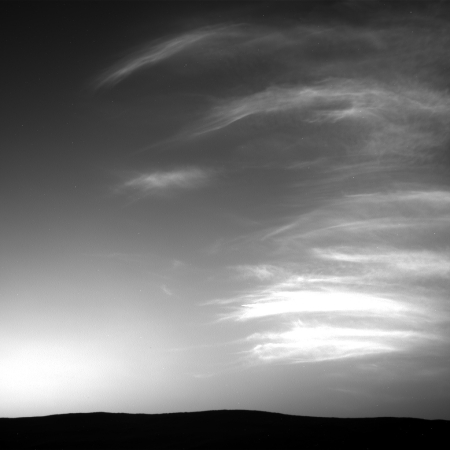 Clouds over Gale Crater
Curiosity
For the overall context of Curiosity's travels, see my March 2016 post, Pinpointing Curiosity's location in Gale Crater.
Curiosity's journey up the slopes of Mount Sharp in Gale Crater goes on! On the right is one of a number taken by the rover in the past week, showing water clouds drifting over Gale Crater.
These are likely water-ice clouds about 19 miles (31 kilometers) above the surface. They are also "noctilucent" clouds, meaning they are so high that they are still illuminated by the Sun, even when it's night at Mars' surface. Scientists can watch when light leaves the clouds and use this information to infer their altitude.
While these clouds teach us something about Martian weather, the big rover news this week was that the data obtained from the two drill holes taken in April show that the clay formation that Curiosity is presently traversing is definitely made of clay, and in fact the clay there has the highest concentration yet found by the rover.
This clay-enriched region, located on the side of lower Mount Sharp, stood out to NASA orbiters before Curiosity landed in 2012. Clay often forms in water, which is essential for life; Curiosity is exploring Mount Sharp to see if it had the conditions to support life billions of years ago. The rover's mineralogy instrument, called CheMin (Chemistry and Mineralogy), provided the first analyses of rock samples drilled in the clay-bearing unit. CheMin also found very little hematite, an iron oxide mineral that was abundant just to the north, on Vera Rubin Ridge. [emphasis mine]
That two geological units adjacent to each other are so different is significant for geologists, because the difference points to two very different geological histories. The formation process for both the clay unit and Vera Rubin Ridge must have occurred at different times under very different conditions. Figuring out how that happened will be difficult, but once done it will tell us much about both Gale Crater and Mars itself.
With the success of their clay unit drilling campaign, the Curiosity science team has had the rover begin its trek back from the base of the cliff below Vera Rubin Ridge to its planned travel route up the mountain.
An updated description of that route was released by the Curiosity science team last week, while I was in Wales. Below is their image showing that route, with additional annotations by me and reduced to post here.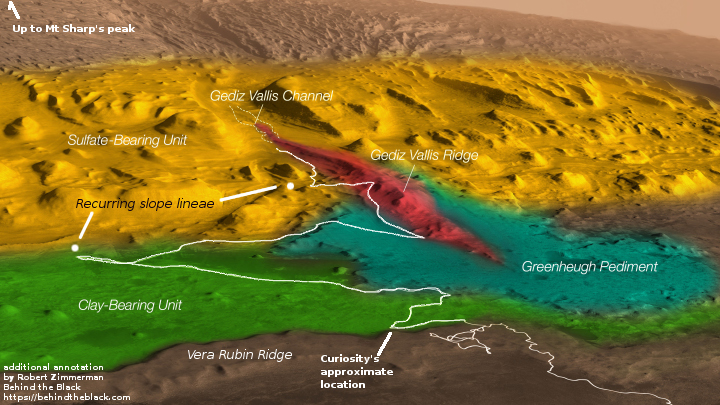 Click for full original image.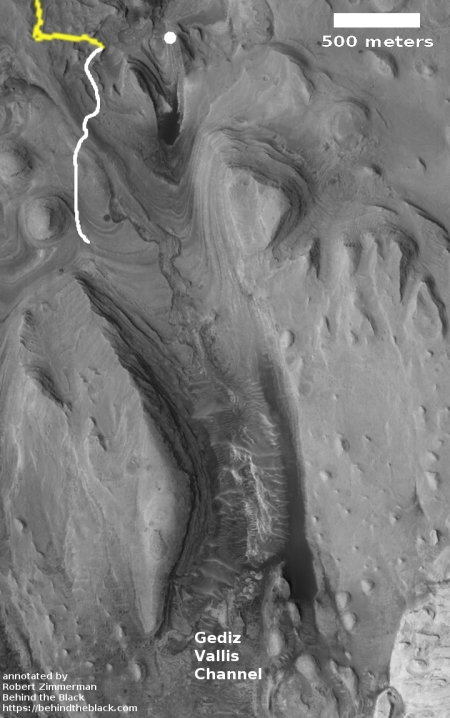 To the right is the Mars Reconnaissance Orbiter (MRO) high resolution image of Gedis Vallis Channel that I posted on December 19, 2018, when I was trying to anticipate Curiosity's future travels. I have updated it to show the route now revealed. As I wrote then,
This is where Curiosity will be going, a deep canyon about 1,500 feet across and probably as deep, its floor a smooth series of curved layers, reminiscent of The Wave in northern Arizona. The canyon appears to show evidence of water flow down its slopes, but that is unproven.
It will probably be two or more years before Curiosity gets to this canyon, as they will likely spend a lot of time looking at that first recurring slope lineae, a place where it is possible that water is seeping from underground sources. They will then want to spend more time researching the Greenheugh Pediment, Gediz Vallis Ridge, and finally that the second lineae.
Only then will they move upward into Gediz Valles Channel. And if the rover is still working at that point, approximately ten years after landing, they will then figure out a route up that channel and into the sulfate bearing unit beyond.
Yutu-2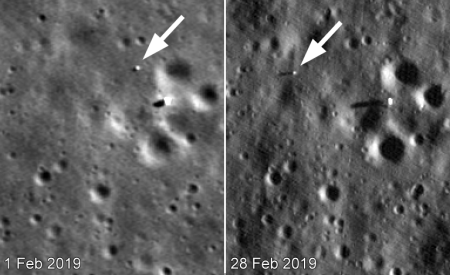 Click for full image.
On May 29, 2019 the Chinese awakened both the Chang'e-4 lander and the rover Yutu-2 to begin their sixth day on the lunar surface. This is now twice the length of their initial nominal mission of three lunar days, making this mission a continuing achievement of note for China.
Unfortunately, we do not have much information about where the rover has been going. I am certain the the Lunar Reconnaissance Orbiter (LRO) science team has been tracking the rover's movements, but they have not released any new images showing those travels since March 20, 2019, shown in the image on the right.
What the LRO team did release, on April 30, is a detailed topographic map of Chang'e-4's landing site. The rover had been heading west, across this relatively smooth and flat terrain. Where it is now, however, is not known precisely, though it is probably still within the area shown by this topographic map. According to Chinese reports, the rover moved a little more than 600 feet during the previous lunar day, a distance insufficient to take it beyond the edge of this map.
The Future
India's much delayed Chandayaan-2 mission to send an orbiter, lander (dubbed Vikram), and rover (dubbed Pragyan) to the Moon now has a launch window between July 9 and July 16, with a landing on the Moon set for September 6 somewhere in south polar region.
The U.S.'s Mars 2020 rover has now successfully completed ground testing to see if it can withstand the vibrations of launch and landing on Mars, as well as the environmental conditions of space. Launch is presently scheduled for July 2020 with a landing in Jezero Crater on February 18, 2021.
Meanwhile, the three main components of Europe's ExoMars2020 mission are undergoing their own separate testing.
The carrier module that will carry the ExoMars rover and surface science platform from Earth to Mars has arrived in Italy for final integration preparations. The module, along with electrical ground support equipment, shipped from OHB System in Bremen, Germany, arrived on 2 April at Thales Alenia Space in Turin, Italy.

The carrier module also provides the communication link between Earth and the spacecraft, and will support navigation with star trackers and Sun sensors. It also carries propellant required for attitude control and manoeuvres through its 16 20-N thrusters that will use up to 136 kg of hydrazine propellant.

…The landing platform, named Kazachok, also recently arrived in Europe from Russia, while the rover, named after Rosalind Franklin, is being fitted out with its scientific instruments at Airbus in Stevenage, UK.
I will admit that it seems very late in the game for Europe's ExoMars to not yet be assembled into one unit, and makes me wonder whether they will be able to meet their 2020 launch window.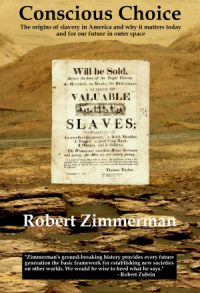 Now available in hardback and paperback as well as ebook!
From the press release: In this ground-breaking new history of early America, historian Robert Zimmerman not only exposes the lie behind The New York Times 1619 Project that falsely claims slavery is central to the history of the United States, he also provides profound lessons about the nature of human societies, lessons important for Americans today as well as for all future settlers on Mars and elsewhere in space.
Conscious Choice: The origins of slavery in America and why it matters today and for our future in outer space
, is a riveting page-turning story that documents how slavery slowly became pervasive in the southern British colonies of North America, colonies founded by a people and culture that not only did not allow slavery but in every way were hostile to the practice.
Conscious Choice
does more however. In telling the tragic history of the Virginia colony and the rise of slavery there, Zimmerman lays out the proper path for creating healthy societies in places like the Moon and Mars.
"Zimmerman's ground-breaking history provides every future generation the basic framework for establishing new societies on other worlds. We would be wise to heed what he says." —Robert Zubrin, founder of founder of the Mars Society.
All editions are available at Amazon, Barnes & Noble, and all book vendors, with the ebook priced at $5.99 before discount. The ebook can also be purchased direct from my ebook publisher, ebookit, in which case you don't support the big tech companies and I get a bigger cut much sooner.
Autographed printed copies are also available at discount directly from me (hardback $24.95; paperback $14.95; Shipping cost for either: $5.00). Just email me at zimmerman @ nasw dot org.