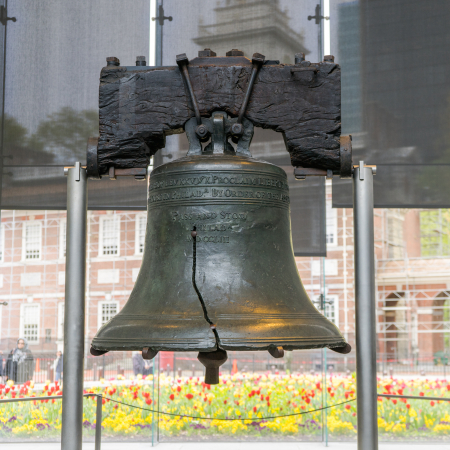 "Proclaim liberty throughout all the land and the
inhabitants thereof." Photo credit: William Zhang
Not surprisingly the mainstream press today was agog with hundreds of stories about Richard Branson's suborbital space flight yesterday on Virgin Galactic's VSS Unity spaceplane.
The excitement and joy over this success is certainly warranted. Back in 2004 Branson set himself the task of creating a reusable suborbital space plane he dubbed SpaceShipTwo, modeled after the suborbital plane that had won the Ansari X-Prize and intended to sell tickets so that private citizens would have the ability to go into space.
His flight yesterday completed that journey. The company he founded and is slowly selling off so that he is only a minority owner now has a vehicle that for a fee can take anyone up to heights ranging from 50 to 60 miles, well within the U.S. definition of space.
Nonetheless, if you rely on the media frenzy about this particular flight to inform you about the state of commercial space you end up having a very distorted picture of this new blossoming industry. Branson's achievement, as great as it is, has come far too late. Had he done it a decade ago, as he had promised, he would have achieved something historic, proving what was then considered impossible, that private enterprise, using no government resources, could make space travel easy and common.
Now, however, he merely joins the many other private enterprises that are about to fly into space, with most doing it more frequently and with far greater skill and at a much grander scale than Virgin Galactic. His flight is no longer historic. It is merely one of many that is about to reshape space exploration forever.
Consider the upcoming schedule of already paid for commercial manned flights:

July 20th: Blue Origin flies New Shepard on a suborbital flight with Jeff Bezos and three others, including one paying passenger
September 2021: SpaceX's Dragon capsule flies four private citizens on a three day orbital flight
October 2021: The Russians will fly two passengers to ISS to shoot a movie
December 2021: The Russians will fly billionaire Yusaku Maezawa and his assistant to ISS for 12 days
cDecember 2021: Space Adventures, using a Dragon capsule, will fly four in orbit for five days
January 2022: Axiom, using a Dragon capsule, will fly four tourists to ISS
2022-2024: Three more Axiom tourist flights on Dragon to ISS
2024: Axiom begins launching its own modules to ISS, starting construction of its own private space station
c2024: SpaceX's Starship takes Yusaku Maezawa and several others on a journey around the Moon.
This manifest of future manned commercial tourist flights is in fact so packed that it has already exceeded the capacity of ISS to handle it. There simply are not enough docking ports, forcing these missions to either spread themselves out for when a port is available, or to forego going to ISS entirely, as SpaceX is doing with the September and December flights.
While government money is involved, it is not what is fueling these flights. For example, though the Russian flights are being run by a government corporation, Roscosmos, they are still private in that the funding is coming from outside the government's space program, and are being flown for profit.
Similarly, the development of SpaceX's Dragon capsule might have been largely funded by NASA, but SpaceX also developed it using private investment capital, and is flying its September commercial flight with no government participation at all.
What makes the American flights especially profound is their ownership. The rockets and spacecraft are privately owned and controlled, conceived not by government agencies but by the people that own the companies. Their effort doesn't spring from a "government space program," the only method used to fly into space since the 1960s, but from the individual dreams and aspirations of their owners, and the customers who are buying the tickets into space.
Even more profound, those individual dreams spring from the American concept of freedom, of the right of any human being to pursue their happiness, no matter where it leads them and despite the risk.
Simply put, it is that freedom and pursuit of happiness that is fueling this renaissance in space. Because many Americans are freely pursuing their dreams in outer space we are getting many different options and companies. Some dream of building the rockets. Some want to build the spaceships. Others dream of providing space station hotels for the rockets and spaceships and their passengers.
Because of this plethora of dreams, the competition is fierce. There is money to be made here because many people are willing to spend it to fulfill their dreams. If you can provide them the best method for doing so they will flock to your door.
Thus, we have a sudden burst of spaceflight that makes every government space program in the past half century since Apollo seem quaint, small-minded, and limited in scope. Freedom dreams big, and it brings with it big accomplishments.
Right now the possibilities in space are truly astounding. In the next decade private citizens and free enterprise could quickly get humans back to the Moon, begin the first manned missions to Mars, and do it for pennies compared to the cumbersome, slow, and inefficient government programs we have been saddled with for the past half century. Moreover, increasingly the taxpayer will be paying for none of it. Instead, those who want to go will pay the ticket, and that payment will fund the exploration.
Freedom will reign, as long as we and our government stand back and let it happen. Freedom means if you are not interested in going you leave well enough alone, allowing those that are interested the liberty to do what they wish.
And yet, there are far too many people in America today who really don't wish to let others do what they wish. For example, consider this editorial today published by NBS News and headlined like so: "Richard Branson space flight beats out Jeff Bezos. But all of humanity loses."
The author appears to love space, but she worries that the wealthy people buying tickets into space won't see it they way she does, and this can't be allowed. As she concludes, after recounting the experiences of several government astronauts (making sure to note their very irrelevant races and ethnicity):
As dissimilar and unexpected as their paths are, they all experienced something in common: a life-altering epiphany about the unity of the universe once they got to see the stars up close and a calling to change the world they returned to for the better.

It seems unlikely that the billionaires who travel to space will engage in a meaningful way with the broader population afterward, in part because they're so far removed from other people. In fact, their privilege has put them at such odds with Earth's inhabitants that many don't want them to come back, epiphany-equipped or not. A petition that implores, "Do not allow Jeff Bezos to return to Earth," has over 150,000 signatures.
In other words, because these wealthy individuals are following their personal aspirations and not hers, their effort is invalid, and it is even justified to wish their failure.
Do not be surprised if you hear more such opinions from these modern control freaks, both in and out of government. Such people are now legion (as we have seen in the past year), and are working hard to capture all human endeavors and stuff them all into their own little pockets, for their purposes and no one else's.
If they succeed, freedom will not reign but die, and so will the new renaissance in space exploration. Americans will not go to the stars, because the small-minded and envious among us will act to squelch those dreams.
Right now however freedom does reign in space, more than it has at any time since the first human flew back in 1961. May it ring forever, throughout the stars on worlds without end, proclaiming the wonders of liberty to all so that all may follow their dreams unimpeded, wherever those dreams may lead.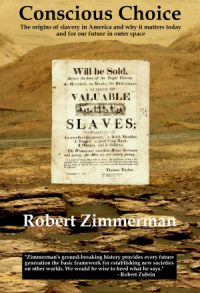 Now available in hardback and paperback as well as ebook!
From the press release: In this ground-breaking new history of early America, historian Robert Zimmerman not only exposes the lie behind The New York Times 1619 Project that falsely claims slavery is central to the history of the United States, he also provides profound lessons about the nature of human societies, lessons important for Americans today as well as for all future settlers on Mars and elsewhere in space.
Conscious Choice: The origins of slavery in America and why it matters today and for our future in outer space
, is a riveting page-turning story that documents how slavery slowly became pervasive in the southern British colonies of North America, colonies founded by a people and culture that not only did not allow slavery but in every way were hostile to the practice.
Conscious Choice
does more however. In telling the tragic history of the Virginia colony and the rise of slavery there, Zimmerman lays out the proper path for creating healthy societies in places like the Moon and Mars.
"Zimmerman's ground-breaking history provides every future generation the basic framework for establishing new societies on other worlds. We would be wise to heed what he says." —Robert Zubrin, founder of founder of the Mars Society.
All editions are available at Amazon, Barnes & Noble, and all book vendors, with the ebook priced at $5.99 before discount. The ebook can also be purchased direct from my ebook publisher, ebookit, in which case you don't support the big tech companies and I get a bigger cut much sooner.
Autographed printed copies are also available at discount directly from me (hardback $24.95; paperback $14.95; Shipping cost for either: $5.00). Just email me at zimmerman @ nasw dot org.