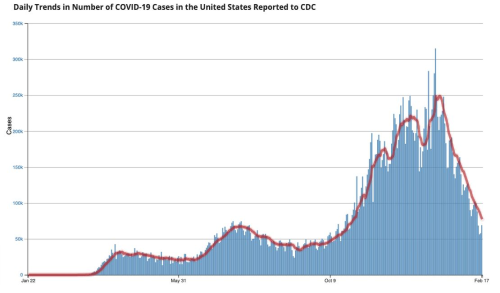 CDC graph
Though we all know that our fear-driven society and its power-hungry leaders will refuse to recognize this reality in order to permit life to return to a sane normality, the evidence now shows that the '20-'21 winter season of COVID is now ending.
The big news is that there has been a drastic decline in reported infections since the beginning of the year.
According to the CDC COVID Data Tracker, there were 283,640 new cases on January 2, 2021. As of February 17, there were 69,165 cases. That represents a drop of 75.05 percent in six weeks — for all you fact-checkers out there.
First, we must recognize that the high numbers this season that seem to dwarf last year are caused largely by the increased effort to test everyone. The numbers also do not indicate COVID cases (where someone is sick from the disease) but include everyone who was tested and found positive, even if they were not sick at all. To call all positive detections as COVID cases is dishonest, and would have never been done in the past. Sadly, the idea of honest reporting has long disappeared.
Second, we must remember that these numbers are likely also inflated because it is financially advantageous for medical officials to report a coronavirus detection, even if it has not been clearly established. There has also been an effort to distort the numbers to make them seem worse than they are.
Finally, most news sources have been combining the statistics from last year's COVID season with this year's in order to inflate the numbers. This is bad reporting. The proper thing to do is to report them as separate seasons. If you did this you find that the numbers make the coronavirus not much different than the Hong Kong flu, when adjusted for population. It might be worse, but not unduly so.
For COVID, separating its annual seasons has been made more little difficult because the lockdowns and the insistence that everyone wear masks (almost all of which were worn improperly) I think caused a second unprecedented COVID summer season. That summer rise would likely not have happened if we had allowed people to behave normally in the summer weather, when such respiratory illnesses fade. Instead, everyone wore unsanitary masks that they touched constantly (increasing the changes they were exposed to the pathogen) while confining them indoors where such viruses prosper.
Regardless, the data strongly suggests this year's coronavirus season is waning, as always happens with such respiratory diseases with the coming of spring. And certainly the arrival of vaccines against COVID is contributing to this decline as well.
All good news. Are you ready to cheer, or will you find ways to see only the half-filled part of the glass?
Nor is this news all. Two more stories in the past few weeks now give us a far better and hopeful sense of the disease's scope and future.

First the somewhat bad news, that when looked at objectively really isn't that bad at all. A new study has assessed what we have learned about the virus in the past year, and concluded that its mortality rate is about 3.5 times worse than the flu.
A new study published in CMAJ (Canadian Medical Association Journal) found that the risk of death from COVID-19 was 3.5 times higher than from influenza. "We can now say definitively that COVID-19 is much more severe than seasonal influenza," says Dr. Amol Verma, St. Michael's Hospital, Unity Health Toronto, and the University of Toronto. "Patients admitted to hospital in Ontario with COVID-19 had a 3.5 times greater risk of death, 1.5 times greater use of the ICU, and 1.5 times longer hospital stays than patients admitted with influenza."

These findings are similar to study results recently reported in France and the United States.
COVID is now confirmed to be worse than the flu, and more deadly. However, these numbers also tell us that it is not the plague, that it kills only a tiny percentage of those who get it, and the bulk of those deaths are among the elderly sick. While it kills more healthy people than the flu, the difference is not really significant, and certainly has not justified the panic and insane reshaping of all society so that everyone now wears masks all the time and no large gathering are allowed.
Let me provide you with a simplification of these numbers. The flu kills about 1 in a thousand. COVID now appears to kill 3.5 in a thousand. In both cases almost all deaths are among the elderly sick, which means for the general population the threat is far lower. Looking at the numbers in this manner shows that there is little reason to cower in fear from COVID. It is not the plague which killed 40% of the population, regardless of age or health. Better to live your life fully while taking a few simple precautions (wash your hands, quarantine the sick, get treatment quickly if you feel sick), rather than panicking and taking extreme unnecessary and mostly counter-productive actions.
Next the real good news. According to one Johns Hopkins scientist, the decline in virus detections described above means we should reach herd immunity by April.
The United States will achieve herd immunity in its fight against COVID-19 by April, much sooner than most health officials want to admit, Dr. Marty Makary, a Johns Hopkins University health policy expert and surgeon, argues in an opinion piece for The Wall Street Journal and in an interview Friday. "I think most scientists are well-intentioned," Makary said on Fox News' "America's Newsroom." "I have had personal conversations who said don't put this out there in public. People might not get the vaccine or might stop taking precautions."

However, he added, "we have to be honest."

"There is a 77% reduction in daily cases over the last six weeks," said Makary. "You, as a scientist, have to ask why. We cannot explain that by vaccinated immunity. We can't explain it by a sudden change in behavior. It is natural immunity and it's now over 50% of the population."
Once again, these are reasons to cheer and breath a sigh of relief. The epidemic is fading. Life should return to normal. Our fear should fade.
Sadly I do not think normality is coming. Nor do I think people will abandon their fear. Many have grown to love it, either because cowering in fear makes them feel safer, or because that fear has given them a tool for gaining power for ruling people arbitrarily.
In the former case feeling safer does not make you safer. The risk remains, but you have stopped living. What a tragedy.
In the latter case the acquisition of power merely for power's sake is terrible, especially when that power is misused. This is happening, however, and it is happening because too many Americans have decided to join the former group and let the latter take power.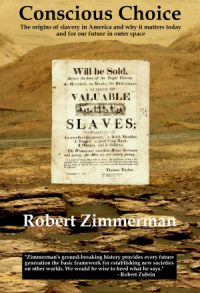 Now available in hardback and paperback as well as ebook!
From the press release: In this ground-breaking new history of early America, historian Robert Zimmerman not only exposes the lie behind The New York Times 1619 Project that falsely claims slavery is central to the history of the United States, he also provides profound lessons about the nature of human societies, lessons important for Americans today as well as for all future settlers on Mars and elsewhere in space.
Conscious Choice: The origins of slavery in America and why it matters today and for our future in outer space
, is a riveting page-turning story that documents how slavery slowly became pervasive in the southern British colonies of North America, colonies founded by a people and culture that not only did not allow slavery but in every way were hostile to the practice.
Conscious Choice
does more however. In telling the tragic history of the Virginia colony and the rise of slavery there, Zimmerman lays out the proper path for creating healthy societies in places like the Moon and Mars.
"Zimmerman's ground-breaking history provides every future generation the basic framework for establishing new societies on other worlds. We would be wise to heed what he says." —Robert Zubrin, founder of founder of the Mars Society.
All editions are available at Amazon, Barnes & Noble, and all book vendors, with the ebook priced at $5.99 before discount. The ebook can also be purchased direct from my ebook publisher, ebookit, in which case you don't support the big tech companies and I get a bigger cut much sooner.
Autographed printed copies are also available at discount directly from me (hardback $24.95; paperback $14.95; Shipping cost for either: $5.00). Just email me at zimmerman @ nasw dot org.