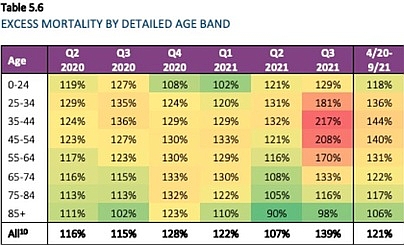 The shocking rise of excess mortality since young people
began getting the jab
The evidence continues to pour in: Not only were the authoritarian polices imposed by governments worldwide following the arrival of COVID in 2020 a total failure — doing nothing to prevent the spread of the virus — it now appears the edicts forcing millions to get the COVID jab and wear masks might very well have caused serious harm, even death, to many individuals for whom the virus posed no threat at all.
And it more and more appears that the worst victims of these failed policies were children.
The following stories, all published since my last Wuhan panic update on June 30th, point specifically to the failure of the jab:
These new research confirms many previous studies. For example, in 2021 the American Heart Association issued its own warning about mRNA vaccines, stating that this drug could "dramatically increase risk of developing heart disease." Other earlier research can be found at my own reports on February 14th, March 23rd, March 30th, May 11th, May 13th, and June 30th. The data increasingly demonstrates that the COVID shots not only accomplished practically nothing in stopping the virus, those shots had side effects that have unnecessarily harmed possibly millions.
Similarly, studies continue to confirm what a hundred years of past research had found, that masks are essentially useless in stopping the spread of a virus such as COVID, and can actually increase your chances of getting this or other diseases.

All of this is terrible and disturbing. Many young people have now died from heart attacks who would have not been hurt at all by the Wuhan flu, because unless you are very elderly or sick, it cannot kill you. Just like the flu you get sick for a week or so, and then recover.
All this pales however when compared to the terrifying harm of these foolish policies are doing to the most innocent and helpless:
Children are almost completely immune from COVID. If they get it it passes through them almost unnoticed. In asking "Why the rush for toddler vaccines?" this author notes the basic facts:
Only 209 kids between 6 months and 4 years old have died from Covid—about 0.02% of all virus deaths in the U.S. About half as many toddlers were hospitalized with Covid between October 2020 and September 2021 as were hospitalized with the flu during the previous winter. More children were hospitalized during the Omicron wave last winter, but hospitalization rates were still roughly in line with the 2019-20 flu season.
Other research has also shown that natural immunity from a past COVID infection works far better at protecting people from further infection. And since many children get COVID without even knowing it, they are already immune and don't need the shot.
Parents nationwide have quickly picked up these obvious facts, with remarkably few bringing their kids in to get the jab.
Just 1.3 percent of eligible children under 5 have received one or two doses of a vaccine, data from the CDC show. In many states, meanwhile, the percentage of young children getting a shot is under 1 percent, according to an Epoch Times analysis.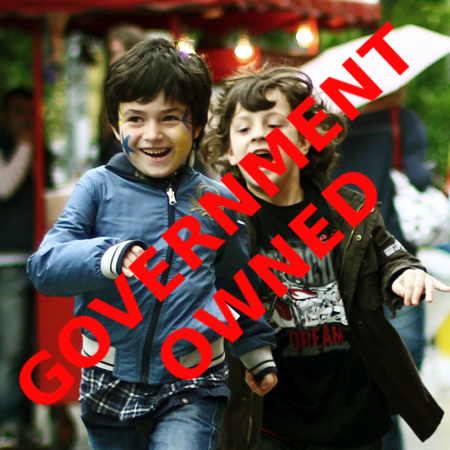 And yet, have leftist politicians, who in the United States all belong to the Democratic Party, rethought their approach to COVID? No, not at all. If anything, many are doubling down, insisting on doing the same thing over and over even though it doesn't work, and doing so with an uncanny desire to impose this madness especially on children and young people:
The result of these policies on children will continue to be horrible. They will lose language skills and be unable to learn properly, and worse of all, many will be subjected to major short and long term health problems (even death) because of the jab.
Thus, it sure does seem that goal of these leftist politicians is to hurt and even kill children, not protect them.
Unlike 2020, however, parents and citizens are not accepting these insane new mandates meekly. In California for example parents are making things very hot for officials trying to impose new mandates, including running for the school boards that are imposing these new mask mandates. Across the country countless lawsuits are being filed, and winning, against the past Wuhan shot mandates.
The House meanwhile has finally blocked all funding to any medical laboratories in China, Russia, and Iran. That it allowed any such funding to be spent in the first place tells us how corrupt these establishment politicians are. Only now, after two years of a worldwide panic and disastrous policies set off by this research — partly funded by the U.S. government — these incompetents have finally taken some action to stop misusing taxpayer money.
Of course, this is not the final budget bill. Do not be surprised if this funding magically reappears in the Senate's budget bill, or in any conference committee compromise for the final budget. Our federal government officials have made it clear that science, actual data, the law, or even simple common decency doesn't matter to them.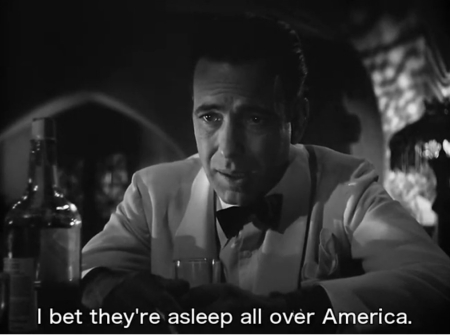 Are Americans still asleep?
No, what these officials are really interested in is garnering as much money for their illegal, dishonest, and scientifically incorrect actions as possible.
An election is coming. These same corrupt officials are going to do their damnedest to corrupt that election to guarantee they are not thrown out of power. Will Americans respond by voting against them in such numbers that no cheating can possibly work?
We shall see. November is now only a little more than three months away.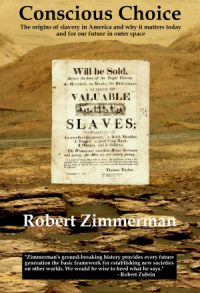 Now available in hardback and paperback as well as ebook!
From the press release: In this ground-breaking new history of early America, historian Robert Zimmerman not only exposes the lie behind The New York Times 1619 Project that falsely claims slavery is central to the history of the United States, he also provides profound lessons about the nature of human societies, lessons important for Americans today as well as for all future settlers on Mars and elsewhere in space.
Conscious Choice: The origins of slavery in America and why it matters today and for our future in outer space
, is a riveting page-turning story that documents how slavery slowly became pervasive in the southern British colonies of North America, colonies founded by a people and culture that not only did not allow slavery but in every way were hostile to the practice.
Conscious Choice
does more however. In telling the tragic history of the Virginia colony and the rise of slavery there, Zimmerman lays out the proper path for creating healthy societies in places like the Moon and Mars.
"Zimmerman's ground-breaking history provides every future generation the basic framework for establishing new societies on other worlds. We would be wise to heed what he says." —Robert Zubrin, founder of founder of the Mars Society.
All editions are available at Amazon, Barnes & Noble, and all book vendors, with the ebook priced at $5.99 before discount. All editions can also be purchased direct from the ebook publisher, ebookit, in which case you don't support the big tech companies and the author gets a bigger cut much sooner.
Autographed printed copies are also available at discount directly from me (hardback $24.95; paperback $14.95; Shipping cost for either: $5.00). Just email me at zimmerman @ nasw dot org.