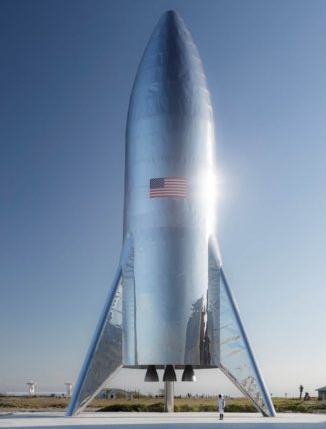 SpaceX's first Starship prototype
Capitalism in space: Today's launch by SpaceX of another sixty Starlink satellites in its planned constellation of thousands of satellites, designed to provide worldwide internet access, was significant in a way that is actually not obvious at first glance. To understand its significance, it is necessary to look at the launch in a wider context.
Below is the list of launches that have so far occurred in 2020. I keep track of this, and post an update here on Behind the Black after each new launch:
3 China
3 SpaceX
1 Arianespace (Europe)
1 Rocket Lab
1 Russia
1 Japan
1 ULA
1 Northrop Grumman
Notice anything? While the launches of every other nation in the world are centralized under one rocket company or agency, the United States has many different and independent companies competing for this business. Right now the U.S. has four different companies on this list, with one (SpaceX) now tied after today's launch with China for the overall lead, and three (Rocket Lab, ULA, and Northrop Grumman) tied with Europe, Russia, and Japan for second place.
Only in America can you have individual private rocket companies competing head-to-head with whole nations, and beating them. (Some might argue that China's rocket industry is also made up of competing companies, but that is a lie. While those companies might function somewhat independently, they are all under the strict supervision of the central communist government. They are not functioning as free and privately-owned companies.)
Nor is this pattern seen only in the launch market. Among airline companies it has been the norm since the beginnings of cheap passenger flight after World War II. While most other nations have a single national airline (British Airways, Aeroflot, El Al, Air Canada, Korean Air, Saudi Arabian Airlines, to name a few), the U.S. has a plethora of competing independent companies, with many flying many more passengers than these national airlines, sometimes even to their own countries.
How is this possible? Why does the U.S. so often dominate so many industries in this way?
» Read more