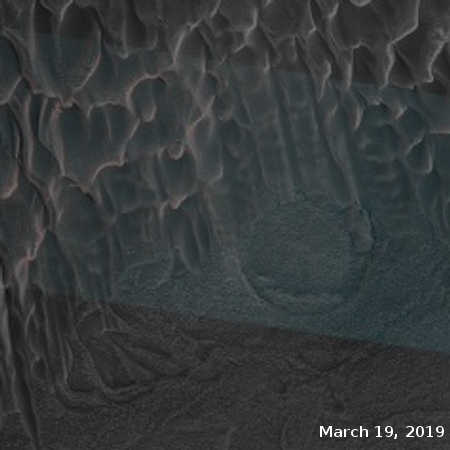 Click for full image.
Since the onset of the Martian spring in the northern hemisphere back in March of this year, scientists have been busy using the high resolution camera on Mars Reconnaissance Orbiter (MRO) to monitor the expected sublimation and disappearance of the cap of dry ice that falls as snow to become a winter layer mantling both the more permanent icecap of water 7,000 feet deep as well as the giant dune sand seas that surround that northern icecap.
The image on the right was first posted here on Behind the Black on June 6, 2019 as part of a long article describing that northern polar icecap and its annual evolution. It shows a set of dunes that Candice Hansen of the Planetary Science Institute in Arizona, who requested the image, has dubbed "Buzzell." When that picture was taken in March, the frozen dry ice layer of translucent carbon dioxide still coated the dunes. The image's darkness is because the Sun has just begun to rise above the horizon at this very high latitude location (84 degrees). The circular feature is likely a buried ancient crater, with the streaks indicating the prevailing wind direction blowing both sand and frost about.
On August 9, 2019 I provided an update on this monitoring, when new images of this same location were downloaded from MRO in April and June. MRO has now taken a new image of Buzzell, on October 2, 2019. Below the fold are all these images so that you can see the sublimation and disappearance of that dry ice layer over time.
» Read more