Click for full resolution.
Curiosity
[For the overall context of Curiosity's travels, see my March 2016 post, Pinpointing Curiosity's location in Gale Crater.
For the updates in 2018 go here. For a full list of updates before February 8, 2018, go here.]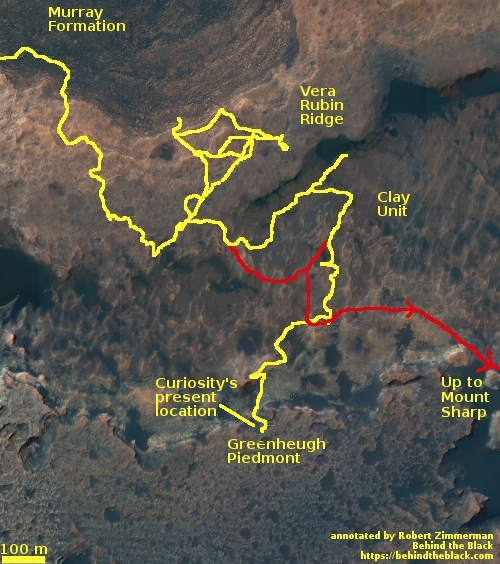 Since my last rover update on January 13, 2020, Curiosity has finally moved on from the base of Western butte, where it spent more than a month drilling a hole and gathering a great deal of geological data. Rather than head downhill and around the plateau and back to its planned route (as indicated by the red line in the map to the right), the Curiosity science team decided to push upward and onto the Greenheugh Piedmont (as indicated by the yellow line).
They had always planned to reach the top of this plateau, but not for several years. First they were going to head east to study a recurring slope lineae (see my October 2019 update), an example of a dark streak that darkens and fades seasonally and could provide evidence of water seepage from below ground.
Instead, they decided the close proximity of the top of the piedmont and its geology was too tempting. The piedmont is apparently made up of a layer that is very structurally weak, and breaks up easily, as you can see by the panorama above. It also appears to sit on softer, more easily eroded material, which thus accentuates this break up. If you look at the left part of the panorama you can see what I mean. The piedmont layer there is the thin unbroken layer sitting on what looks like sand. As that sand erodes away the layer quickly breaks into small pieces, as shown in the rest of panorama.
Traveling on the piedmont will likely be difficult and threaten Curiosity's wheels. I suspect this reality prompted them to choose to get to the top and obtain data now, rather than wait several more years of rough travel that might have made access to the piedmont difficult if not impossible.
They presently sit just below the top, and are studying their options before making that last push.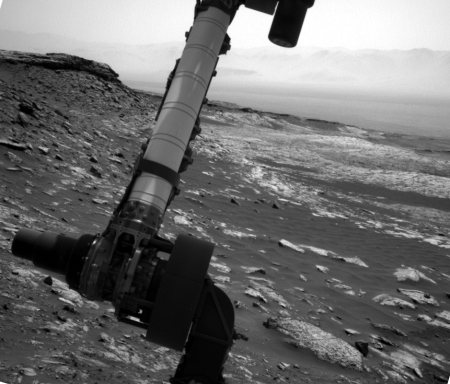 Click for full image.
At this location the rover sits on a 30 degree slope, only slightly less steep than the 32 degree record slope achieved by Opportunity at Endeavour Crater in March 2016. The photo to the right, showing Curiosity's robot arm back-dropped by the distant floor and rim of Gale Crater, has been rotated to show that steep slope.
To celebrate their success in the past few months exploring these higher reaches of the foothills of Mount Sharp, today they released a spectacular panorama, with the highest resolution of any yet produced, looking downhill from the base of Central Butte, taken back in October and November during the several months they had spent at that location. A lower resolution version, showing Curiosity in the foreground, is below, reduced even more to post here.



Click for full resolution.
Make sure you click on the full image. It really puts you there, on Mars, looking north and out across Gale Crater.
Other rovers
I have been posting updates on the Chinese Yutu-2 rover and Chang'e-4 lander on the far side of the Moon, as they happen, the most recent of which were on February 27, 2020 and March 2, 2020. Both rovers appear to be in good operating condition, despite having survived fifteen lunar days and nights, five times more than originally planned.
This coming summer a flock of new rovers plus one orbiter are going to launch for Mars. The U.S. will send another Curiosity-class rover, with its official name to be announced tomorrow, to Jezero Crater. China is also supposed to send an orbiter, lander, and rover, but almost no updates about this project have been released recently.
A joint Europe-Russian mission, ExoMars2020, is supposed to send the rover Rosalind Franklin to Mars, but technical problems could very well delay that rover's launch by two years. We shall find out by the end of March.
Finally, the United Arab Emirates intends to send its Hope orbiter to Mars this summer. Built with Indian help and launched by Japan, the UAE hopes that this mission will help them diversify their economy and inspire their youth to do more than simply collect checks from their oil profits.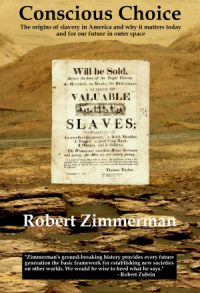 Now available in hardback and paperback as well as ebook!
From the press release: In this ground-breaking new history of early America, historian Robert Zimmerman not only exposes the lie behind The New York Times 1619 Project that falsely claims slavery is central to the history of the United States, he also provides profound lessons about the nature of human societies, lessons important for Americans today as well as for all future settlers on Mars and elsewhere in space.
Conscious Choice: The origins of slavery in America and why it matters today and for our future in outer space
, is a riveting page-turning story that documents how slavery slowly became pervasive in the southern British colonies of North America, colonies founded by a people and culture that not only did not allow slavery but in every way were hostile to the practice.
Conscious Choice
does more however. In telling the tragic history of the Virginia colony and the rise of slavery there, Zimmerman lays out the proper path for creating healthy societies in places like the Moon and Mars.
"Zimmerman's ground-breaking history provides every future generation the basic framework for establishing new societies on other worlds. We would be wise to heed what he says." —Robert Zubrin, founder of founder of the Mars Society.
All editions are available at Amazon, Barnes & Noble, and all book vendors, with the ebook priced at $5.99 before discount. The ebook can also be purchased direct from my ebook publisher, ebookit, in which case you don't support the big tech companies and I get a bigger cut much sooner.
Autographed printed copies are also available at discount directly from me (hardback $24.95; paperback $14.95; Shipping cost for either: $5.00). Just email me at zimmerman @ nasw dot org.