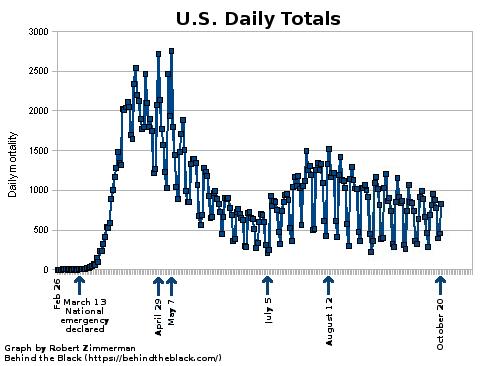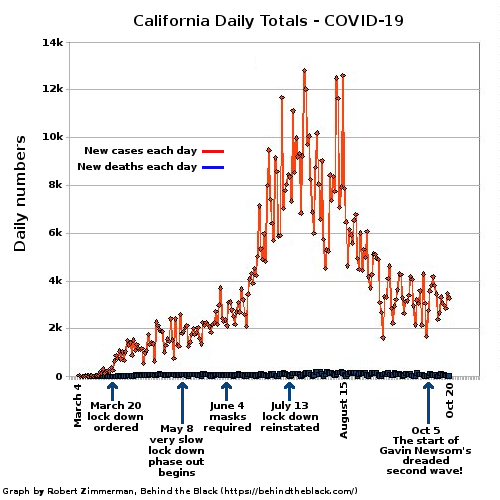 The time has come for another update on the state of the COVID-19 epidemic in the United States, mostly because the evidence, as shown in the updated graphs to the right, continues to tell us that the epidemic is dying off, both in its deadliness and in its spread, despite what some ignorant and power-hungry politicians from both political parties might be saying.
There is also no evidence yet of a second wave of the virus, something that these same fear-mongering politicians have been touting. Both the national graph to the right as well as the graph showing California's numbers below show this.
There is, however, ample evidence that the number of COVID-19 deaths in the U.S. has been corrupted in order to inflate the totals. CDC data shows almost no flu deaths in 2020, something that is simply not credible. More likely the totals of COVID-19 deaths are a combination of COVID-19 and flu deaths, with all the deaths assigned to the coronavirus because hospitals get more government money by doing so.
This combination suggests that all told this epidemic is essentially comparable to a normal flu season. The 2020 winter season was simply one in which we were hit with two respiratory diseases, one old and one new, and the two combined to make that season worse than normal.
To confirm what I have just written however I will let my new GP doctor speak for me. Dr. Robert Lending is certified in both internal medicine and clinical lipidology. Two years ago he became disgusted with the way his practice was evolving due to Obamacare and insurance requirements, both of which were forcing him to see an endless string of patients quickly, with no time to spend with each in order to make sure their needs were covered properly. As noted at his webpage,
In 2018, Dr. Lending decided to return to his roots of delivering personalized, one-on-one health care in a more intimate professional setting. He has partnered with Cypress Concierge Medicine and is now one of a limited number of physicians in the region offering membership-based concierge medicine to patients. This provides more time, attention, and VIP service than patients would experience at your average Internal Medicine provider.
As a result, when I called his office to find out if he would consider my own legitimate medical issues that strongly preclude mask use, he very quickly was willing to listen and work with me. For such concierge service you need to pay an annual retainer, which is not cheap, but based on my experience in the past month, it is well worth every penny. For the first time in more than a decade I actually feel I have a real doctor again, who will spend the time to oversee my medical issues and make sure they are taken care of. For example, I can call him anytime, and he answers the phone. With most modern doctors you never get to talk to them directly, except in your short visits. Instead you have to go through go-betweens, who act to protect the doctor rather than treat the patient.
One of Lending's services is a periodic email he personally writes and sends to his patients, in which he reviews the most recent medical news of the day. Obviously, for the past six months these updates have been focused mostly on the coronavirus, from the perspective of a doctor in the field. I think what he wrote in yesterday's email about COVID-19 is most pertinent:

Europe has seen an increased number of cases but not an increased fatality rate in many countries. Some experts feel that this is a direct result of quarantining; and despite this, Europe may actually increase and get stricter with more quarantines.

A recent study of new COVID-19 cases revealed that 71% of those people wore masks 100% of the time; and 15% more wore masks almost all the time. These people still got infected. This study again reveals that mask-wearing may not only be fruitless, but could be a causative factor actually increasing risks of contracting COVID-19. Bottom line is that the mask data and opinion is all over the map.

CNN recently INCORRECTLY reported that all 50 USA states were surging. There may be 40 with an increase in cases due to increased testing and due to pooled and one-pot testing; but the death rates are mostly dramatically decreasing even in the states with increased cases.

Pima County Health Dept. continues to defy logic and science. AZ last week had 80cases/100,000. Pima County had only 60/100,000, and has had ZERO deaths <19 years old. Yet Pima County still wants the case rate to decrease to 10/100,000 before they recommend school openings and school sports to be restarted. Pima County has an infection rate since this all started between 7.5%-10%. New case rates in Pima County have been 3%-3.75% for the last month. In my opinion, this is an insane and narrow-minded view of the importance of schools, school sports activities, socialization, and education; which also contradicts common sense and science and data and public health. [emphasis mine]
The highlighted phrases all confirm the same conclusions that have been repeatedly made by me, based on ample data that is readily available. The virus is weakening, and even in its most virulent period it was still nothing more than a variation of the common flu. Most important, its differences from the flu actually almost made every single policy decision by our bankrupt leaders downright foolish, from lock downs to house arrest to masks.
First, while both the flu and COVID-19 are dangerous to the elderly sick, it appears that the coronavirus is more deadly to this population, though not remarkably so. Thus, the smartest thing we should have done is protect that population from the virus. Instead, Democratic Party governors in New York, New Jersey, Michigan, and Pennsylvania have all demanded that hospitals place infected patients in nursing homes. exposing that vulnerable population and causing many unnecessary deaths.
Second, while both the flu and COVID-19 appear relatively harmless to healthy people, there is mounting evidence that the coronavirus is even more harmless. It appears that people younger than twenty are practically immune, while healthy people older than twenty generally show no symptoms at all if they get infected — meaning they might not even know they got it. And those healthy people who do get sick quickly recover, even if they are elderly (consider President Trump as a prime example). A bout with flu actually appears more intense, lasting longer and causing more sickness. Regardless, in all cases there appear to be few deaths among the young or the healthy.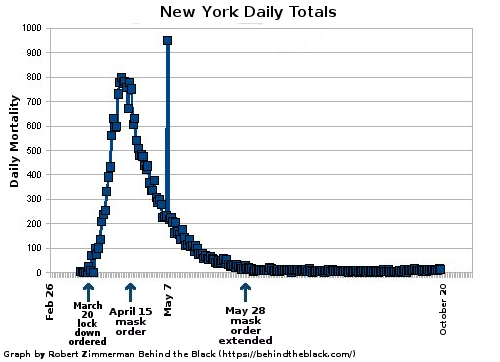 See this post for an explanation of the
strange spike in deaths on May 7th.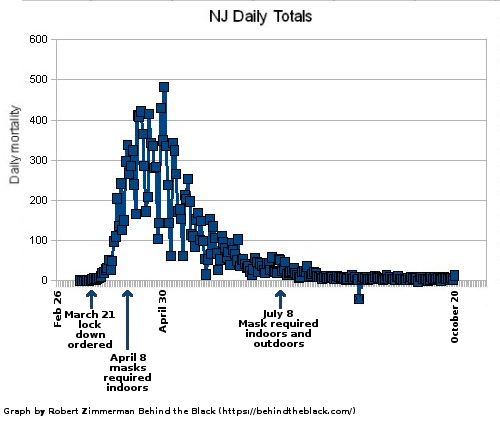 See this post for an explanation of the
strange negative numbers on this graph.
Based on this knowledge (which was evident almost before the virus arrived in the United States), the best policy would have been to allow the general population to continue their normal lives, thus quickly spreading the virus through that immune population so that the virus would rapidly play itself out and thus become less of a threat to the vulnerable elderly.
The result: No lock downs, no closed businesses, no unemployment, no masks, and a quick and relatively harmless COVID-19 season, just like the flu.
This is what Sweden did, to great success.
This is also what happened across most of the densely populated American northeast, where it was impossible for lockdowns to prevent people from congregating closely. The two graphs for New York and New Jersey to the right are typical of what you see when you view the "full range" graphs for Pennsylvania, Connecticut, Massachusetts, and Maryland. The epidemic spread fast and quickly died off. In all these states the number of deaths from the coronavirus has been practically nil for months. The epidemic has long since been over, despite the continuing panic, fear-mongering, and despotic edicts of their Democratic Party elected officials.
These graphs also show starkly, as does the national and California graph above, that there is zero evidence of a second epidemic wave, despite the increase in cases. As Lending noted above, the rise in cases is due mostly because of the increase in testing. It also demonstrates that the virus itself is weakening in deadliness.
The time has come for Americans, and in fact the entire world, to take a breath, put aside fear, and return to normal life. COVID-19 is not the plague that too many ignorant people have been claiming. It is a variation of the common flu, and thus deserves the normal response we have given that respiratory disease for centuries: Protect the weak from it, but let everyone else continue their lives in a normal manner.
Readers!
I must unfortunately ask you for your financial support because I do not depend on ads and rely entirely on the generosity of readers to keep Behind the Black running. You can either make a one time donation for whatever amount you wish, or you sign up for a monthly subscription ranging from $2 to $15 through Paypal or $3 to $50 through Patreon.
Your support will allow me to continue covering science and culture as I have for the past twenty years, independent and free from any outside influence.
Your support is even more essential to me because I not only keep this site free from advertisements, I do not use the corrupt social media companies like Google, Twitter, and Facebook to promote my work. I depend wholly on the direct support of my readers.
You can provide that support to Behind The Black with a contribution via Patreon or PayPal. To use Patreon, go to my website there and pick one of five monthly subscription amounts, or by making a one-time donation. For PayPal click one of the following buttons:

If Patreon or Paypal don't work for you, you can support Behind The Black directly by sending your donation by check, payable to Robert Zimmerman, to


Behind The Black
c/o Robert Zimmerman
P.O.Box 1262
Cortaro, AZ 85652


Or you can donate by using Zelle through your bank. You will need to give my name and email address (found at the bottom of the "About" page). The best part of this electronic option is that no fees will be deducted! What you donate will be what I receive.