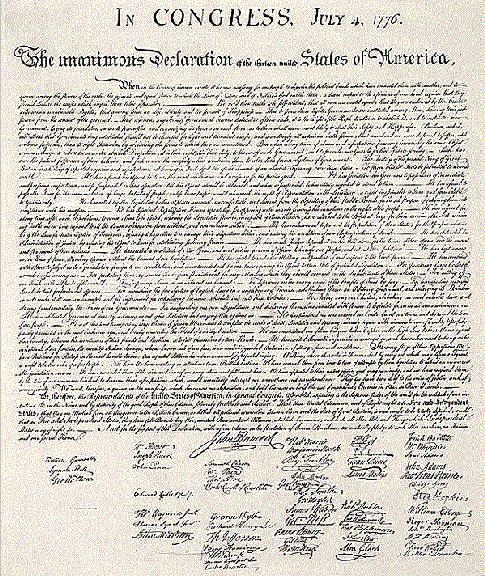 Renewing the Declaration of Independence
In the first two parts of this series I very carefully outlined the ugly corrupt lie of the experimental COVID jab, and then followed up with a detailed summary of the lies put forth to justify imposition of the many COVID mandates.
Today, in this concluding essay, we will take a look at the battle by many to resist and end those COVID mandates, a battle that is increasingly successful because the mandates themselves were both immoral and illegal. They desecrated all the fundamental tenets and principles that underlie all American culture and law.
First however an addendum to yesterday's essay, where I noted that "The royalties possibly received by Fauci and others in the government for their work developing the COVID jab — that the government then mandated — boggles the mind." Shortly after I posted that essay, this story hit the web:
Fauci's Net Worth Doubled During Pandemic, As Americans Struggled to Make Ends Meet
In 2021 alone Fauci earned almost two million dollars in royalties, travel perks, and investment gains. We still do not know however exactly what companies paid Fauci this money, or the precise amounts, because, according to the organization Open the Books which obtained this data, NIH has redacted that information.
To paraphrase Shakespeare, "Something is very rotten in the state of COVID". The only reason I can fathom for keeping the source of those royalties secret is if their unveiling would reveal a serious conflict of interest. Fauci was one of the most visible government officials pushing the COVID shots on adults and children. Was he also making money on each jab? The public has a right to know.
Now, on to the fight against the illegal and immoral COVID mandates.

In my daily blacklist column during the past two years I have documented numerous stories of individuals refusing to get the jab, or fighting various other Wuhan flu lockdowns and rules, and thus losing their jobs and businesses, or getting expelled from their school.
What has changed however in the past year, since Joe Biden issued his edict forcing all government workers and anyone who worked for a private government contractor to get the jab, has been the growing number of lawsuits fighting back, with more and more winning their case. Here are just a few examples:
The final decision for all of these lawsuits remains uncertain. For example, in the last story, the court has since dismissed the suit, partly because Michigan's Supreme Court had subsequently ruled Whitmer's lockdown orders were unconstitutional and thus the case was moot, and partly because it decided the state and its employees had sovereign immunity and could not be held liable for the loss of business and income during the eight months Whitmer's lockdown was imposed illegally and unconstitutionally.
The bowling alleys however have refused to give up, and have appealed that decision.
In their brief to the Cincinnati-based appeals court, the businesses argued "the 11th Amendment and a state's police power are not absolute," and that the state supreme court's decision to strike down the executive order as unconstitutional requires Michigan to provide compensation. "Just because it took eight months for the judicial process to run its course and the Michigan Supreme Court to hold that defendants' actions were not valid does not absolve defendants of all liability," the brief states. "The bottom line is that Michigan's highest court held that defendants' actions were not valid, thus, they are not deserving of any protection."
If this case reaches the Supreme Court, it is certain the fifth amendment to the Bill of Rights will come up, which clearly states "no person…will be deprived of life, liberty, or property, without due process of law; nor shall private property be taken for public use, without just compensation." Whitmer took their income and shuttered their businesses, without due process of law. She and Michigan should face penalties for that illegal action.
Similarly, in the ESPN case, the sports anchor, Sage Steele, has pushed back against ESPN's legal effort to get the case dismissed. She is not backing down.
As I said, these stories are only a small sample of the thousands of lawsuits that have been filed in response to the shot mandates. All however illustrate the hubris of those government and corporate officials who somehow during the Wuhan panic decided that the law no longer applied to them, that just because they were afraid and felt a desperate need to "do something", they had the right to smash their boot into everyone else's face. The law no longer mattered. What mattered was "saving just one life" and "keeping everyone safe."
Well the law does matter, and these foolhardy petty dictators are slowly finding this out. Below are just a few examples of the many lawsuits that have since been won by those who opposed these COVID dictators.
The last ruling came only a month after pilots for three airlines had sued over the Biden mask mandate. Yet, the ruling had nothing to do with their suit, because it was in response to another suit by private citizens, filed in November 2021. Nor were these two mask lawsuits alone. The mask mandate was illegal, and thus it was opposed by many legal challenges, all of which were validated by the court ruling.
The resistance to these immoral COVID mandates however has not merely been fought in the courts. In February I documented a growing rebellion against such rules in the schools, but not by parents but by the students themselves. As I noted:
For the first time, the Democratic Party has taken actions that has broken its long-held ties to this large future voting block. Young people are suddenly experiencing the same types of painful oppression from leftist policies that businesses and land owners have experienced for decades. And they apparently don't like it.
It is very much worth your time to watch the videos I embedded at this post. Young high school students boldly tell government officials they are full of crap, and must stop their idiotic COVID policies. In one case, the student's speech caused the school board to immediately vote 4 to 1 to end its mask mandates.
And yet, the harm done by these foolish, illegal, and unconstitutional COVID mandates will take decades to heal. Not everyone can get redress in the courts. Nor is it possible or likely for court rulings to completely cancel out the damage done by the mandates and the ugly dictatorial culture that came with them.
For example, there is my own story. I was personally blacklisted by almost all my friends, in a coordinated effort within the organized caving community to which we all belonged, simply because I challenged their own COVID shot mandates. Even if that blacklisting should someday end, those friendships are forever lost. Even heartfelt apologies — which I do not expect — can not wipe out the anguish and hurt caused by such vindictive actions.
My story sadly is not unique. Millions of others have suffered far worse at the hands of the COVID authoritarians. The loss of good will caused by this effort to destroy people for questioning the COVID panic will be difficult to recover. For two years one side in this difficult debate decided debate should no longer allowed, that their side was right, without question, and that whoever challenged them deserved no fair treatment and must instead be blackballed and oppressed.
Many have won legal battles against these small time dictators, with many more legal victories soon to be won. Many more unfortunately will never regain their businesses, their livelihoods, their friends, their careers, or even their social standing.
And all because, for two years, debate was suddenly forbidden, free thought banned, and liberty denied. Suddenly America became a place where rulers ruled all, regardless of knowledge or uncertainty, and all had to obey, without question. In such places only evil can prosper, as Jacob Bronowski so eloquently explained in the clip below, from his classic television series, The Ascent of Man.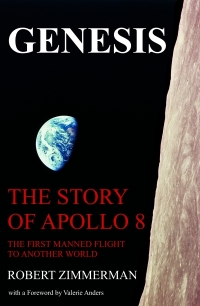 On Christmas Eve 1968 three Americans became the first humans to visit another world. What they did to celebrate was unexpected and profound, and will be remembered throughout all human history. Genesis: the Story of Apollo 8, Robert Zimmerman's classic history of humanity's first journey to another world, tells that story, and it is now available as both an ebook and an audiobook, both with a foreword by Valerie Anders and a new introduction by Robert Zimmerman.
The ebook is available everywhere for $5.99 (before discount) at
amazon
, or direct from my ebook publisher,
ebookit
. If you buy it from
ebookit
you don't support the big tech companies and the author gets a bigger cut much sooner.
The audiobook is also available at all these vendors, and is also
free with a 30-day trial membership to Audible.
"Not simply about one mission, [Genesis] is also the history of America's quest for the moon... Zimmerman has done a masterful job of tying disparate events together into a solid account of one of America's greatest human triumphs."--San Antonio Express-News