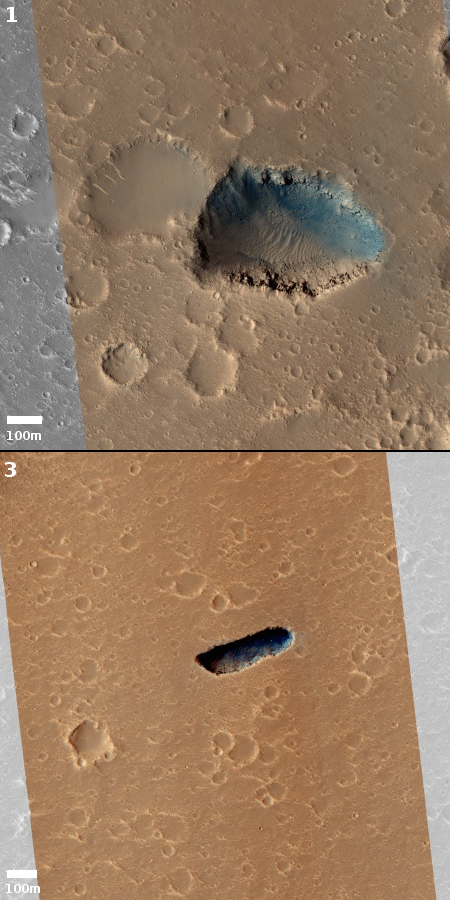 I could call this my monthly Martian Pit update. Since November 2018 I have each month found from two to five new and interesting cave pits in the monthly download of new images from the high resolution camera on Mars Reconnaissance Orbiter (MRO). My previous posts:
All except the last August 12 post were for pits on the flanks of Arsia Mons, the southernmost in the line of three giant volcanoes to the southeast of Olympus Mons, and were thus almost certainly resulting from lava flows.
The August 12 post instead showed pits found in Utopia Planitia, one of the large plains that comprise the Martian northern lowlands where scientists think an intermittent ocean might have once existed. All of these pits are found in a region of meandering canyons dubbed Hephaestus Fossae.
In the most recent MRO release scientists once again focused on the pits in or near Hephaetus, imaging four pits, two of which have been imaged previously, as shown in my August post and labeled #2 and #4 in this article, and two (here and here) that appear new. The image on the right, cropped to post here, shows the two new pits, dubbed #1 and #3. In the full image of #1, it is clear that this pit lines up nicely with some other less prominent depressions, suggesting an underground cave. Pit #3 however is more puzzling. In the full image, this pit actually runs perpendicular to a long depression to the west. There are also no other related features around it.
What makes all four of these pits intriguing is their relationship to Hephaestus Fossae and a neighboring rill-like canyon dubbed Hebrus Valles, as shown in the overview map below.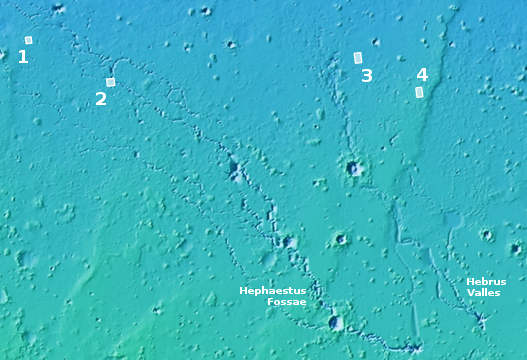 All the pits are found in the downstream end of both Hephaestus Fossae and Hebrus Valles. Note also that to the east of this overview is the giant volcano Elysium Mons, which means these canyons are flowing down from that volcano.
Scientists are not sure what caused these channels. Several have proposed that they could have been caused by catastrophic floods of water, melting because of heating from the volcano. Others suspect these rills are indications of lava flows coming down from Elysium Mons, forming lava tubes. In either case there appears no consensus.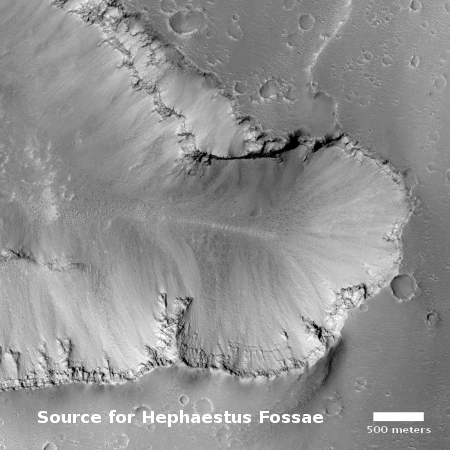 Click for full image.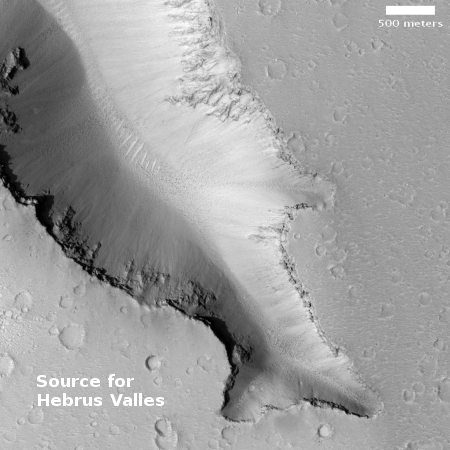 Click for full image.
I could not help wondering what the southeastern sources of both these two rills looked like. Not surprisingly, the scientists were interested long before me, and have taken a bunch of high resolution MRO images of both.
To the right are sections of the most prominent sources of the two canyons, cropped and reduced to post here. As you can see, there are no obvious outlets coming from the uphill direction to the east. Then again, a lot of time has passed since any liquid water could have flowed here. In that time a lot of Martian dust has been deposited. Furthermore, you can see with both sources that a considerable amount of what looks like alluvial fill debris has fallen from the cliff walls, creating the long slopes down to the bottom. Any openings that might have once been here have certainly been long buried by these processes.
Because of the likelihood of water in this region, some scientists have proposed [pdf] this region as a prime exploration target, especially because of the possibility of caves.
One last interesting factoid. I could not help noticing that all four pits are at the same latitude, 21-21 degrees north. This places them south of the northern glacial band that exists from 30 to 60 degrees latitude. Thus, these pits could provide the answer to one of the fundamental questions scientists have about Mars: How far south does the ice table below the surface extend? It appears, based on the buried glaciers that have been identified, that this ice table gets as far south as 30 degrees. Whether it exists at 20 degrees north latitude however remains unknown.
My guess is that elevation would be a factor. At higher elevations, such as the flanks of the volcanoes, buried ice table would have more chance of existing at lower latitudes. In Utopia Planitia, however, the low elevation plus the low latitude would suggest that buried ice is unlikely.
We do not yet know this, however. These pits however might someday tell us.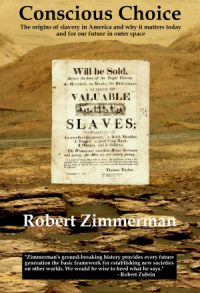 Now available in hardback and paperback as well as ebook!
From the press release: In this ground-breaking new history of early America, historian Robert Zimmerman not only exposes the lie behind The New York Times 1619 Project that falsely claims slavery is central to the history of the United States, he also provides profound lessons about the nature of human societies, lessons important for Americans today as well as for all future settlers on Mars and elsewhere in space.
Conscious Choice: The origins of slavery in America and why it matters today and for our future in outer space
, is a riveting page-turning story that documents how slavery slowly became pervasive in the southern British colonies of North America, colonies founded by a people and culture that not only did not allow slavery but in every way were hostile to the practice.
Conscious Choice
does more however. In telling the tragic history of the Virginia colony and the rise of slavery there, Zimmerman lays out the proper path for creating healthy societies in places like the Moon and Mars.
"Zimmerman's ground-breaking history provides every future generation the basic framework for establishing new societies on other worlds. We would be wise to heed what he says." —Robert Zubrin, founder of founder of the Mars Society.
All editions are available at Amazon, Barnes & Noble, and all book vendors, with the ebook priced at $5.99 before discount. The ebook can also be purchased direct from my ebook publisher, ebookit, in which case you don't support the big tech companies and I get a bigger cut much sooner.
Autographed printed copies are also available at discount directly from me (hardback $24.95; paperback $14.95; Shipping cost for either: $5.00). Just email me at zimmerman @ nasw dot org.