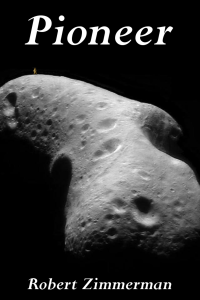 From the press release: From the moment he is handed a possibility of making the first alien contact, Saunders Maxwell decides he will do it, even if doing so takes him through hell and back.
Unfortunately, that is exactly where that journey takes him.
The vision that Zimmerman paints of vibrant human colonies on the Moon, Mars, the asteroids, and beyond, indomitably fighting the harsh lifeless environment of space to build new societies, captures perfectly the emerging space race we see today.
He also captures in Pioneer the heart of the human spirit, willing to push forward no matter the odds, no matter the cost. It is that spirit that will make the exploration of the heavens possible, forever, into the never-ending future.
Available everywhere for $3.99 (before discount) at
amazon
,
Barnes & Noble
, all ebook vendors, or direct from the ebook publisher,
ebookit
.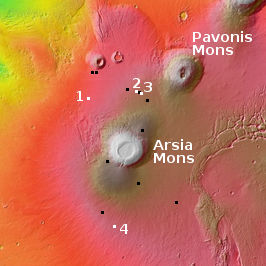 When it comes to Mars, it appears that if you want to find a pit that might be the entrance to an underground system, the place to look is on the slopes of Arsia Mons, the southernmost volcano in the chain of three giant volcanoes between Olympus Mons to the west and the vast canyon Marineris Valles to the east.
To the right is an overview map showing the pits that have been imaged since November by the high resolution camera of Mars Reconnaissance Orbiter (MRO). The black squares show the pits that I highlighted in previous posts on November 12, 2018, February 22, 2019, and April 2, 2019. The numbered white squares are the new pits found in March photograph release from MRO.
And this is only a tiny sampling. Scientists have identified more than a hundred such pits in this region. Dubbed atypical pit craters by scientists, they "generally have sharp and distinct rims, vertical or overhanging walls that extend down to their floors, surface diameters of ~50–350 m, and high depth to diameter (d/D) ratios" that are much greater than impact craters, facts that all suggest that these are skylights into more extensive lava tubes.
Below are the images of today's four new pits.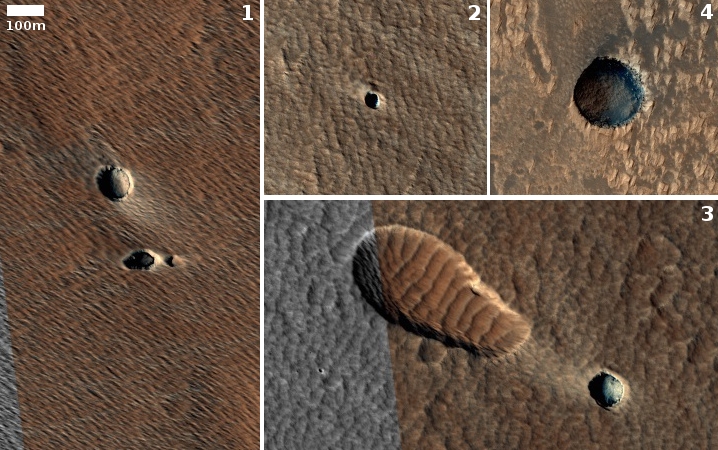 Pit #1 is located along a long northwest-to-southeast trending depression that is probably caused by sagging into an underground lava tube. This is also likely southeast along the same extended depression in which the pits discussed in my January 30, 2019 post are located. Unlike those pits, pit #1 here does not have a dark westward streak that the January 30th pits had. The lack of that dark streak suggests it does not access any significant underground passages, as suggested by the presence of the streak for the other pits.
Meanwhile pit #2 and pit #4 have no nearby features suggesting further underground passages. They stand alone, a sudden hole on a relatively flat volcanic plain that shows no indication about why they are even there. The slope for pit #4 is downhill to the west, and the shape of the terrain, rougher than #2, does suggest that the hole sits at the head of one particular flow. At the same time, the surface appears to have no depressions, and there is no indication of any underground lava flow that might have caused the pit to form.
Pit #3 has that elongated depression to the west. In the full image there is a hint that these two features are aligned with a faint depression that flows into a north/south depression to the east.
The many pits surrounding Arsia Mons highlight a far greater mystery about Martian geology. Some geologists believe that the many meandering channels we see on Mars could have formed not from surface flow as generally assumed but by underground drainage that washed out voids below the ground which in turn caused the surface to subside, forming those meandering channels.
Yet, as far as I can tell, the only place where scientists have been able to identify a significant number of potential cave openings are on the volcanic slopes of Arisa Mons and its neighboring giant volcanos. There are exceptions, such as this spectacular pit at the head of a channel in the transition zone between the southern highlands and the northern lowlands, as well as two different pits, here and here, that are located in the lowlands in Utopia Basin. Overall however the bulk of pits imaged by MRO appear to be on the slopes of the giant volcanoes, with the majority so far found near Arsia Mons.
It is possible that this disparity is simply be a function of research bias. Maybe we not have yet found the entrances elsewhere. This seems however unlikely. With the extensive effort to photograph in high resolution the cliff faces of many of these channels, looking for water seeps, it seems likely that scientists would spotted any cave openings. Instead, they have found none on those cliff walls, a lack that you definitely would not find on Earth in cave-forming geology.
It is also possible I have simply missed the discovery of other cave openings on Mars. I have my doubts, however, considering my interest in this subject.
This is a mystery. If the geological evidence suggests extensive underground voids that caused the many surface channels, it is puzzling that we have not seen more entrances within these channels. On Earth you would find many huge cavernous openings in connection with such depressions. On Mars we find very few. Either the alien gravity and geology of Mars does not allow for such entrances to occur, or the theory of extensive underground voids is wrong.
Interestingly, the April release from MRO only included one small pit, north of Ascraeus Mons, the northernmost in this volcano chain, with no new pits photographed near Arsia Mons. This is the fewest number of new pits imaged in months. This could be because they have found all the pits in this area (very unlikely) or because the MRO science team has shifted its focus to other geological features (stay tuned for future posts!) that are now getting observation time instead.
Readers!
Every July, to celebrate the anniversary of the start of Behind the Black in 2010, I hold a month-long fund-raising campaign to make it possible for me to continue my work here for another year.

This year's fund-raising drive however is more significant in that it is also the 10th anniversary of this website's founding. It is hard to believe, but I have been doing this for a full decade, during which I have written more than 22,000 posts, of which more than 1,000 were essays and almost 2,600 were evening pauses.

This year's fund drive is also more important because of the growing intolerance of free speech and dissent in American culture. Increasingly people who don't like what they read are blatantly acting to blackball sites like mine. I have tried to insulate myself from this tyrannical effort by not depending on Google advertising or cross-posts Facebook or Twitter. Though this prevents them from having a hold on me, it also acts to limit my exposure.

Therefore, I hope you will please consider donating to Behind the Black, by giving either a one-time contribution or a regular subscription, as outlined in the tip jar below. Your support will allow me to continue covering science and culture as I have for the past twenty years, independent and free from any outside influence.
Regular readers can support Behind The Black with a contribution via paypal:
If Paypal doesn't work for you, you can support Behind The Black directly by sending your donation by check, payable to Robert Zimmerman, to

Behind The Black
c/o Robert Zimmerman
P.O.Box 1262
Cortaro, AZ 85652