Fake news permeates our modern news sources, but today we have two space-related stories that make me shake my head.
The first comes from Newsweek (which supposedly died years ago): Apollo 11 Astronaut Michael Collins Shares Unseen NASA Photo of Moon Landing Crew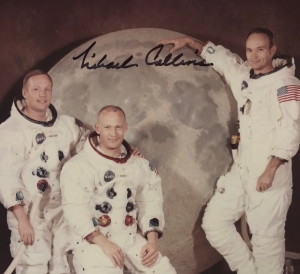 Michael Collins—one of the three crew members of the historic Apollo 11 moon mission—has posted a previously unreleased NASA photo on Twitter of himself, Buzz Aldrin and Neil Armstrong, which he discovered by chance in a box. The photo—taken in 1969—shows the trio, decked out in full astronaut gear, standing next to a moon prop with Aldrin and Armstrong on one side and Collins on the other. The picture also features Collins' autograph scrawled over the top in black ink.

"The crew. Found this at the bottom a box. Don't think it was ever used by @NASA. #TBT @TheRealBuzz," Collins tweeted.

The release of the photo is a fitting tribute to the mission in the year of its 50th anniversary, especially because it has likely not been seen by human eyes for five decades.

Florida news outlet The Orlando Sentinel—which is about to publish a commemorative book on the 1969 mission—reported that no staff members could remember seeing the photo before either in the NASA archives or the paper's own records.
I'm sorry, but that photo is hardly news. Nor has it been lost until now. I know I've seen it myself at least a few times over the years, though not recently. It was one of dozens of standard public relations photographs taken by NASA leading up to the launch.
Collins himself himself should know better than to suggest this was never used. He doesn't know that, and in fact is certainly wrong. Worse, neither Newsweek nor the Orlando Sentinel should not expand upon Collins' statement for the sake of creating clickbait.
The second bit of fake space news today is buried in a news piece from Reuters.
» Read more