Summary: Curiosity in the clay unit valley. Opportunity's long journey is over. Yutu-2 creeps to the northwest on the Moon's far side.
For the overall context of Curiosity's travels, see my March 2016 post, Pinpointing Curiosity's location in Gale Crater.
For the updates in the past year go here. For a full list of updates before February 8, 2018, go here.
Curiosity


Click image for full resolution version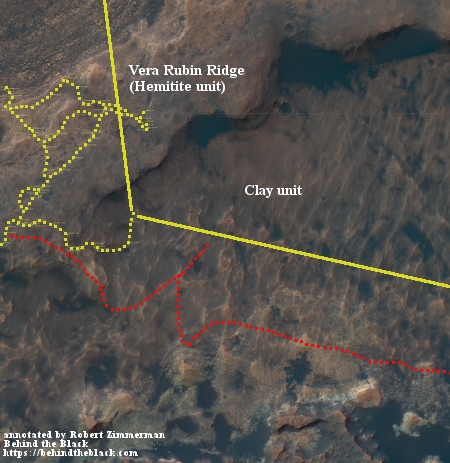 Click image for original image
Since my January 22, 2019 update, Curiosity finally drove down off of Vera Rubin Ridge into a valley between the ridge and the lower slopes of Mt Sharp. The Mars Reconnaissance Orbiter (MRO) overview on the right has been annotated by me to show the rover's travels (shown by the yellow dotted line), with its proposed route indicated by the red dotted line. The yellow lines indicate approximately the terrain seen in the panorama above. The panorama was created from images taken on Sol 2016.
The valley that Curiosity is presently traversing is dubbed "the clay unit" or "the clay-bearing unit" by the geologists, based on its make-up determined from orbital data. So far they have found this terrain to be "some of the best driving terrain we've encountered in Gale Crater, with just some occasional sandy patches in the lee of small ridges." Initially they had problems finding any rocks or pebbles large enough for the instruments to use for gathering geological data. For the past week or so, however, they have stopped at "bright exposure of rock" where some bedrock was visible, giving them much better material to work with.
» Read more