Summary: Curiosity climbs back up onto Vera Rubin Ridge to attempt its second drillhole since drill recovery, this time at a spot on the ridge with the highest orbital signature for hematite. Opportunity remains silent, shut down due to the global dust storm.
For a list of past updates beginning in July 2016, see my February 8, 2018 update.
Curiosity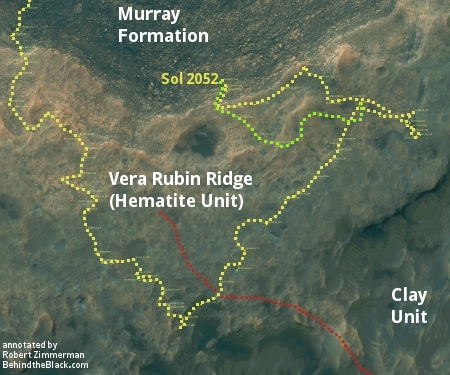 For the overall context of Curiosity's travels, see Pinpointing Curiosity's location in Gale Crater.
In the almost two months since my May 23, 2018 update, a lot has happened, much of which I covered in daily updates. Curiosity found a good drill spot to once again test the new drilling techniques designed by engineers to bypass its stuck drill feed mechanism, and was successful in getting its first drill sample in about a year and a half. The rover then returned uphill, returning to a spot on Vera Rubin Ridge that, according to satellite data, has the highest signature for hematite on the entire ridge. The light green dotted line in the traverse map to the right shows the route Curiosity has taken back up onto Vera Rubin Ridge. The red dotted line shows the original planned route off the ridge and up Mount Sharp.
» Read more