It never was about the virus: After a year of job-destroying lockdowns and the inhuman muzzling of every citizen in a panicked effort to slow the spread of COVID-19, a careful review of the data continues to show what was obvious as early as September 2020: Those authoritarian government edicts did nothing to stop or even slow the spread of the coronavirus.
The article at the link first compares Florida (where the government edicts were few) and California (which was turned into a fascist state by the edicts of its Democratic Party governor) and found that after a year, Florida was actually impacted less by the virus.
In light of everything our officials have taught us about how this virus spreads, it defies reality that Florida, a fully open and popular travel destination with one of the oldest populations in the country, currently has lower hospitalizations and deaths per million than California, a state with much heavier restrictions and one of the youngest populations in the country. While it is true that, overall, California does slightly better than Florida in deaths per million, simply accounting for California's much younger population tips the scales in Florida's favor.

Florida has zero restrictions on bars, breweries, indoor dining, gyms, places of worship, gathering sizes, and almost all schools are offering in-person instruction. California, on the other hand, retains heavy restrictions in each of these areas. At the very least, Florida's hospitalizations and deaths per million should be substantially worse than California's. Those who predicted death and destruction as a consequence of Florida's September reopening simply cannot see these results as anything other than utterly remarkable. Even White House covid advisor Andy Slavitt, much to the establishment's embarrassment, had no explanation for Florida's success relative to California. Slavitt was reduced to parroting establishment talking points after admitting that Florida's surprisingly great numbers were "just a little beyond our explanation."
The article then goes on to look at national trends, and finds similar results. Overall there is absolute no correlation between harsh restrictions and fewer COVID deaths or hospitalizations. Instead, the biggest factor appears to be local climate.

Similar case patterns across fifty states is hardly an indicator of a government capable of influencing the course of the virus. Instead, research published in Evolutionary Bioinformatics shows that case counts and mortality rates are strongly correlated with temperature and latitude, a concept known as "seasonality," which, once recognized, largely explains the failure of the past year's [governmental edicts and restrictions]s.

Meanwhile, we can look at seasonally congruent regions to see whether or not varying degrees of behavioral mandates have had any noticeable impact on cases. What we find, thanks to seasonality, is that regardless of the timing or existence of mask mandates and other behavioral mandates, similar regions follow similar case growth patterns. [emphasis mine]
All these conclusions are entirely consistent with earlier studies, all of which found that the draconian and unprecedented measures imposed by governments during this epidemic were all worthless in slowing the virus, but quite successful in ruining numerous lives and destroying the world's economy, while in the U.S. serving to effectively nullify the rights accorded all citizens under the Constitution.
The worst part of this whole sad story is not that our leaders are corrupt power-hungry fools who gladly abused their power, but that the majority of Americans bowed meekly to that abuse.
We get the government we deserve. Based on events in the last year we are getting it now, good and hard.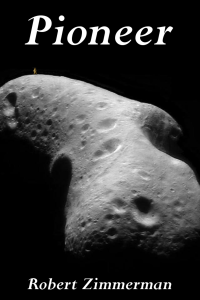 From the press release: From the moment he is handed a possibility of making the first alien contact, Saunders Maxwell decides he will do it, even if doing so takes him through hell and back.
Unfortunately, that is exactly where that journey takes him.
The vision that Zimmerman paints of vibrant human colonies on the Moon, Mars, the asteroids, and beyond, indomitably fighting the harsh lifeless environment of space to build new societies, captures perfectly the emerging space race we see today.
He also captures in Pioneer the heart of the human spirit, willing to push forward no matter the odds, no matter the cost. It is that spirit that will make the exploration of the heavens possible, forever, into the never-ending future.
Available everywhere for $3.99 (before discount) at
amazon
,
Barnes & Noble
, all ebook vendors, or direct from the ebook publisher,
ebookit
. And if you buy it from
ebookit
you don't support the big tech companies and I get a bigger cut much sooner.