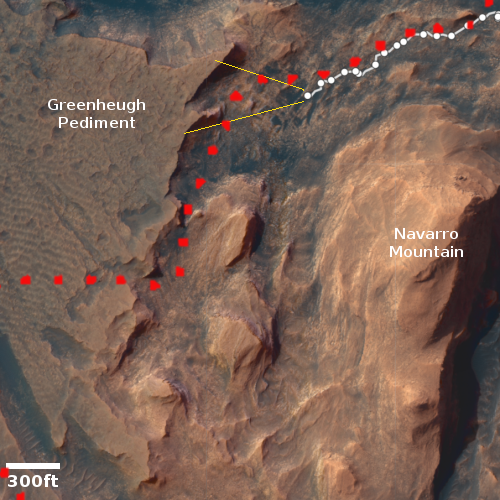 Click for interactive map.
Cool image time! The photo above, taken on August 22, 2021 by Curiosity's left navigation camera and reduced to post here, looks ahead at the rover's upcoming mountainous goals. The overview map to the right shows the area covered by this image by the yellow lines. The dotted red line indicates the rover's original planned route, with the white dotted line its actual path of travel.
The cliff ahead is about 400-500 feet away. The top of this cliff is the Greenheugh Pediment, its blocky top geological layer visible as the dark cap at the top of the cliff face. Back in March 2020 Curiosity had climbed up to view across this pediment, from a point to the northwest and off the overview map to the left. (Go to this link to see what the view was like from there.) Since then the science team has had the rover travel quite a distance, to circle around to now approach the pediment from the east.
The white box marks the area covered by a close-up high resolution mast camera image, shown below.
» Read more