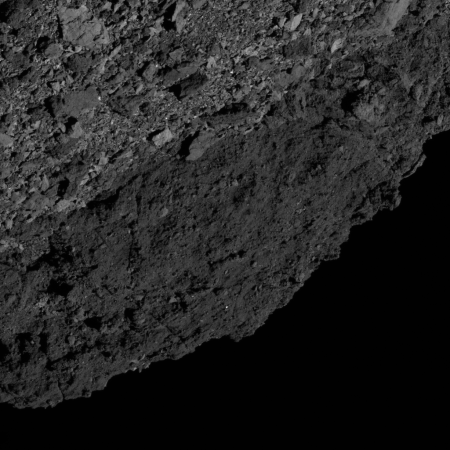 Bennu's equatorial ridge. Click for full image.
This week the science team operating the OSIRIS-REx spacecraft at the asteroid Bennu hosted a joint conference in Tucson, Arizona, with the scientists operating the Hayabusa-2 spacecraft at the asteroid Ryugu. Both gave up-to-date reports on the science so far obtained, as well as outlined upcoming events. I was fortunate enough to attend.
First an overview. Both Bennu and Ryugu are near earth asteroids, with Bennu having an orbit that might even have it hit the Earth in the last quarter of 2100s. Both are very dark, and are rubble piles. Both were thought to be of the carbonaceous chondrite family of asteroids, sometimes referred to as C-type asteroids. This family, making up about 75% of all asteroids, includes a bewildering collection of subtypes (B-types, F-types, G-types, CI, CM, CV, CH, CB, etc), all of which were initially thought to hold a lot of carbon. We now know that only a few of these categories, the CI and CM for example, are carbon rich.
Even so, we actually know very little about these types of asteroids. They are very fragile, so that any that reach the Earth's surface are not a good selection of what exists. About 90% of the material gets destroyed in the atmosphere, with the remnant generally coming from the innermost core or more robust nodules. We therefore have a biased and limited sample.
It is therefore not surprising that the scientists are finding that neither Bennu nor Ryugu resembles anything else they have ever seen. Both have aspects that resemble certain types of carbonaceous chondrite asteroids, but neither provides a very good fit for anything.
» Read more