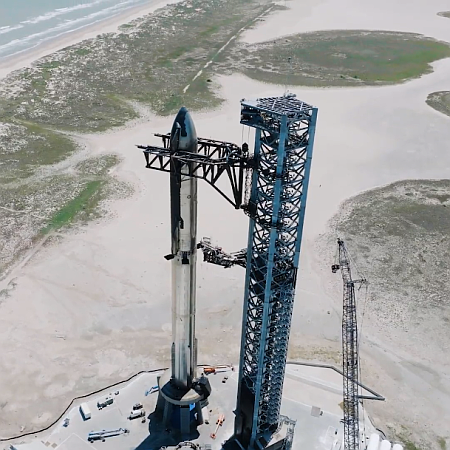 Elon Musk yesterday tweeted a short video showing Starship prototype #25 as it was stacked on top of Superheavy prototype #9, stating that both were now ready for their orbital test launch, the second attempt by SpaceX to launch this new rocket.
The image to the right is a screen capture from that movie, showing the full rocket ready to go. When it will go however remains a complete unknown, as Musk himself noted in the tweet: "Starship is ready to launch, awaiting FAA license approval."
In May I predicted that though Musk predicted at that time that SpaceX would be ready to do this launch in August, it would not happen then or likely for months afterward, because the FAA under the Biden administration is slow-walking all launch approvals for SpaceX, as I showed in detail in a later June essay.
It is now September. SpaceX didn't meet Musk's original August ready date for launch, but it only missed that target by about five days. And as I predicted, the FAA has also not yet approved the launch license.
» Read more