The indictment of Donald Trump this week on bogus charges by a local New York Democratic Party machine politician, done for entirely political reasons, once again illustrates the ugliness of that party. Seems therefore appropriate to repost this August 2022 essay. The only thing that has changed since then an increase in the aggressive, vicious, and violent nature of the Democrats and their allies in the various LBGQTBIBOC etc queer and bigoted identity movements. They are acting with ever greater impunity, while we certainly have not seen any clear evidence that the decent population of the United States has risen up in outrage. Instead, it increasingly appears they are bowing their heads in fear, and letting the bullies win.
It also appears that even if decent Americans finally now step up with outrage, it will be too little too late. For far too long they slept, and now they reap the whirlwind.
The Democratic Party of thugs and goons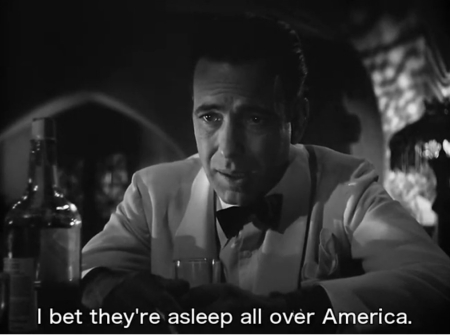 Will the Trump raid finally wake Americans up?
While the outrage and fury has only begun to rise over the unjustified raid of the home of former President Donald Trump yesterday by the FBI, ordered by Biden Justice Department with a warrant issued by an Obama-supporting judge with ties to Jeffrey Epstein's child sex operation, nothing about that raid was anything new or startling. For the past seven years, since Donald Trump won the presidency in 2016, the Democratic Party and its supporters have increasingly acted like Nazi storm-troopers, willing, able, and eager to crush their opponents at every opportunity, and to do so cruelly and with great viciousness.
I therefore ask, shouldn't we have exhibited the same amount of rage and fury for the hundreds and hundreds of ordinary Americans these same thugs have harassed and ruined since 2016? Why did it take a raid on Trump to finally bring that rage to the forefront?
Two Americans committed suicide because of Biden administration persecution after they dared protest the questionable election of Joe Biden on January 6th. What about them?
Scores of conservative FBI agents in the past two years have been fired from their jobs, simply because they did not agree politically with the Democrats. What about them?
What about the arrest by the FBI of a Republican candidate for Michigan governor, simply because he had also protested on January 6th the questionable election of thug Joe Biden? Or the threats of violence and murder against Supreme Court justices by leftist Democratic Party allies?
What about the effort by Biden's labor board to shut down the conservative outlet The Federalist, simply because its founder sent out an anti-union joke?
What about the former Trump lawyer whose career was destroyed, simply because he was a former lawyer of Trump?
These stories are only a small sampling of the political abuses of power exercised by Democrats and the Biden administration time after time against their political opponents in just the last eighteen months. The list is long and painful to read.

Nor have Democrats and their allies limited their threats and cruelty merely to their political enemies. What about the second-grader who was punished because she wanted to talk about Christianity? Or the 9-year-old boy who was denied a kidney transplant, because his donor for medical reasons refused to get the Biden-mandated COVID jab? Or the scores of doctors blacklisted because they did not agree with Biden mandates and CDC policies?
These actions, mere examples from many others I could cite, were endorsed and encouraged by the Democratic Party, a party of jack-booted thugs whose only interest is power and smashing its boot into the face of anyone who opposes it, from little kids to mature adults. It has proposed laws to require the censorship on social media of anyone who disagrees with it. It has proposed laws and amendments to the Constitution intended to cancel the Bill of Rights. Its politicians routinely endorse racial discrimination and press censorship.
Democrats, both in and outside that party, have shown themselves in the past seven years to be out-of-control tyrants willing to abuse power at every opportunity to enforce their will and to destroy their opponents. The raid on Trump's house yesterday was nothing new, merely the most recent and outrageous public exhibit of the Democratic Party's ugly vindictive nature, proven time after time since 2017 by its nonchalant and eager willingness to crush ordinary people mercilessly, merely because they did not kow-tow to its whims.
Yet only now do I sense the possibility that we might finally see the kind of proper outrage and fury against this kind of injustice. Preventing a 9-year-old from getting a kidney transplant didn't do it. Arresting a Republican candidate for office didn't do it. Causing two people to commit suicide because of Justice Department persecution didn't do it.
Only now, with the raid by the FBI on home of a powerful former president, might we finally see the correct level of national outrage against the Democrats' "a long train of abuses and usurpations, pursuing invariably the … design to [put Americans] under absolute Despotism." That it took an attack on Trump and none of the earlier abuses to bring out this wrath is somewhat shameful.
Nonetheless, it will be a good thing if the American people finally rise up in just indignation and anger because of the raid on Trump's house. That raid is merely a preamble to much worse actions by this Democratic Party of thugs if something is not done to stop it. It fears its almost certain defeat in the November election, and is gearing up to do whatever it can to prevent that from happening, from election fraud to riots to military raids to physical attacks on its political opponents. You ain't seen nothin' yet.
Americans of all stripes have got to finally come to grips with the evil of this ugly party and its supporters. None of its many abuses of power and harsh violations of freedom and law in the past seven years have managed to make Americans wake up.
Maybe the raid on Trump's home might finally make it happen. Maybe this raid could be a real harbinger of good news, bringing about the long deserved and long delayed true revolt against the leftist dictatorship of the Democratic Party.
Lovers of freedom and the American dream can only hope. Because if this raid does not wake Americans up, then it will simply be too late, and the despots in Washington (from both parties) will surely win.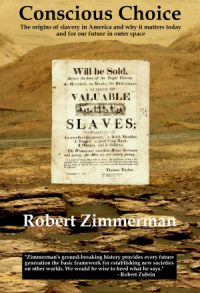 Now available in hardback and paperback as well as ebook!
From the press release: In this ground-breaking new history of early America, historian Robert Zimmerman not only exposes the lie behind The New York Times 1619 Project that falsely claims slavery is central to the history of the United States, he also provides profound lessons about the nature of human societies, lessons important for Americans today as well as for all future settlers on Mars and elsewhere in space.
Conscious Choice: The origins of slavery in America and why it matters today and for our future in outer space
, is a riveting page-turning story that documents how slavery slowly became pervasive in the southern British colonies of North America, colonies founded by a people and culture that not only did not allow slavery but in every way were hostile to the practice.
Conscious Choice
does more however. In telling the tragic history of the Virginia colony and the rise of slavery there, Zimmerman lays out the proper path for creating healthy societies in places like the Moon and Mars.
"Zimmerman's ground-breaking history provides every future generation the basic framework for establishing new societies on other worlds. We would be wise to heed what he says." —Robert Zubrin, founder of founder of the Mars Society.
All editions are available at Amazon, Barnes & Noble, and all book vendors, with the ebook priced at $5.99 before discount. All editions can also be purchased direct from the ebook publisher, ebookit, in which case you don't support the big tech companies and the author gets a bigger cut much sooner.
Autographed printed copies are also available at discount directly from me (hardback $24.95; paperback $14.95; Shipping cost for either: $5.00). Just email me at zimmerman @ nasw dot org.