With the release yesterday by NOAA of its September update of its graph showing the long term sunspot activity of the Sun, we find ourselves in what might be the longest stretch of sunspot inactivity in decades, part of what might become the most inactive solar minimum in centuries.
In the last four months the Sun has produced practically no sunspots. There were two in June, two in July, and one in August. The September graph, posted below with additional annotations by me to give it context, shows that the past month was as weak as August, with only one sunspot again.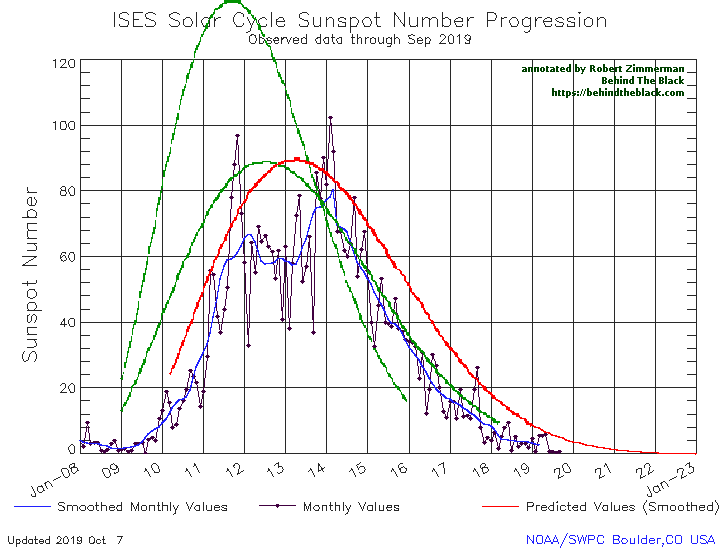 The graph above has been modified to show the predictions of the solar science community for the previous solar maximum. The green curves show the community's two original predictions from April 2007, with half the scientists predicting a very strong maximum and half predicting a weak one. The red curve is their revised May 2009 prediction, extended in November 2018 four years into the future.
The 2008-2009 solar minimum was one of the deepest and longest ever recorded. Yet, it never produced a stretch of four months with so few sunspots, as shown in the graph above. Moreover, during that minimum the Sun was blank 71% of the time in 2008 and 73% of the time in 2009 (a record). Right now, with almost three months to go in 2019, the Sun has already been blank 73% of time, with every indication that it will top that number before the year is out.
Furthermore, the trend continues to suggest we are heading for a period of very few sunspots. Though one of the six sunspots seen since June 1 had a polarity that belonged to the next solar cycle, we have seen no further such next-cycle sunspots since July. There was one active region on October 6 with a next solar cycle polarity, but it was never able to gather enough magnetic energy to mature into a sunspot.
As I noted in my July 8 sunspot update,
» Read more