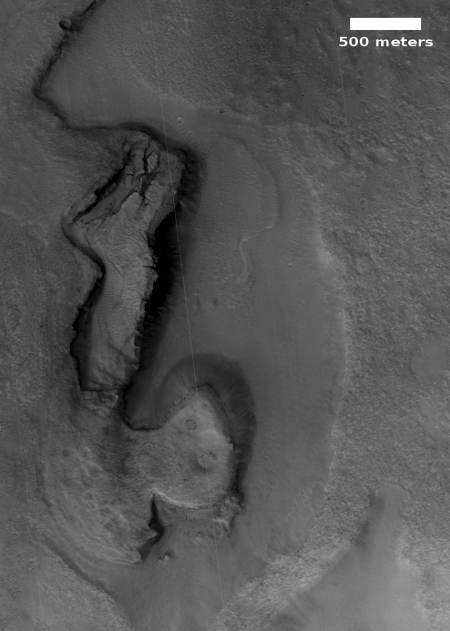 Cool image time! The image on the right, reduced and cropped to post here, was part of the August 31 image release from the high resolution camera of Mars Reconnaissance Orbiter (MRO). (Click on the image to see the full image.) It shows a slowly separating cliff feature in a region dubbed Tempe Fossae
As part of that monthly mass release, no caption was provided for this image. However, we can gain some understanding by looking at the larger context.
Tempe Fossae is located at the margins between the low flat northern plains and the high southern highlands. The location is also part of the vast drainage region to the east of Mars' gigantic volcanoes. This is obvious from the overview image below and on the right. The location of this image is indicated by the white cross.
In this area of that drainage the canyons appear to follow southwest to northeast trending fault lines. Tempe Fossae is one of the smaller of these canyon complexes. All however appear to drain out into the northern plains.
Most of the MRO images of features in this area focus on the canyon cliffs. This image however focused on this one isolated small cliff in the middle of the canyon. To my eye it appears that these features document the slow drying of that vast intermittent ocean in Mars's northern plains. The cliff is actually two steps, with the higher one appearing to mark an older shoreline. The lower cliff is abutted by a low flat area where it appears as if there had once been ponded water, now dried.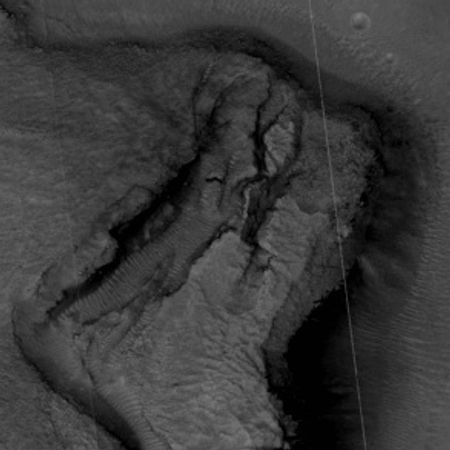 The cracks in the cliff itself suggest it is slowly breaking apart and falling down towards that low flat area. In fact, the entire feature reminds me of the sand cliffs that are sometimes found along shorelines. The sand is not very strong structurally, and with time sections will separate and then fall down. The image to the right zooms in on this cracked region. The presence of sand dunes reinforces my impression.
I imagine that as the water drained down from the glaciers on the sides of the volcanoes and filled that intermittent sea, the shoreline regions would have had the most water. At Tempe Fossae the canyons might have been partly filled. As the water level drained out and lowered, first the upper cliff edge was exposed, then the lower. The draining water probably helped created these cracks as it flowed down through them.
Finally, the last remaining pits of water ponded at the base of the cliff, eventually drying out. With time, the weakly structured sand cliffs, already carved partly by the flowing water, began to slump apart and fall downward, producing the cracks we now see. I expect that some time in the near future, on geological time scales, there will be a landslide and the outer section will collapse downward.