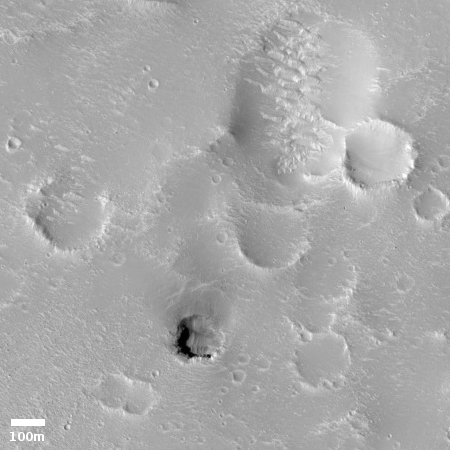 Click for full image.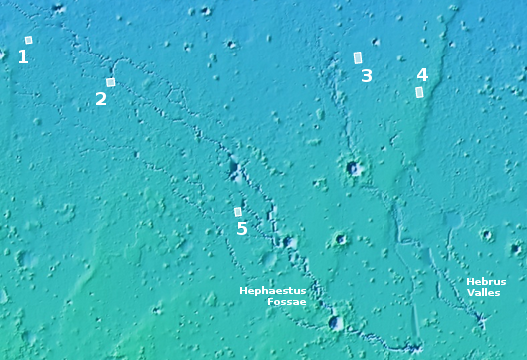 Since 2018 I have made it a point to document every new pit image taken on Mars by the high resolution camera on Mars Reconnaissance Orbiter (MRO). The list of can be found at the bottom of this post.
In the most recent release from MRO, a number of new pits were photographed. All continue to suggest that Mars has a lot of underground voids, some caused by lava flow, some by tectonic activity, some by water ice erosion, and some almost certainly caused by processes we don't yet know. The images also suggest that we have only identified a small fraction of those underground voids.
The first image to the right, cropped to post here, shows the one new pit in the northern lowlands of Utopia Planitia, near a series of meandering channels and canyons dubbed Hephaestus Fossae and Hebrus Valles.
This appears to be the fifth such pit found in this region. Previously I had documented the first four. The overview map to the right adds this fifth pit. Note how the pit is much closer to the head of Hephaestus. In the full image you can see fissures both to the north and south, as well as many nearby aligned depressions, suggesting the existence of more underground passages, some possibly linked to voids under this very pit.
The pit itself seems filled, with no apparent side passages, though to the southwest there might be something leading off in the shadows.
The overall terrain in this region, including these pits, the fissures, and the many aligned depressions, strongly suggests a lot of underground voids. As I noted in 2019:

Scientists are not sure what caused these channels. Several have proposed that they could have been caused by catastrophic floods of water, melting because of heating from the volcano. Others suspect these rills are indications of lava flows coming down from Elysium Mons, forming lava tubes. In either case there appears no consensus.
I would add that newer research might replace catastrophic floods of water with some form of massive glacial activity across large vast areas of these plains. This new possibility is very preliminary, and I mention it only because I have gotten a sense from scientists that this is now being considered, though no one as far as I know has yet articulated it in depth in any published paper.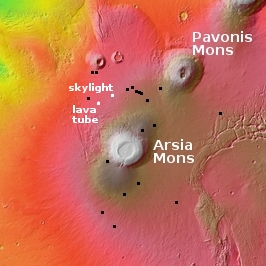 Two of other newly photographed pits are located, like almost all known pits on Mars, near the large volcanoes of the Tharsis Bulge. The context map to the right shows all the imaged pits I've documented so far, with the two new ones indicated by the white boxes labeled "skylight" and "lava tube." Both are northwest of the volcano Arsia Mons, and both have features that suggest they are related to past lava flows coming down from that volcano.
The next image below and to the right, cropped to post here, shows the skylight. Though it is all alone on a relatively featureless plain, on the full image directly to the south about a mile away is a string of depressions.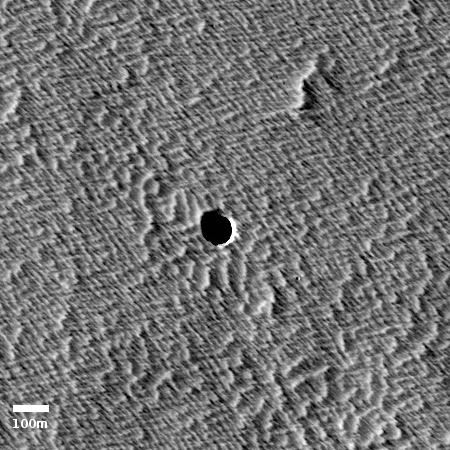 Click for full image.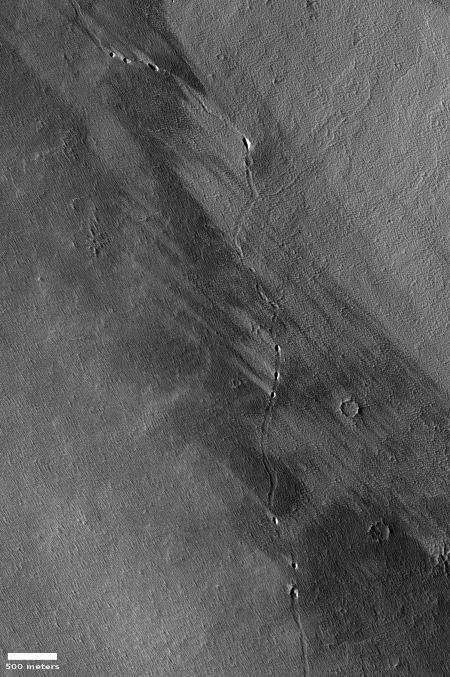 Click for full image.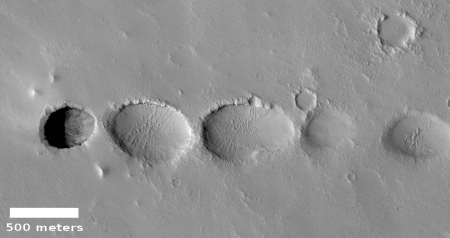 Click for full image.
Next is actually not one pit but a string of pits aligned to strongly suggest the existence of an underground lava tube, very similar and near to another string of pits previously shown in a 2019 post and located by the nearest black box just to the northwest.
If you click on the full image, you will see that this meandering depression extends off the image both to the north and south. Though it might be documented more completely in wider lower resolution images, the high resolution camera on MRO has not yet covered it entirely. For all we know, it might even connect with the lava tube to the northwest. Or it could be a second parallel tube. In looking at most of the other high resolution images taken by MRO in this area, it appears there are a lot of similar lava tube features.
Altogether, the pit and depressions for both images point uphill to the volcano Arsia Mons.
The last pit image released is shown below and to the right. It shows another pit aligned with another string of depressions. In this case the pit is found on the northwest flank of the giant volcano Elysium Mons, located far to the west of the Tharsis Bulge, on the other side of Mars' volcano country.
Once again, the string suggests a existence of a passage below. And since this is on the flanks of a volcano, the first assumption is that the voids were created by a lava tube flow. A review of all nearby MRO high resolution images shows many similar pits and depression strings, but also suggests that the voids were created not by lava flows but by cracking caused as the ground bulged upwards from the pressure of the magma chamber below.
We would need a planetary geologist to help settle this. It would also help if that planetary geologist could spend some time at the location, with a rock hammer, doing some in situ geology research.
All previous pit posts since 2018: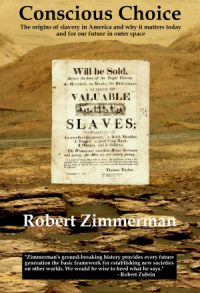 Now available in hardback and paperback as well as ebook!
From the press release: In this ground-breaking new history of early America, historian Robert Zimmerman not only exposes the lie behind The New York Times 1619 Project that falsely claims slavery is central to the history of the United States, he also provides profound lessons about the nature of human societies, lessons important for Americans today as well as for all future settlers on Mars and elsewhere in space.
Conscious Choice: The origins of slavery in America and why it matters today and for our future in outer space
, is a riveting page-turning story that documents how slavery slowly became pervasive in the southern British colonies of North America, colonies founded by a people and culture that not only did not allow slavery but in every way were hostile to the practice.
Conscious Choice
does more however. In telling the tragic history of the Virginia colony and the rise of slavery there, Zimmerman lays out the proper path for creating healthy societies in places like the Moon and Mars.
"Zimmerman's ground-breaking history provides every future generation the basic framework for establishing new societies on other worlds. We would be wise to heed what he says." —Robert Zubrin, founder of founder of the Mars Society.
All editions are available at Amazon, Barnes & Noble, and all book vendors, with the ebook priced at $5.99 before discount. All editions can also be purchased direct from the ebook publisher, ebookit, in which case you don't support the big tech companies and the author gets a bigger cut much sooner.
Autographed printed copies are also available at discount directly from me (hardback $24.95; paperback $14.95; Shipping cost for either: $5.00). Just email me at zimmerman @ nasw dot org.