Summary: Curiosity finally gets drill samples from the top of Vera Rubin Ridge. Opportunity's silence now extends to five months.
For a list of past updates beginning in July 2016, see my February 8, 2018 update.
Curiosity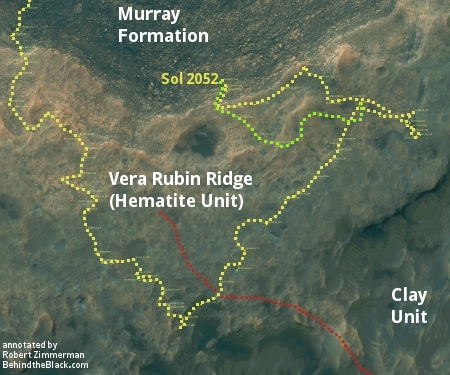 For the overall context of Curiosity's travels, see Pinpointing Curiosity's location in Gale Crater.
The traverse map on the right, unchanged from my last rover update on July 17, 2018, shows almost all of Curiosity's travels on Vera Rubin Ridge. The yellow dotted line is the oldest travel, up onto the ridge and then back down to get a successful drill sample. The green dotted line shows the rover's return back up onto the top of the ridge, where it attempted and failed to drill into the ridge's top layer, then experienced a serious computer issue in mid-September that essentially shut down science operations for about five weeks.
With the resumption of science operations about two weeks ago, the rover has moved a short distance on the top of the ridge to a new drill location, where it finally succeeded this week in drilling a hole in the hardest top layer of Vera Rubin Ridge.
» Read more