The tenth anniversary retrospective of Behind the Black continues: Despite my many essays on culture and politics, Behind the Black remains mostly a site reporting on space and science. Since the modern exploration of Mars is probably the most significant on-going event now in space, it seemed unsatisfactory to only repost one or two of my past articles on this subject, when I have probably have posted hundreds. Instead, this midnight repost will provide links to a bunch, divided into several topics.
Martian geology, shown in cool images
First, we have the many cool images I have posted on Mars, often tied to detailed descriptions of what scientists are now beginning to learn about the red planet's mysterious geological history. The following are the most important, and will help readers better understand future cool images.
Future colonization
Next, two posts, both focused on the future exploration and colonization of Mars.

The rovers
Finally, we have my regular rover updates, which essentially began with this March 14, 2016 essay, Pinpointing Curiosity's location in Gale Crater. I had been dissatisfied with the information provided by the rover's science team on where the rover was and where it was going. It needed better context, and I decided to provide it.
Once done, this essay made it possible to better understand the rover's continuing travels, and so I began to report on Curiosity on a somewhat regularly basis. Soon I incorporated the same strategy for Opportunity, beginning with this article on September 2, 2016, based on previous background information posted on March 31, 2015. Below are all previous rover updates. Read them in sequence if you want to gain a full understanding of where Curiosity has been and where it will be going in the future.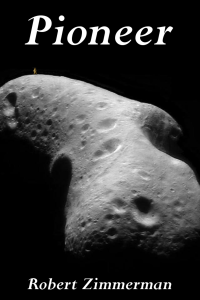 From the press release: From the moment he is handed a possibility of making the first alien contact, Saunders Maxwell decides he will do it, even if doing so takes him through hell and back.
Unfortunately, that is exactly where that journey takes him. The vision that Zimmerman paints of vibrant human colonies on the Moon, Mars, the asteroids, and beyond, indomitably fighting the harsh lifeless environment of space to build new societies, captures perfectly the emerging space race we see today. He also captures in Pioneer the heart of the human spirit, willing to push forward no matter the odds, no matter the cost. It is that spirit that will make the exploration of the heavens possible, forever, into the never-ending future. Available everywhere for $3.99 (before discount) at
amazon
,
Barnes & Noble
, all ebook vendors, or direct from the ebook publisher,
ebookit
. And if you buy it from
ebookit
you don't support the big tech companies and I get a bigger cut much sooner.