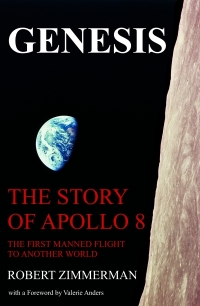 On Christmas Eve 1968 three Americans became the first humans to visit another world. What they did to celebrate was unexpected and profound, and will be remembered throughout all human history. Genesis: the Story of Apollo 8, Robert Zimmerman's classic history of humanity's first journey to another world, tells that story, and it is now available as both an ebook and an audiobook, both with a foreword by Valerie Anders and a new introduction by Robert Zimmerman.
The ebook is available everywhere for $5.99 (before discount) at
amazon
, or direct from my ebook publisher,
ebookit
.
The audiobook is also available at all these vendors, and is also
free with a 30-day trial membership to Audible.
"Not simply about one mission, [Genesis] is also the history of America's quest for the moon... Zimmerman has done a masterful job of tying disparate events together into a solid account of one of America's greatest human triumphs." --San Antonio Express-News
The tenth anniversary retrospective of Behind the Black continues: Despite my many essays on culture and politics, Behind the Black remains mostly a site reporting on space and science. Since the modern exploration of Mars is probably the most significant on-going event now in space, it seemed unsatisfactory to only repost one or two of my past articles on this subject, when I have probably have posted hundreds. Instead, this midnight repost will provide links to a bunch, divided into several topics.
Martian geology, shown in cool images
First, we have the many cool images I have posted on Mars, often tied to detailed descriptions of what scientists are now beginning to learn about the red planet's mysterious geological history. The following are the most important, and will help readers better understand future cool images.
Future colonization
Next, two posts, both focused on the future exploration and colonization of Mars.

The rovers
Finally, we have my regular rover updates, which essentially began with this March 14, 2016 essay, Pinpointing Curiosity's location in Gale Crater. I had been dissatisfied with the information provided by the rover's science team on where the rover was and where it was going. It needed better context, and I decided to provide it.
Once done, this essay made it possible to better understand the rover's continuing travels, and so I began to report on Curiosity on a somewhat regularly basis. Soon I incorporated the same strategy for Opportunity, beginning with this article on September 2, 2016, based on previous background information posted on March 31, 2015. Below are all previous rover updates. Read them in sequence if you want to gain a full understanding of where Curiosity has been and where it will be going in the future.

Readers!
My July fund-raiser for Behind the Black is now over. The support from my readers was unprecedented, making this July campaign the best ever, twice over. What a marvelous way to celebrate the website's tenth anniversary!

Thank you! The number of donations in July, and continuing now at the beginning of August, is too many for me to thank you all personally. Please forgive me by accepting my thank you here, in public, on the website.

If you did not donate or subscribe in July and still wish to, note that the tip jar remains available year round.
Regular readers can support Behind The Black with a contribution via paypal:
If Paypal doesn't work for you, you can support Behind The Black directly by sending your donation by check, payable to Robert Zimmerman, to

Behind The Black
c/o Robert Zimmerman
P.O.Box 1262
Cortaro, AZ 85652