The tenth anniversary retrospective of Behind the Black continues: Despite my many essays on culture and politics, Behind the Black remains mostly a site reporting on space and science. Since the modern exploration of Mars is probably the most significant on-going event now in space, it seemed unsatisfactory to only repost one or two of my past articles on this subject, when I have probably have posted hundreds. Instead, this midnight repost will provide links to a bunch, divided into several topics.
Martian geology, shown in cool images
First, we have the many cool images I have posted on Mars, often tied to detailed descriptions of what scientists are now beginning to learn about the red planet's mysterious geological history. The following are the most important, and will help readers better understand future cool images.
Future colonization
Next, two posts, both focused on the future exploration and colonization of Mars.

The rovers
Finally, we have my regular rover updates, which essentially began with this March 14, 2016 essay, Pinpointing Curiosity's location in Gale Crater. I had been dissatisfied with the information provided by the rover's science team on where the rover was and where it was going. It needed better context, and I decided to provide it.
Once done, this essay made it possible to better understand the rover's continuing travels, and so I began to report on Curiosity on a somewhat regularly basis. Soon I incorporated the same strategy for Opportunity, beginning with this article on September 2, 2016, based on previous background information posted on March 31, 2015. Below are all previous rover updates. Read them in sequence if you want to gain a full understanding of where Curiosity has been and where it will be going in the future.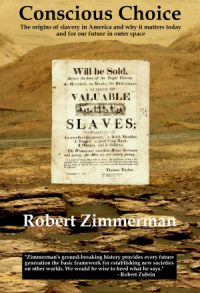 Now available in hardback and paperback as well as ebook!
From the press release: In this ground-breaking new history of early America, historian Robert Zimmerman not only exposes the lie behind The New York Times 1619 Project that falsely claims slavery is central to the history of the United States, he also provides profound lessons about the nature of human societies, lessons important for Americans today as well as for all future settlers on Mars and elsewhere in space.
Conscious Choice: The origins of slavery in America and why it matters today and for our future in outer space
, is a riveting page-turning story that documents how slavery slowly became pervasive in the southern British colonies of North America, colonies founded by a people and culture that not only did not allow slavery but in every way were hostile to the practice.
Conscious Choice
does more however. In telling the tragic history of the Virginia colony and the rise of slavery there, Zimmerman lays out the proper path for creating healthy societies in places like the Moon and Mars.
"Zimmerman's ground-breaking history provides every future generation the basic framework for establishing new societies on other worlds. We would be wise to heed what he says." —Robert Zubrin, founder of founder of the Mars Society.
All editions are available at Amazon, Barnes & Noble, and all book vendors, with the ebook priced at $5.99 before discount. The ebook can also be purchased direct from my ebook publisher, ebookit, in which case you don't support the big tech companies and I get a bigger cut much sooner.
Autographed printed copies are also available at discount directly from me (hardback $24.95; paperback $14.95; Shipping cost for either: $5.00). Just email me at zimmerman @ nasw dot org.