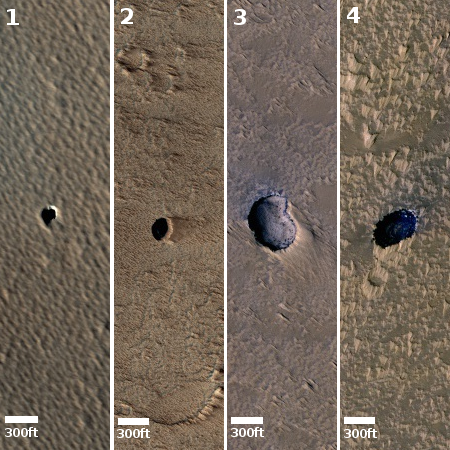 It has been more than four months since my last report on the pits of Mars. Time to do another.
The collage to the right shows the four different pits photographed by the high resolution camera of Mars Reconnaissance Orbiter (MRO) since October. The links to each image are:
Like almost all the cave pits so far found on Mars, all are in the Tharsis Bulge of giant volcanoes to west of Valles Marineris. The overview map below shows these pits in the context of every other pit in this region that I have featured on Behind the Black.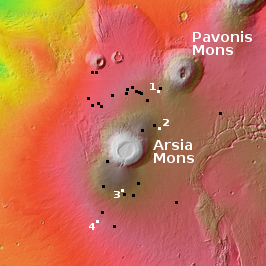 The black boxes indicate the location of previously feature pits. The numbered white boxes show today's pits. The first is on the south flank of Pavonis Mons, the middle volcano in the string of three volcanoes in this bulge. The last three are on the flanks of Arsia Mons, the southernmost volcano of this string.
In their full photos, all four pits are all by themselves on a relatively featureless lava plain, though images #2 and #4 appear to be centered in very shallow depressions that hint of an underground lava tube flowing downhill from the peak of Arsia Mons. These pits could thus be skylights into that tube.
All of the photos however do not have enough resolution to tell us whether there are any underground passages moving away from them. For all we know, there are no lava tubes here, only vertical pits that go nowhere.
The plethora of pits in this region of Arsia Mons however pose an interesting dilemma for future Mars colonists. Most of the easily accessible ice near the surface on Mars is found in in latitudes higher than 30 degrees. All of these pits however sit in latitudes from the equator (just south of Pavonis Mons) to about 19 degrees south. None are in those wetter regions.
At the same time, there is some evidence suggesting past glacial activity on the western slopes of Arsia Mons. Moreover, the atmosphere above these western slopes also sees seasonal clouds, suggesting the release of water. Combined, this data suggests (though we don't yet have any direct evidence) that there might be water ice here, but buried deep underground and only likely reachable from these pits.
Thus the dilemma. For the early settlers, it makes sense to go to the higher latitudes in the northern lowland plains, where lots of ice will be available very close to the surface. This is why SpaceX has chosen the plains of Arcadia Planitia for the first landing site of its Starship spaceship.
Yet, Arcadia Planitia has disadvantages. Because no caves are so far known in these plains, early colonists will have to do a lot of work to live there safely. Either they'd have to build from scratch shelters that are also hardened against radiation, or they would have to dig down and create underground shelters. In either case the required labor and materials would be extensive and challenging for the first pioneers, arriving with relatively limited resources.
If there is water in the cave pits surrounding Arsia Mons, this problem will be solved. The colonists would only need to create an access road into these pits, seal the walls, and then fill them with atmosphere. The ground above them will shelter them from radiation.
But Arsia Mons has other problems. First, we don't know if these pits have water ice, and even if they do, it is likely they have it in far less quantity than seen in the northern plains. Furthermore, because these pits are at high Martian elevations, the already thin atmosphere will be even thinner. It will likely be too thin to use for helicopter drones or gliders. That thin atmosphere will also make the environment harsher.
Which problem would you choose to deal with? In the northern plains, lots of water and atmosphere but no easy shelter. In the high volcanoes plenty of easy shelter, but little atmosphere, a harsher environment, and questionable water resources.
In either case, for the human race this quandary is actually a grand and magnificent thing. Rather than fighting over scrapes of bread on Earth because we are poor and ignorant savages, future generations will be trying to bring life to this dead alien world by harnessing the human instinct for adaption and invention.
I suspect when all is said and done, centuries from now, we will find humans in both places, having figured out how to make the specific geology at each work for them.
————————-
For those interested in digging deeper into my earlier pit posts, you can find them all here, since 2018, with links to even earlier posts at the November 2018 post:
Readers!
Please consider donating to Behind the Black, by giving either a one-time contribution or a regular subscription, as outlined in the tip jar below. Your support will allow me to continue covering science and culture as I have for the past twenty years, independent and free from any outside influence.
Your support is even more essential to me because I keep this site free from advertisements and do not participate in corrupt social media companies like Google, Twitter, and Facebook. I depend wholly on the direct support of my readers.
You can provide that support to Behind The Black with a contribution via Patreon or PayPal. To use Patreon, go to my website there and pick one of five monthly subscription amounts, or by making a one-time donation. For PayPal click one of the following buttons:

If Patreon or Paypal don't work for you, you can support Behind The Black directly by sending your donation by check, payable to Robert Zimmerman, to


Behind The Black
c/o Robert Zimmerman
P.O.Box 1262
Cortaro, AZ 85652