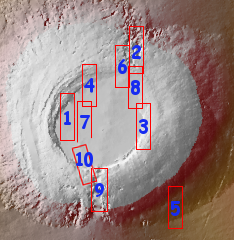 In November over a period of two weeks the Mars Odyssey team posted ten images of Pavonis Mons, the smallest of the aligned three giant volcanoes just to the east of Olympus Mons, the largest known volcano in the solar system. I then made all of those images available in a single link, with some analysis.
They have now done the same thing for the southernmost (and possibly the most interesting) of those three aligned volcanoes, Arsia Mons. From the first image below:
Arsia Mons is the southernmost of the Tharsis volcanoes. It is 270 miles (450km) in diameter, almost 12 miles (20km) high, and the summit caldera is 72 miles (120km) wide. For comparison, the largest volcano on Earth is Mauna Loa. From its base on the sea floor, Mauna Loa measures only 6.3 miles high and 75 miles in diameter. A large volcanic crater known as a caldera is located at the summit of all of the Tharsis volcanoes. These calderas are produced by massive volcanic explosions and collapse. The Arsia Mons summit caldera is larger than many volcanoes on Earth.
In other words, you could fit almost all of Mauna Loa entirely within the caldera of Arsia Mons.
The image on the right above is the master index, annotated by me to show the area covered by each image. The images can accessed individually below.
» Read more